Markets are under pressure again today thanks to concerns over US/China trade talks.
I know many of your portfolios have likely taken a hit so far this week, but the last thing you want to do is panic. Big picture, this drawdown is nothing compared to how much markets have run up the last few months.
This should be a reminder that although these kinds of situations are difficult to predict ahead of time, you can prepare for them.
In my portfolio, for example, I always try to have a balance of options that I think will benefit if markets go down or up. This mix of long and short positions is what helps me achieve smoother, more consistent gains. It also means that I'm much less worried when the Dow is down 500 points pre-market.
One of my favorite hedges is TLT. People buy bonds when they are scared, so it is no surprise that my TLT calls are up BIG: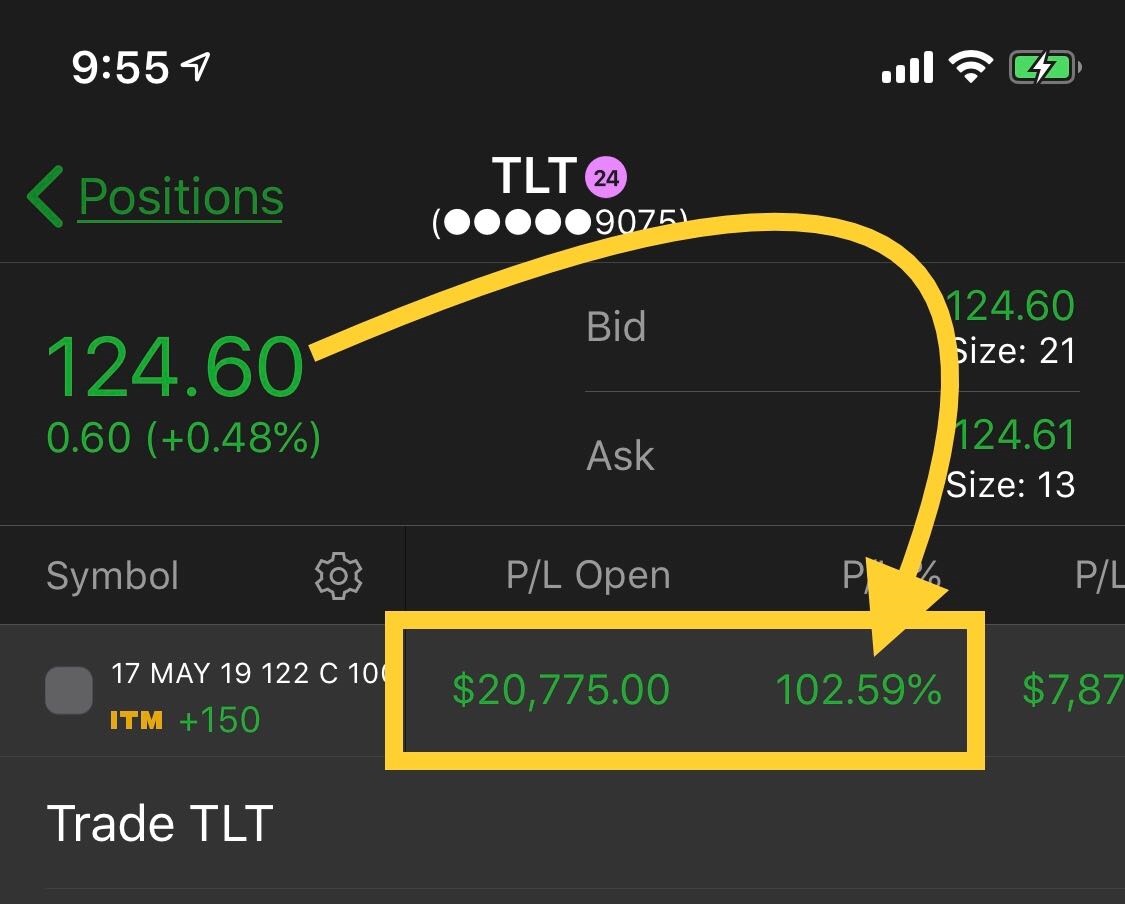 I also try to own puts on the stocks I think are going to underperform the market. The best way I've found to do that is to look for bearish hourly crossovers. That's how I found this FIVE trade that I alerted to readers less than a week ago that is up 175%: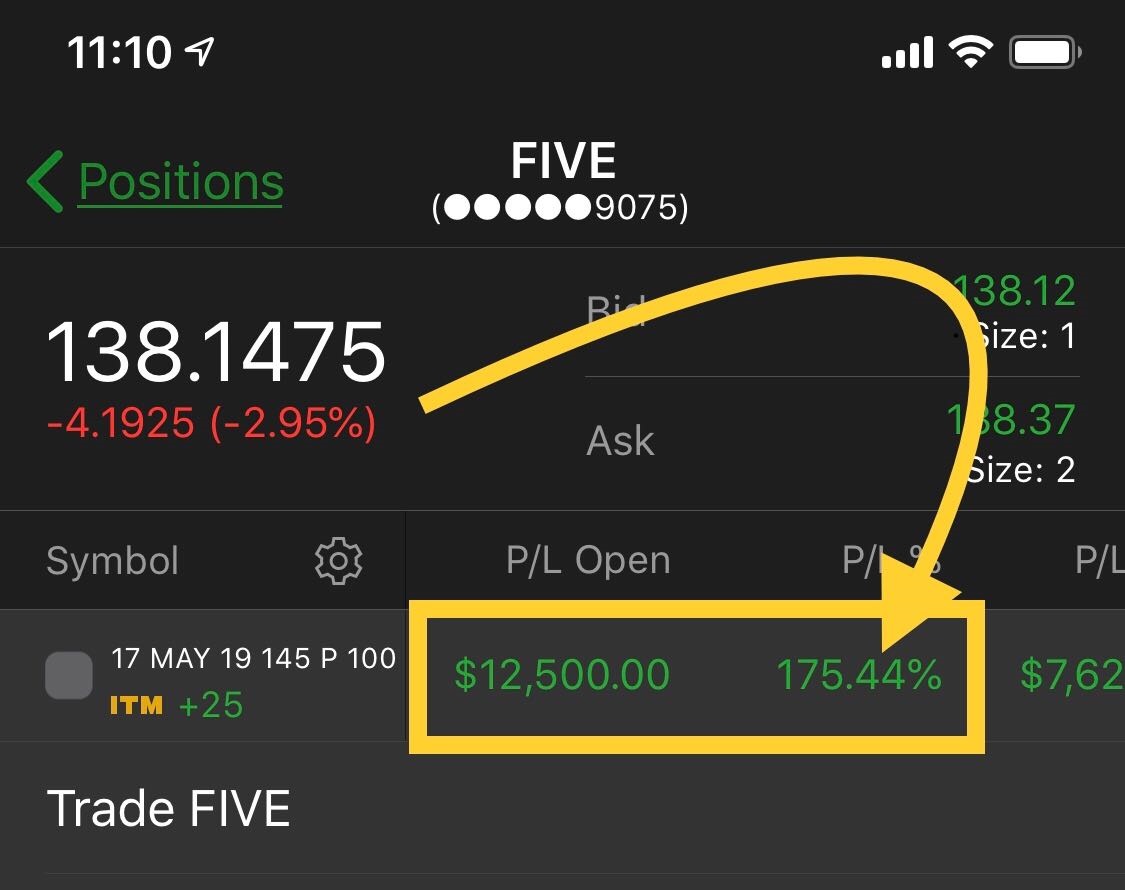 To make these kinds of returns when stocks crash, you need to be prepared in advance for the move down. When volatility spikes and the market is down 2%, you've likely already missed the biggest move.
Looking forward, my personal opinion is that we will reach a compromise soon and the market will rally from here. But the SPY chart has me cautious.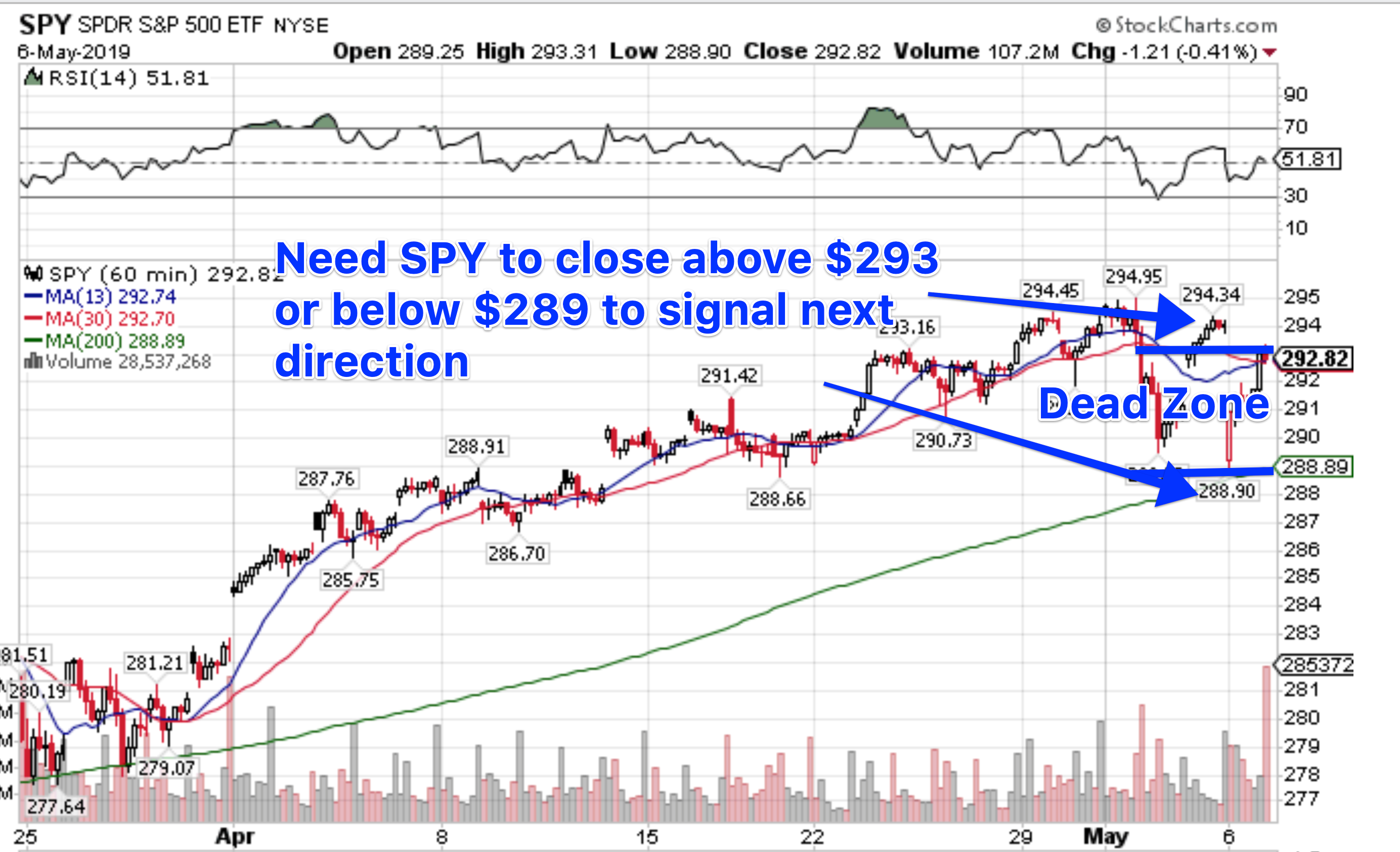 We are in what I consider a "dead zone," meaning that I have no interest in being either long or short the market at the moment. There is no clear trend I see, so it is a waiting game until we break either above the hourly levels, or below the 200-hourly which would be a bearish move and I will begin to short again.
Today is a day to tread lightly and not get too involved. There is a lot of uncertainty in the market right now, and I am waiting on better setups before I get aggressive on trading again.
If you want to know when I make my next move, I send my Weekly Money Multiplier members trade alerts and give them access to a live-stream of my portfolio. Join here for immediate access.
On Deck: Free Nathan Bear Training Session

Nathan is hosting a live options and trading training session this Thursday at noon. He'll be sharing how he consistently finds profitable trades in any markets.
He is arguably one of the greatest option traders you will ever meet.  He is smart, disciplined, experienced and consistently profitable.
I'm making this available to all Insiders, not just my subscribers.
Here's the link to the room: https://app.ragingbull.com/join-room/rb-wmm-training
Make sure to bookmark the link. See you on Thursday!
Jeff Williams' Small-Cap Watchlist
Jeff is famous in the RagingBull community for turning tiny accounts into small fortunes. He's grown real-money accounts by 220%, 270% and 600% all while avoiding the pattern day trader rule .
He runs his scans and picks the stocks he's buying live, an ideal way to learn his strategy. Then he sends a detailed alert to his members with the stocks he's adding to his account and why. This at the same time every day before the closing bell and he holds the stocks overnight.
It's a very easy program to follow, especially if you don't have that much time to trade.
Here's a sneak peak of the stocks Jeff is keeping an eye on today.
I like PTN for continuation play here. It has higher high and higher lows starting early this year. A key break over $1.36 and then next chart high is $1.59.
SHMP has a very solid base around $.17 to $.18 which I'll be watching for a possible pick up. We've seen bounces up to $.23 which is a nice 20%-plus move from the bottom to the top of the range.
SNES is also moving strong since the beginning of the year. Next highs are $2.28 and $2.37. Higher high higher low continuation pattern even in a red market is nice to see.
You can learn more about Jeff's proven, 10-minutes-a-day strategy that's designed to generate big gains from small accounts here.
Davis Martin's Market Outlook
Within the RagingBull community, Davis Martin (head trader at Daily Profit Machine and head options trader and co-founder of The Traders Council) does what no one else does: He calls the market before it opens via his Trade of The Day alert.
Davis starts his days early to analyze pre-market data before issuing his daily trade — which are designed to take advantage of bullish or bearish market moves. Yesterday, for example, when markets were tanking and most traders were panicking, Davis' members were Killing It. Pam, a Daily Profit Machine member, made an incredible 242%!
This week, given the bearish action, Davis is waiting for a break and close above the 20-day SMA (green line) before he plays the long side. If that happens, he'd expect a move above recent all-time highs.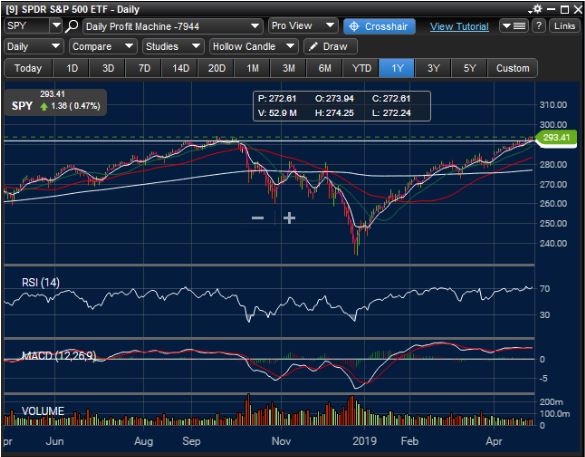 Davis expects SPY 280 to serve as strong support. A move below that, although unlikely, would be extremely bearish. If SPY does break below 280, expect it to become resistance — as old support becomes resistance once it's broken.
If you're interested in receiving Davis' Trade of the Day — a daily, high-probability SPY options trade alert sent 30 minutes before the market opens, go here. His goal is to deliver double- or even triple digit gains soon after the market opens. If you prefer more personalized, live training and trading — plus access to everything Davis and Jeff Williams publish — check out The Traders Council here.
Related Articles: