I (Jason Bond) left a ton of money on the table….
I recently sent the below AMRS chart to my Jason Bond Picks members.
It was a "gap-and-go" play, shares had opened above resistance on strong volume. With the previous resistance now serving as support right below, and a big gap above into the $5s, it's the kind or risk/reward setups I jump at.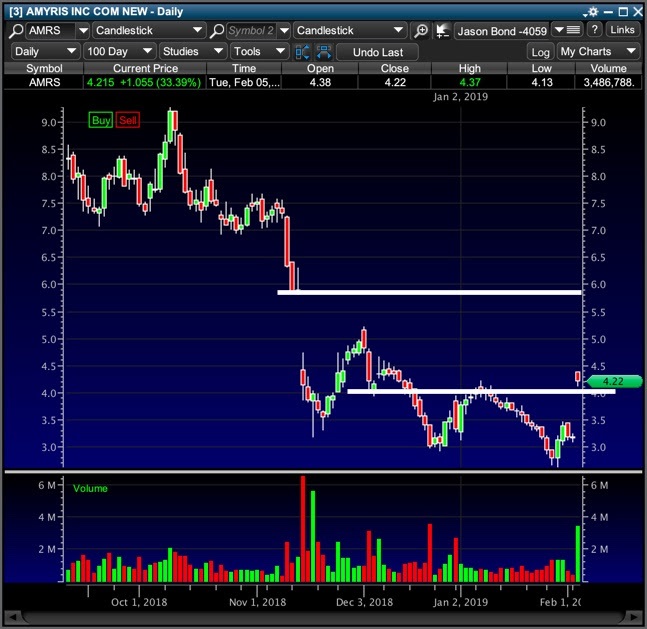 It didn't take long for shares to start moving. About 30 minutes later, I told my readers that I was closing two-thirds of my position for a +$2,000 win (you don't go broke taking profits) and holding the rest for a move toward $6. At the same time, I set a stop at $4.14, slightly below my entry price, which was quickly hit, so I sold my remaining shares and ended up with +$1,500 on the trade.
Of course, what I didn't know — and couldn't know — was that shares were about to jump to $5.80. Still, I probably should have been a little more aggressive with my remaining shares…. and it's something I'll keep in mind in the future. So while this wasn't a huge winner for me, it's definitely worth reviewing as a teachable moment (if you want to keep learning, you can see my 3 favorite trading patterns here). 
So on this trade, YES, I did leave money on the table. But when trading, especially a momentum penny stock setup, you need to be disciplined. Paying yourself and keeping losses small is how you make money trading. 
*You need a Trader's Mindset, and Petra Hess is the master of it.
But she wasn't always. It's not something you're born with. She even used to get anxious when trading.
Does that sound like you? If so, you need to hear how she overcame it, because having the right trading mindset can be the difference between making millions of dollars or blowing up an account.
Here's how she did it, in her own words:
"Similar to many other new traders, my mindset was comparable to one of a gambler and high-risk taker who wasn't putting much thought into my trades. Thereafter, I realized I couldn't go at this alone and needed a mentor who was already a successful trader. After losing a lot of money and coming to this realization, I found my first mentor and that put me on the track to education.
My mentor and I worked together, and I transformed from a gambler to a planner and chart stalker. Unlike the early days of my trading, I control my risk and am at ease sitting out of the market. I went from being anxious to patient, which is key to being a consistently profitable trader.
Today, before I buy a stock, there are two things that are written near my keyboard that I look at: "Is this trade emotional?" and "Have I planned my trade?"The biggest change for me has been taking my trading from feeling I need to be glued to my screen all day to executing my planned trades and then enjoying the rest of the day."
Petra makes trading simple using what she calls her "Tranquility Trading" system.
It's a rules-based approach to trading that focuses on growing your wealth with a key focus on risk management and making money from the same trade setups over and over again.
If that sounds like a way you'd like to trade, you can learn more about Petra's systematic way to making money here.
*Last week, I introduced some of you to Nathan Bear's TPS system.
Nathan spends most of the day on the mic in the Millionaire Roadmap room playing this setup. And once again, he hit pay dirt.
TPS stand for Trend, Patter and Squeezes. Here's how to combine them to find breakout trades: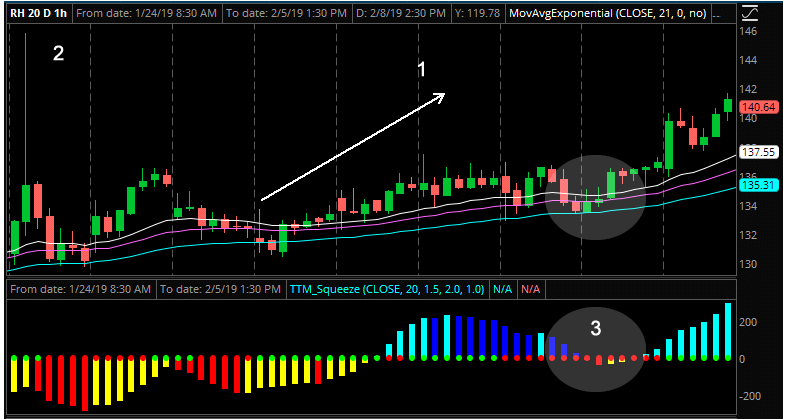 Trend: Nathan usually looks for breakouts in the direction of the trend. In the case of RH, it was making higher lows and staying above its moving averages.
Pattern: Like the ROKU example from last week, RH was in a classic consolidation pattern. After a big move up, shares were taking a breather and trading relatively flat.
Squeeze: The red dots at the bottom of the chart means prices are in a "squeeze." The indicator makes squeezes easy to spot, but all it really means is that prices are trading in a tight range… like a coiled spring ready to explode. Once the dots turn green, it means that the squeeze has "fired off."
It only took one day for RH to start moving higher. And if you traded the setup with options — as Nathan did — you could have made a double- or triple-digit gain.
Like I said, Nathan teaches this setup live every day in the Millionaire Roadmap room. On top of that, he's also recorded lessons on how to trade his TPS setup.
You can join Millionaire Roadmap here and get access to me and Nathan daily, plus all our training material.
On Deck
Kyle Dennis is famous for turning small accounts into multi-million dollar fortunes. Last year alone he made over $2 million.
And for the first time in 2019, Kyle Dennis will show you how he did it, live! He'll also be giving away his 10 Crucial Trading Lessons (normally $49) plus a free bonus gift.
This is happening tomorrow, so you have to register here now.
From the Community
Our goal at RagingBull is not for you to copy our trades. It's to teach you how to trade successfully on your own.
We want to teach you how to fish, not give you fish.
That's why I love seeing comments like these in our chat rooms. This one is from "robert fal," who is a Trader's Council member: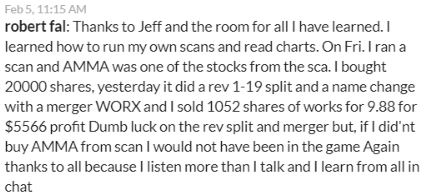 He's used the same techniques Jeff Williams and Davis Martin use in the Trader's Council to find a winning small-cap trade setup on his own.
That's awesome Robert, congrats!
The diary of a real $ trader
Jason Bond
Related Articles: