Dear Insider,
I'm going to share with you a trade from Nathan Bear, Davis Martin's Market Outlook and Kyle Dennis' incredible 100% trading streak in today's issue.
But first, I (Jason Bond) want to give you a quick update on some improvements I'm making to Jason Bond Picks and the results of a survey I sent.
As most of you know, I made $276,257.25 with Jason Bond Picks strategies in January and February 2019. Then I stopped trading real-money so I could focus on being a better coach to my clients.
I also sent them a survey so that I could better understand their situation and make my service as valuable as possible for them.
The survey revealed that the majority of you were losing money before joining the RagingBull community. I'm proud of you for seeking education instead of giving up. You're at the right place, we've helped thousands of traders turn their trading around and become profitable.
Something else I learned from the survey is that most of our members have full-time jobs, are beginners, swing trade just a few times a week and have portfolios under $5,000. Finally, I learned that over 90% of my members would like more sell alerts when trades no longer have good risk/reward setups.
Your wish is my command.
Starting today, Jason Bond Picks members will receive a daily watch list at night or early in the morning, which means even more recommendations. I'll also go back to sending buy and sell alerts in real time in an effort to help you make money. I'm so committed to your success, in fact, that I'm rewarding my members for hitting profit milestones.
Millionaire Roadmap members are also eligible for my milestones program. I'll be doing some real-money live trading in that room, in case you're interested in that. But honestly, I think the real star of the Roadmap room is Nathan Bear. He's usually the one live-streaming his trades and educating members on his strategies.
And while I love penny stocks with all my heart, I need all of you to understand that the best trader I know that YOU can benefit from is Nathan.
I'm sure you've read his success story. He joined me coming off a -$40,000 loss in 2015, and he's now closing in on $2M in trading profits. Our Roadmap clients are killing it right alongside him.
I don't know how else to say this, because some of you are going to think there's a bias here, but Nathan Bear's strategy is likely every unprofitable traders' best chance at becoming profitable, fast.
If you trust me, then every beginner, advanced, profitable and unprofitable trader needs to A) Study Nathan's 13 lessons B) Come to his trainings 2x a month C) Watch him crush options live daily. There is not one other strategy I know of, not even mine, you stand to benefit more from. All you need to do is be a Millionaire Roadmap client and you get his service free.
What I've laid out for you above is what I believe your best chance to make money with me is. Now it's up to you to take the next step.
What's Happening Now
Huge shout out to Kyle Dennis and his members.
Since his Mortal Lock training session last week, he's hit SIX 100% winners and THREE +50% winners. I've never seen anything like this. And you don't have to take my word for it, you can check out his winners here.
And none of these were his Mortal Lock trade, which he has no doubt will generate 400%-plus returns. He's so confident about the trade that he's guaranteeing your performance.
And if you missed his training session, you can watch a replay here (it's coming down soon).
If you're ready to join Kyle… or want more information about his performance guarantee, go here.
Today's Top Trade: Nathan Bear Edition
Here's a trade that Nathan Bear spotted while live-streaming his thinkorswim account in the Millionaire Roadmap room.
The vast majority of Nathan's trades are what he calls "TPS setups," which stands for Trend, Pattern and Squeeze. And all the trades we've featured in Insider so far are meet that criteria. That is not the case today.
Today I'm going to show you something a little different. A trade that combines a few techniques you've heard about in a unique way. It's also serves as a great example of how to combine different chart time frames in one trade setup
This morning, Nathan picked up some WWE calls. He used Jeff Bishop's SMA crossover technique, and Jason Bond's fish hook technique for the trade!  If that sounds complicated, here's how Nathan explained it:
"As you can see below, WWE is trending in the daily chart. Though, as you can also see, it does like to come back down and test its 200-SMA from time to time.
WWE just made a new, all-time high a few days before earnings, ie, it's a strong stock.  Combine that with the fact that it has high short interest, nearly 20% per FINVIZ, and you have a recipe for a strong bounce after a move down. "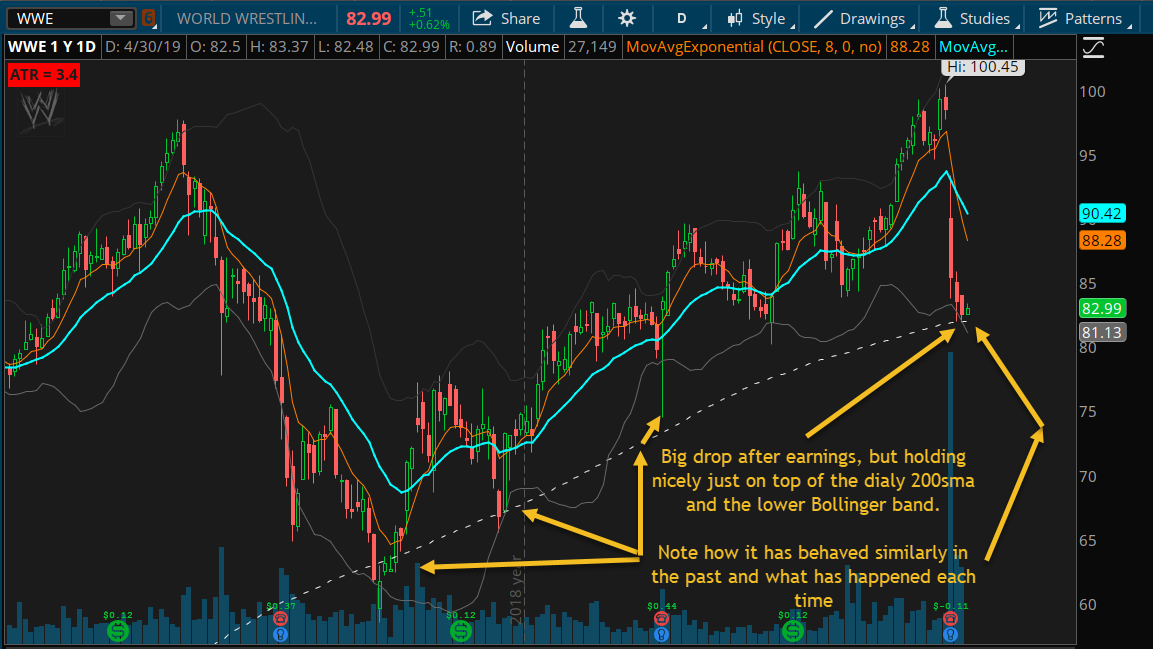 That's the daily chart, but Nathan does not see a 'trade setup' there.
Instead, he is playing a Jeff Bishop style 13 SMA/30 SMA crossover setup, but on the 30 minute chart. Nathan is combining the larger time frame chart, the idea that a bounce off the 200-day SMA, with a smaller time frame chart, the 30-minute chart, to create a trade setup.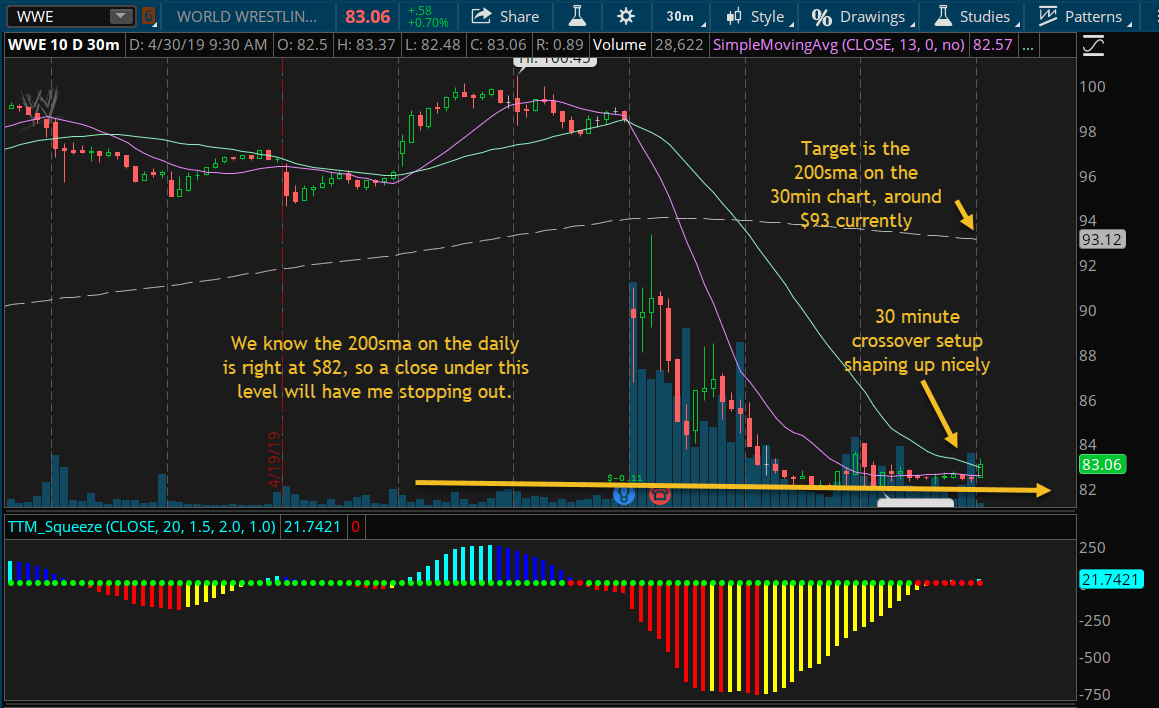 Here is Nathan's trade plan:
1) Initial entry with WWE at around $83. I'm using the WWE 17/MAY/2019 $85 CALL @1.90 to play the move.
2) Potential add to this trade off the 200-day SMA around $82
3) Stop on a close underneath that level (about $82).
If this does come together, the daily chart will be a nearly perfect 'Jason Bond Fish Hook' pattern.
Nathan is up 10% on this trade as I write this, but if you're comfortable with options and managing your own trades, then you should be able to take advantage of this trade idea.
If want access to live coaching from Nathan, you can join Millionaire Roadmap here. Like I mentioned above, Nathan streams his thinkorswim account live during market hours. He's often on the mic teaching folks exactly how he finds the trades that made him a millionaire. And of course, you'll also get access to my live training and trade alerts in the room.
Davis Martin's Market Outlook
Within the RagingBull community, Davis Martin (head trader at Daily Profit Machine and head options trader and co-founder of The Traders Council) does what no one else does: He calls the market before it opens via his Trade of The Day alert.
Davis starts his days early to analyze pre-market data before issuing his daily trade — which are designed to take advantage of bullish or bearish market moves. His goal: To deliver double- or even triple-digit gains soon after the market opens. And recently, a member made $20,411 from one alert!
Last week, Davis said that a break above 293.22 would likely lead to a market break out to new all-time highs, which is exactly what we saw. Right now, markets are a bit overbought so don't be surprised if we see a small pullback.
If that happens, Davis says there's strong support at $291.48. Below that, we may test the 20-day SMA line, which is in green below: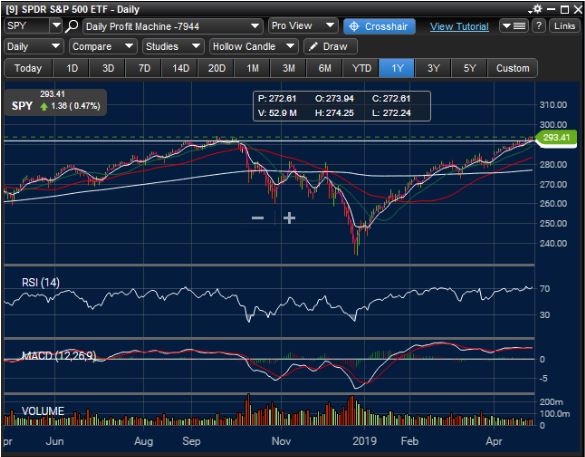 That being said, the path of least resistance is still to the upside. Simply put, SPY has been grinding higher and higher seemingly every week since Christmas of 2018. With this kind of momentum,  and having closed incredibly close to $294 (mental resistance), Davis wouldn't be the least bit surprised to see SPY make more new all-time highs this week.
If you're interested in receiving Davis' Trade of the Day — a daily, high-probability SPY options trade alert sent 30 minutes before the market opens, go here. If you prefer more personalized, live training and trading to see how Davis manages his trades — plus access to everything Davis and Jeff Williams publish — check out The Traders Council here.
Related Articles: