How to Buy Gold Stocks
G enerally known and widely accepted, owning gold has long been seen as a safety net in times of crisis. Gold is often thought of as both an insurance against risk in the stock market and an alternative currency in case of an economic emergency.
While physical gold has a history of dominating the market, the popularity of gold stocks, futures, and funds has grown significantly and continues to rise, giving investors the opportunity to build their safety net without the burden of safeguarding the real precious metal themselves.
With so many ways to invest, it is easier than ever to bet on gold in a manner that suits your individual portfolio and present financial needs. But where do you even begin? We have broken down how to buy gold stocks in three easy steps.
Note that we are not stockbrokers or advisors and do not make recommendations. We simply provide the tools important to finding and identifying possible trades for yourself.
How to Buy Gold Stocks
Explore your options: Before you select your desired form of investment, explore the three major choices for investing in gold and research how each would align with your financial objectives. The three typical investment choices are:

Physical gold
Gold funds
Gold mining stock

Open a brokerage account: If you have assessed all of your options and chosen to invest in gold via the stock market, you will need to pick a broker. There is a variety of both personal and online brokers to choose from. Again, you will want to select a broker that best suits your portfolio needs.
Purchase your stock: Through your broker, you will then be able to place a buy order to purchase stocks or fund shares. You will then know how to buy gold stocks!
Explore Your Options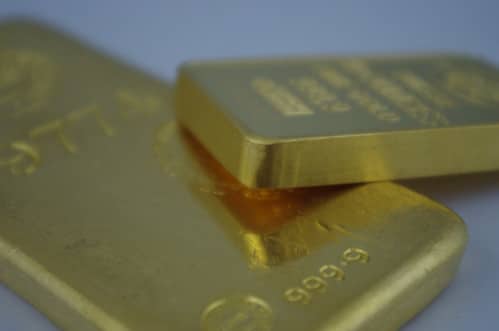 Image via Flickr by sprottmoney
The first step to investing in gold is to thoroughly research your options for investment. There are three major choices available to investors that are interested in purchasing gold. They can opt to buy and store physical gold itself, purchase shares that track the value of gold such as mutual or exchange-traded funds (ETFs), or invest in mining stock.
Physical Gold
Buying the precious metal directly is likely the easiest of the three options for investing. This method of investment is as simple as purchasing a piece of jewelry with significant gold content. This qualification is met by pieces 14 karats or higher.
If you are looking to put away larger stores of physical gold, you can also acquire what is called bullion, like gold coins or gold bars. The benefits of this method are the tangible ownership of and direct exposure to the asset. In addition, gold jewelry can often be covered by a homeowner insurance policy. This can benefit investors in physical gold in the case that assets are lost or stolen.
There are also quite a few drawbacks. Physical gold can be difficult to both store and liquidate. There are also many fees associated with transporting, protecting, and insuring gold. Physical gold also runs the risk of falling victim to high markups and questionable resale value. With value appreciation as the only upside to owning physical gold, this method may be a better option in theory.
Gold Mining Stocks
If direct exposure to gold appeals to you, buying shares in mining companies may be the next best thing. Gold mining stock values track gold prices, giving their investors the benefits of owning gold without the challenges of physical possession. Some examples of gold mining stocks include Goldcorp (NYSE: GG), Barrick Gold (NYSE: ABX), and Newmont Goldcorp (NYSE: NEM).
It is important to keep in mind that the value of gold mining stocks is also determined by the mining company's operating performance. As a result of this, investors benefit from the company's development, but they also fall victim to the risks of mine operations. This unpredictability can be a downside for more conservative investors, especially when they do not have the security of the physical metal if their stock choices are unsuccessful.
Despite the risk, with mining stocks, investors have complete control over the companies in which they choose to invest. This means that they can find companies that meet their portfolio needs. Finally, unlike physical gold, mining stocks can be sold at any time.
Gold Funds
Purchasing gold funds such as ETFs and mutual funds is a lower-risk option for investing in gold. Examples of gold funds include SPDR Gold Shares (GLD), SPDR Gold MiniShares Trust (GLDM), and Aberdeen Standard Physical Gold Shares ETF (SGOL). Interested investors can also opt to purchase generic precious metal funds like Invesco DB Precious Metals Fund (DBP).
Gold funds are lower risk than stocks because funds are made up of multiple gold-related assets from which investors purchase shares. This provides investors with another level of protection between them and the resource. Gold funds also offer the investor better diversification for their portfolio.
By purchasing shares in gold funds, investors give themselves the legal protections and additional liquidity that accompanies these funds. Note that some funds may come with management fees.
It is also important to note that while individual stocks and ETFs can be bought for their share price, mutual funds have a minimum investment requirement. This can be $1,000 or more. Once you have done your research and found the right method of investment for your financial goals and investment strategy, you can then open up a brokerage account.
Open a Brokerage Account
If you opt to invest in gold through the stock market, the next step is finding a broker. You will want to do some research to find a broker who meets your financial needs and objectives. It is also important to keep in mind that commission varies among brokers. After choosing a broker, you will then be able to open and fund a brokerage account. From there you can select your gold-related assets and place an order.
Purchase Your Stocks
You can purchase stocks by submitting a buy order either with a broker over the phone or via an online brokerage.
To place a buy order, you will need the ticker for the stock or exchange-traded fund you are looking to invest in. This will be labeled with the stock's ticker symbol, made up of the market on which the stock is traded and the name of the stock. For example, Royal Gold is traded on the National Association of Securities Dealers Automated Quotations exchange, or Nasdaq, and its ticker is (NASDAQ: RGLD). You will also need the fund you want and the number of shares you are looking to purchase.
You can buy mutual funds through a financial advisor. Keep in mind that advisors also charge fees on commissions. However, you will likely find that an advisor's assistance in handling mutual funds is well worth the added expense.
Once you have submitted the order, you will finally be the owner of gold assets.
While it is important to note that gold does not necessarily generate cash flow in the way the other assets do, investment in gold — especially gold stock — can still be a smart strategy during times of economic decline. Gold can serve to diversify equities in physical and stock markets. When bought in the form of ETF and mutual fund shares, it can also add diversification to your portfolio. Gold's reliability is evident in its market record. On average over the past ten years, gold in all its forms has increased by 0.2% any time the index has declined.
While newer investors may opt for the tangibility of physical gold, experienced investors are generally more likely to find that trading stocks, funds, or futures benefits their portfolio. All gold investors should only use the asset in limited quantities as part of a varied portfolio.
[adzerkadTypes="3833″ keywords="stocks,workshop"]