New to Investing? Check Out These 10 Stock Tips
If you're new to investing, it's helpful to have a solid understanding of how the market operates and how to buy and sell stocks. While investing in stocks involves more than this, you can easily deepen your knowledge of the various aspects of investing by considering some important factors. Use the tips for beginning investors in this guide to help you get started taking control of your financial future.
Key takeaways in this guide:
Setting investment goals, assessing your risk, and making an investment plan are highly important factors to consider before you start making investments.
When first learning to invest in stocks, it's essential to understand the basics of the stock market, including how to make investments and understanding what you're investing in.
Think about things like diversifying your investments, reinvesting dividends and gains, and focusing on company growth of the stocks you invest in.
Exchange-traded and index funds can be excellent options for beginning investors because they offer multiple investments instead of a single stock.
Tips for Beginning Investors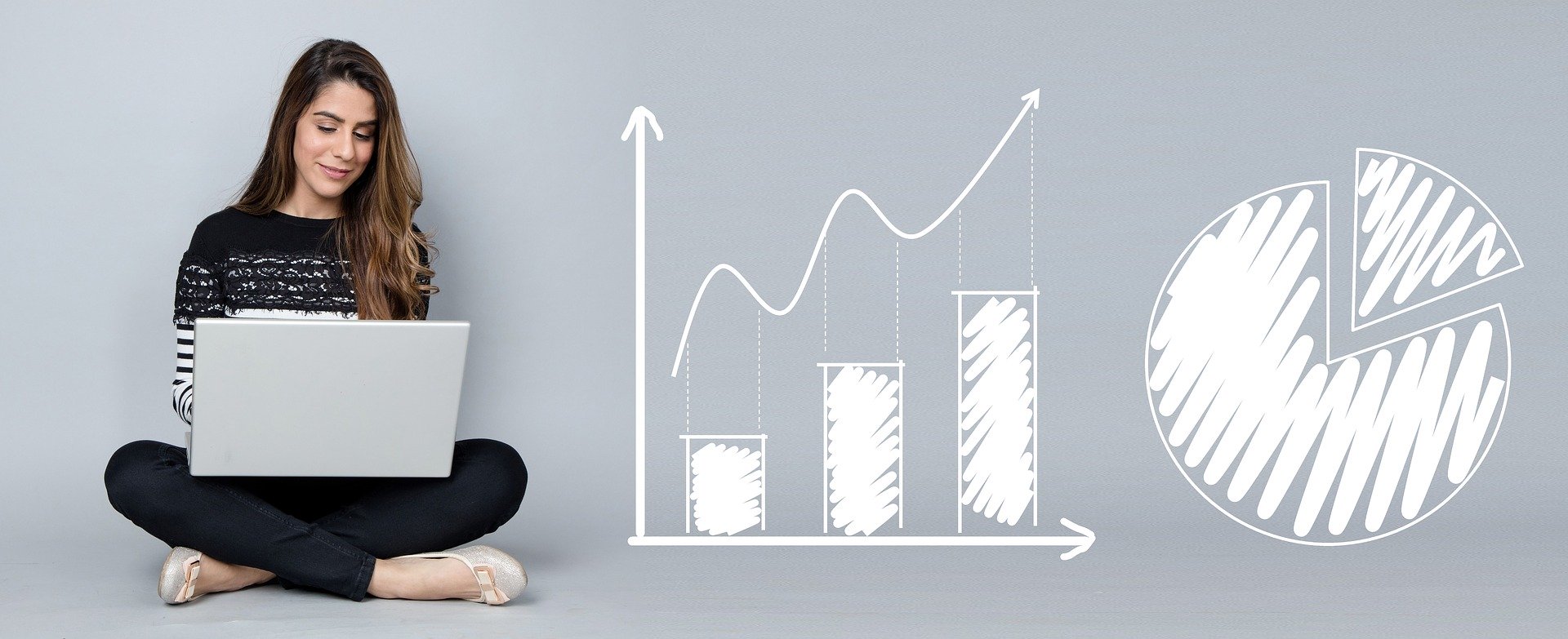 Image via Pixabay by Tumisu
Investing in stocks isn't difficult, but choosing what to invest in so that you're consistently making gains can be challenging. This is where knowledge of the market and some basic investment information can be helpful. For starters, you'll want to make sure you have the additional funds you'll need to make your investments so you don't rely on funds that you don't have.
Start by making sure all your debts are paid off and save up some money specifically for making investments so you're covered when you open a brokerage account. When you're ready to invest, here are several more helpful beginner stock trading tips to keep in mind.
Set Long-Term Investment Goals
Before you get into stock trading, you need to have specific investment goals. This means understanding why you're investing in stocks, along with knowing when you'll need your investment returned. Here are some aspects of your investment goals to consider:
Your purpose for investing in the stock market, such as buying a house, building savings, or saving for retirement.
A timeline and an understanding of when you'll need your earnings, for instance, in six months or in five years.
How much capital you'll need so you can calculate how much to invest and what kind of returns you'll need to achieve your financial goal.
Essentially, the growth of your investment portfolio will depend on these factors and the actions you take when making investment decisions.
Make an Investment Plan
Knowing what investment methods you're going to use and how you're going to move your money when investing in stocks is essential to being successful in the stock market. There are several key things your investment plan should include, and many of the aspects of your investment planning will be directly related to your initial investment goals, including:
Choosing an investment strategy: Your investment strategies will depend on your goals. So if your goal is to save for future retirement, your investment strategy would focus on long-term stock growth or another long-term capital gain.
Choosing stock types: Again, your investment goals can dictate which stocks to consider, such as exchange-traded funds (ETFs), mutual funds, or dividend stocks.
Planning ahead: Your timeline for when you'll need to cash in on your returns can help you determine what factors would make you sell your securities and what factors would motivate you to make an investment.
Developing an effective and successful investment plan also depends on an understanding of your risk tolerance. This means knowing how much you're willing to lose in the event your investments take a downward turn in the market.
Know Your Risk Tolerance
Risk tolerance is knowing what you can stand to lose should your investments fail. While no investor ever enters the market with predictions of their investments falling, stocks, bonds, ETFs, mutual funds, and other securities all come with different levels of risk. This means you'll need to think about your specific financial goals and your timeline of investing.
If you're saving over the longer term, there's a chance you might make more money by carefully taking on higher-risk investments, like stocks. If you're looking for lower-risk, short-term investments could be more in line with your financial goals. When first beginning investing in stocks, though, it's a good idea to stay at the lower end of your risk tolerance until you gain more experience trading in the stock market.
Understand the Basics
B efore diving into investing, it's important to understand some of the basic aspects of stock trading and how the stock market works. Take some time to learn about the different types of investments you can make, especially if you're investing in individual stocks. For instance, start by looking at different options that will fit with your investment goals. If you want to diversify your portfolio, for example, think about allocations — that is, maintaining your portfolio to include a certain percentage of stocks compared to another percentage of other investments like ETFs or mutual funds.
You'll also need to understand the differences between market orders, stop market orders, limit orders, stop-limit orders, and trailing stop-loss orders. When you open an investment account, it's important to understand the differences between a common cash account and a margin account, which you'd need for certain kinds of trades.
Invest in What You Know
Don't invest in sectors or industries or other stock options that you don't understand. Do some research into the company that's offering the stocks and get to know how the business earns revenue, the factors affecting its industry, and what the company's growth could potentially look like into the future.
If you can't understand this information with a little bit of research, it's safe to move onto another stock option from a company that you understand. It's important to know what you're investing in because this information can help you form your basis for researching and screening stocks, along with knowing when and what to watch regarding performance.
Diversify Your Investment Portfolio
Generally speaking, if you're making longer-term investments, you could consider diversifying your entire portfolio.
Diversifying your portfolio can help protect it from the potential setbacks that are common in the stock market. Think about it this way: If you put all your money into a single company, you're betting on that one company's success. This is highly risky, as there are many variables that could harm this investment. Bankruptcy, the company forming a new business model, or other external factors can all cause the one company you invested in to bottom out, losing your investments.
However, when you build a diversified investment portfolio, you can mitigate a lot of this risk. Consider combining individual stocks and various funds (like mutual funds) into a single investment portfolio. You can also start investing in index funds and ETF stocks, which will provide you with a basket of securities across an entire index. This means you'll be making gains based on the index values rather than individual stock values. Ultimately, diversifying your investments can help you spread your risk across multiple securities rather than making a bet on a single stock.
Learn How to Perform Stock Research
Get well-versed in performing some basic research into the different stocks and assets you're interested in investing in. If you use an online investment platform, you should have plenty of tools available that can help you in your analysis into which stocks to buy. Use stock screeners to find information about a stock's performance history, company information, past valuations, and more. Learn how to perform a stock analysis, including technical analysis and fundamental analysis, both of which can help you determine the best investment choices for your portfolio and investment goals.
Focus on the Company Over the Stock
Remember that behind every stock option on the market is an actual business that you're purchasing a piece of. This means that your investment successes will depend on the companies' successes that you've invested in. So when you're considering purchasing a stock, take some time to learn the company. This goes hand-in-hand with understanding what you're investing in, and it's essential because knowing how a company makes money and how it's performed over time can help you when making projections about future growth.
Keep an eye on company performance just as you would the performance of your investments, as this can give offer some valuable insight into what your returns will look like in the future.
Reinvest Your Capital Gains and Dividends
If you invest in dividend-paying stocks or investments that regularly pay out capital gains, consider reinvesting it immediately. At least in the beginning stages of your investments, it's an excellent way to build and support your investment portfolio and it helps you continuously earn on compound interest. Reinvesting your dividends also allows you to purchase shares during both high and low price swings, which continues along with a dollar-cost averaging approach.
Work With a Broker
One of the last stock tips for beginners is that if you're still learning about the market, the process, and how it all works together, this is where a full-service or discount stockbroker can be highly beneficial. Many brokers are available through online services, and you can even open an online brokerage account and use a robo-advisor. Doing so can help you build your confidence in making smart investment decisions, which is crucial for finding success in the stock market.
These tips on stock trading for beginners should be an excellent starting point for broadening your knowledge of how to invest. As you gain more experience investing in the stock market, you can take on more risk for higher rewards, and even get your feet wet in active trading. However, it's important to remember that long-term investing is one of the most effective ways to build a future of financial freedom.