It's no mystery by now that Chinese stocks were under increased pressure under the current administration.
Trade wars and expanded regulations on Chinese companies conducting IPOs led to an increased risk factor when trying to get long on them.
Many of them have been shut out from listing on the Nasdaq— unless they were able to raise at least $25M in their IPO, or over a quarter of their post-listing market cap.
IQIYI Inc. (IQIYI) still serves as a dark and chilling example of the dangerous journey that many young Chinese stocks undertake on U.S. exchanges.
Known as the "Netflix of China," IQIYI saw shares tank by 12% after SEC investigations began investigating its alleged inflation of financial numbers.
That happened not long after China's Luckin Coffee, the "Starbucks of China," was charged with similar allegations, forcing the chairman to resign.
That said, China is just too big to ignore. And for those who missed out on the IPO of hot U.S. brands like Netflix or Tesla, Chinese copycats give investors a second chance.
In fact, Chinese stocks have been showing strength in the past couple of weeks. International stocks as a whole gained 4% last week, as compared with 2.2% for U.S. equities.
Today, I want to share 3 U.S. listed Chinese IPOs that are offering attractive setups in the current market environment.
KE Holdings is a large chinese technology holding company, composed of two major enterprises: Lianjia, a real estate brokerage that helps homeowners sell and rent; and Beike, the "zillow of China," which connects brokerages and homeowners with buyers. Second only Alibaba, KE Holdings is the largest U.S traded ecommerce platform stock.

BEKE held its IPO on the NYSE and has already made a splash. After raising $2.2B and selling 106M american depositary shares, the stock has been a mover. It opened at $35 and currently sits at $72 for a total market cap of 81.78B.

KE Holdings shows impressive revenue growth, having soared 80% to $6.5B between 2017 and 2019. The number of agents on its platform also tripled to 358,000.

With things pointing to a reopening of economies following the latest positive vaccine trials, real estate is a sector that has been a big beneficiary. Lock-downs have reduced the number of real estate listings during the pandemic, but we can expect the number of transactions to improve.

While the stock hasn't shown huge volatility for potential swing trades over the recent months, it's one of my top Chinese IPO to monitor for a potential breakout should economies truly reopen.

Li Auto (LI)
Li Auto is one of the newer Chinese electric vehicle stocks to hit the market, along with competitors like NIO and Xpeng. It's a huge player in China and its delivery forecast for the fourth quarter is 11,000 to 12,000 vehicles, roughly the same number that TSLA did in the month of July, to put things into perspective.

The stock is already showing strong growth since its IPO in July. Shares have rallied nearly 100% since it's pricing then at $11.50. The stock also has strong backing from major institutions like UBS Asset management, Morgan Stanley, BlackRock and JP Morgan & Chase.

Intraday, the stock has been showing strong trading potential. This past Friday, shares leapt by as much as 25% after a better than expected earnings announcement, the first announcement of earnings since it went public.

LI is nevertheless not invulnerable to news and will trend to trade in tandem with other Chinese EV stocks. Case in point, when Citron released a short-seller note on Friday about why NIO shares could tank to $25, LI sold off after its strong initial intraday move.
The pullback after Fridays trading shows a strong opportunity to play a dip and get long on LI, especially after it demonstrated such strong intraday trading potential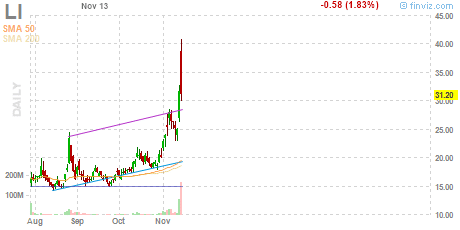 Lufax (LFAX)
Lufax is an online Chinese financial services platform. The company is focused primarily on wealth management and lending, and specifically addresses growing middle class and affluent populations

LU started its initial trading during its IPO on October 30th, opening at $11.60 and raising $2.6B in one of this year's largest IPOs. The stock has since been trending up, currently sitting at all-time highs of 19.22

Lufax is backed by Ping An Insurance, China's largest insurer, which gives the company credibility. Ping An now owns nearly 40% of Lufax following the IPO.

As a Chinese financial services provider, Lufax is in direct competition with Ant Group. With Ant Group's IPO now delayed, it could be a great opportunity to gain market share.

LU saw a big move up between Thursday and Friday's trending session. It has plateaued and looks to be in resting mode. If it's current price can hold the $19 level, I'll be interested in getting long for another leg up.

Learn How I'm Trading IPOs Now
I'm expecting to see some big Chinese IPO trading opportunities coming up, given that a new presidential administration could take a softer tone towards Chinese IPO regulation.
Of course, IPOs are on a tear in general this year. The Renaissance IPO ETF is up over 80% year-to-date.That's over 9 times the growth of the S&P 500!
In October, I took triple digit gains on 10 newly public companies.*
That includes Cloudflare (NET), which I took an average of 150% gains on; Crowdstrike (CRWD), which I took a 100% win on; and JFrog (FROG), which I took a 100% win on.*
Take advantage of my special quarterly price, with no long-term obligation, to test drive IPO Payday for the next 3 months.