If you want to rock the markets right now, you have to learn how to ride trends.
I'm talking about finding stocks that are actually benefiting from the current mess by providing solutions.  
Because, let's face it. Who really knows when the country will fully open back up.
Though the government has currently eased some of the lockdown restrictions, some medical experts feel that the coronavirus could see a resurgence in the fall with the return of the cooler temperatures.    
The Fed's Neel Kashkari shocked the media channels last month saying that we should get ready for 18 months of shutdowns and a "long, hard" road ahead.  
Whether or not Kashkari is right, I feel it could be awhile before the general public feels safe resuming their normal activities— working alongside colleagues, eating at restaurants, sitting in movie theaters, and exercising at the gym especially.
So what stocks can we expect to continue trending and handing traders big bucks on their long positions?
The video conferencing stock, Zoom (ZM), is the most obvious example, as downloads have continued to shoot through the roof. I'd go as far as to say that the company is S&P 500 bound.
I've already traded options on the stock twice—taking 225% profits on it back in February and 80% profits in it late in March.
But today I want to take a look at 3 other social distancing stocks I'm watching right now, which could also be primed for breakouts.
Slack (WORK)
Zoom is not the only digital application that is providing remote employees with a work-from-home solution during this coronavirus outbreak.
Slack allows employees to instantly message through their well-designed application portal.
The Slack CEO even announced recently that they would offer free upgrades to paid plans for teams working on coronavirus research, response, and mitigation.
The company even just launched a redesign of its product to help remote workers collaborate more easily.
WORK IPOd last summer at $38.50 and fell as low as $15 during the Covid-19 stock crash in March with the overall market.
The stock has since bounced back to nearly $30 as investors recognized the importance of the company's applications in the current work-from-home economy.
Slack has some huge potential long-term applications, as well. The company essentially replaces the use of internal email among companies.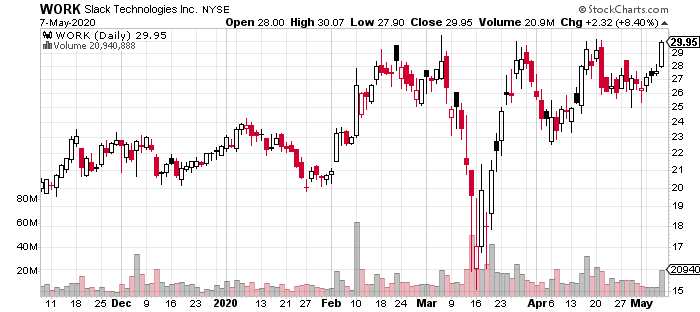 Chewy (
CHWY
)
You wouldn't believe what people do for their pets who they practically consider additional members of the family.
People have been lining their shelves with dog food cans the same way they line their cupboards with cans of beans in preparation for Armageddon.
It's the same story we've been seeing all across the food industry really.
Just as food delivery company Blue Apron (APRN) has caught a bounce as people are fearing grocery store shortages and are unable to dine at restaurants, CHWY has people soaking up its pet food delivery services.
CHWY had a great start to April, reporting full-year 2019 earnings with higher sales volume due to COVID-19.
The stock has risen 40% overall in 2020, including a 15% bounce in April.
I think it could be getting ready for another leg up.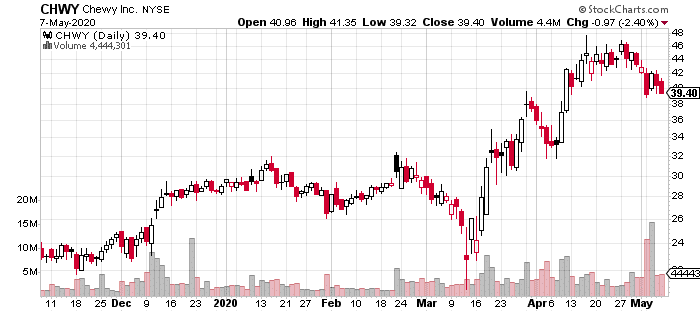 Peloton Interactive (PTON)
I've been watching Peloton and I'm loving it.
It's been showing incredible divergence and fighting the market like a charm.
Many people are trying to develop at-home workouts, given that all gyms are currently closed down.
Peloton's cycling equipment allows people to conduct their workouts in the comfort of their own private space.
The stock is currently roaring at all-time highs.
It rallied hard on a great earnings report this week and has shown strength moving up with volume.
It's possible the stock can keep moving on momentum. But regardless, I'll have my eye on it for possible retracements.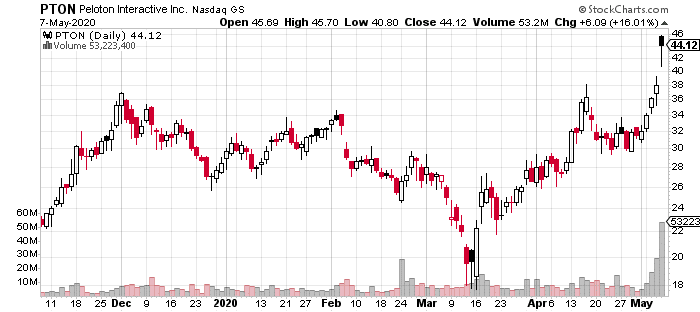 Sign up to Watch Me Trade WORK, 
CHWY
, and PTON
I'm putting on IPO trades just like this every week for my exclusive subscribers to show them how to get a piece of this exciting market.
The overall market may be tricky right now, but I'm putting out a watchlist each and every week to help folks learn to take profits on the IPOs showing great market divergence.
Click here to find out how to access my exclusive IPO Payday watchlist and see exactly what trades I'm putting on.
Related Articles: