As you know, anytime a big potential unicorn conducts its IPO, it makes a big splash in the financial media and everybody talks about it.
But did you know that just before the IPO of any company, there's a period where everything is hush hush?
It's called the "quiet period" and it's a period of time that occurs right after the company and the underwriters of the IPO set an offer price and file for registration with the Securities and Exchange Commission (SEC).
The period lasts anywhere from 10 to 25 days, during which time the underwriters and investment bankers are strictly prohibited from broadcasting any analysis on the company.
That includes any upgrades or downgrades of the stock, where they recommend whether to buy, hold, or sell that stock.
The whole purpose of keeping things on the DL during this time frame is to level the playing field and protect ordinary investors against insider trading.
Nevertheless, just as the quiet period expires, analysts come out of the woodworks and there is an outpouring of information on the stock.
Today, I want to reveal how this quiet period expiration date can be an optimal time to trade based on how these IPOs are being analyzed. 

If you're familiar with my IPO Payday trading service, you know that there are 3 key moments in the life cycle of any IPO that provide us a significant opportunity to profit.
STAGE ONE: The snap, crackle, and pop — the time to profit off the initial IPO excitement.
STAGE TWO: The Options Bonanza — they open it up to options and price goes nuts, a SECOND time.
STAGE THREE: The Insider Dump — the "lockup period" expires, and insiders can sell their shares as they are no longer restricted from doing so.
Well, the quiet period is a little bit like the lockup period with some notable exceptions.
First, the quiet period is established by the SEC, whereas the lockup period is not.
Second, the quiet period happens before the IPO gets SEC approval, whereas the lockup period gets into motion immediately after that approval. 
How to Trade the Quiet Period Expiration

The reason to consider trading the quiet period expiration is the level of price action movement.
Since investment bankers and underwriters are restricted from providing analysis on the IPO during this period, there tend to be much larger fluctuations in the stock when they finally are able to provide that information.
In some cases, there's a large disparity between the recommended IPO price that gets established and the price range that analysts feel it belongs in.
When an IPO gets priced way outside its range, that means analysts will upgrade or downgrade that stock — and we can trade it based on how we think it will move, given that upgrade or downgrade.
If a stock was initially priced much lower than analysts think it should have been, they may issue a 'buy' signal — and that could send the stock higher.
How I Traded a Quiet Period in Bill.com

The best part about the quiet period expiration is the fact the date is known ahead of time. Typically, you'll see a slew of initiations with price targets and how analysts think the stock will fare against the overall market or sector.
For example, Bill.com (BILL) was a recent IPO, and I knew ahead of time when its quiet period would be over… so I actually bought shares thinking it could catch some initiations from major investment banks.
Not only that, but the chart indicated it could squeeze higher.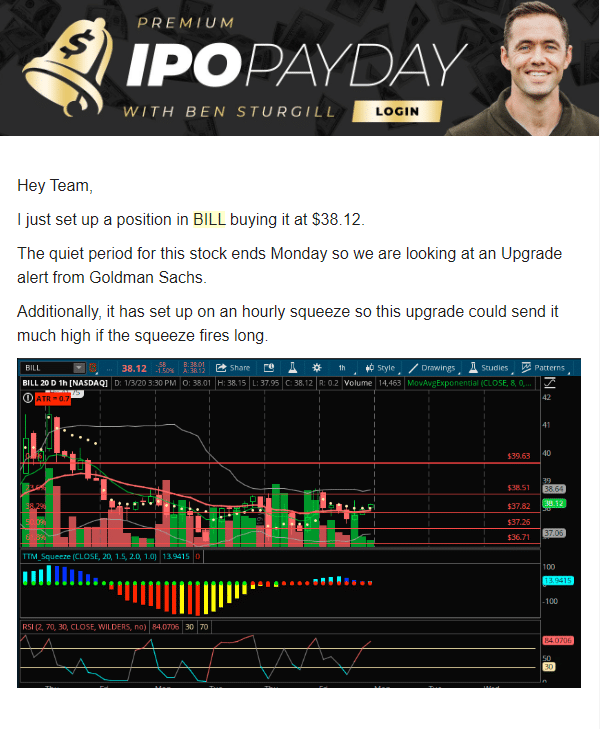 Well, guess what happened on its quiet period expiration date?
The company received a few initiations and price targets (although Goldman didn't do what I suspected them to do). However, across the board, we did see some bullish analyst comments.

Source: Finviz

Just take a look at what BILL did after January 6 (when its quiet period ended)…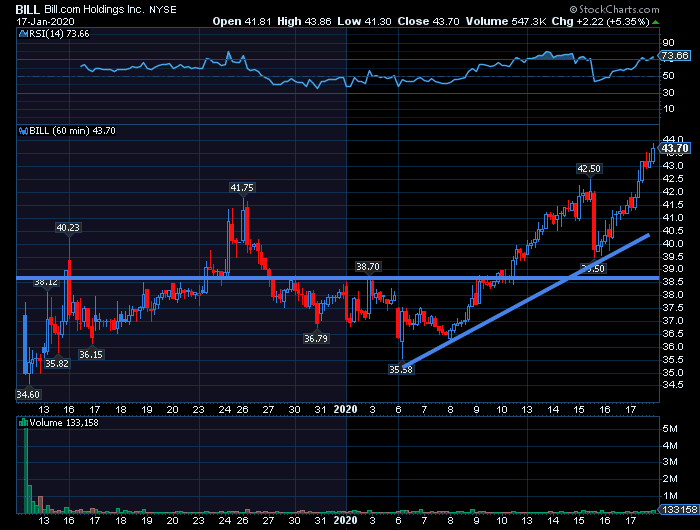 The stock started to ramp higher, and I took part in that move…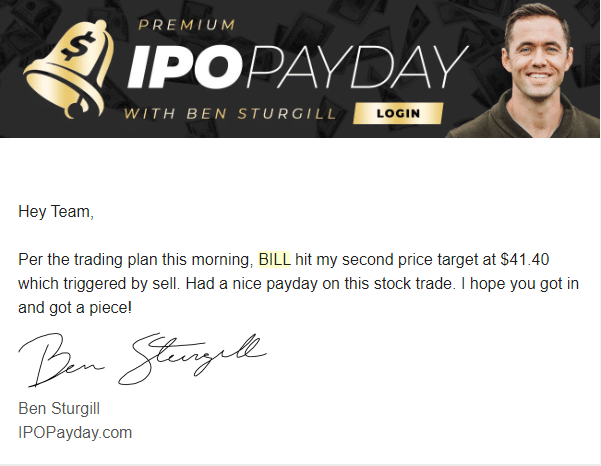 It's really that simple to find profits in the IPO market. With the quiet period expiration trade, all you have to do is look at the calendar, pair it with a simple chart setup… and execute.
If you want to profit off some of the hottest companies in the market, then check out my training session on the three phases of an IPO's lifecycle.
Most people only believe IPOs are only tradable on its release date. That's wrong. In fact, I've written a book explaining several profitable strategies that you can implement to get more out of trading IPOs. It's called IPO Jackpots, and you can reserve your copy here.
Related Articles: