The coronavirus is terrifying. 
As the deadly virus continues to spread, travel restrictions are in place. And people all around the world, especially in China, are afraid to leave their homes. 
This means that telecommunications and work-from-home situations are trending right now. 
While the market got wrecked this past Friday — for the second time that week! — I spotted an IPO trade late that day that took direct advantage of this current trend. 
The trade was in the popular video communications company, Zoom (ZM), and it was showing strength despite damage in the overall market.

Well, the stock proceeded to rally to its best day in almost eight months, moving from $76 late Friday to as high as $91 Tuesday morning.
I was pleased to close out 202% and 225% gains on first and second halves of my options position in it early this week — all for over $8,300 in profits.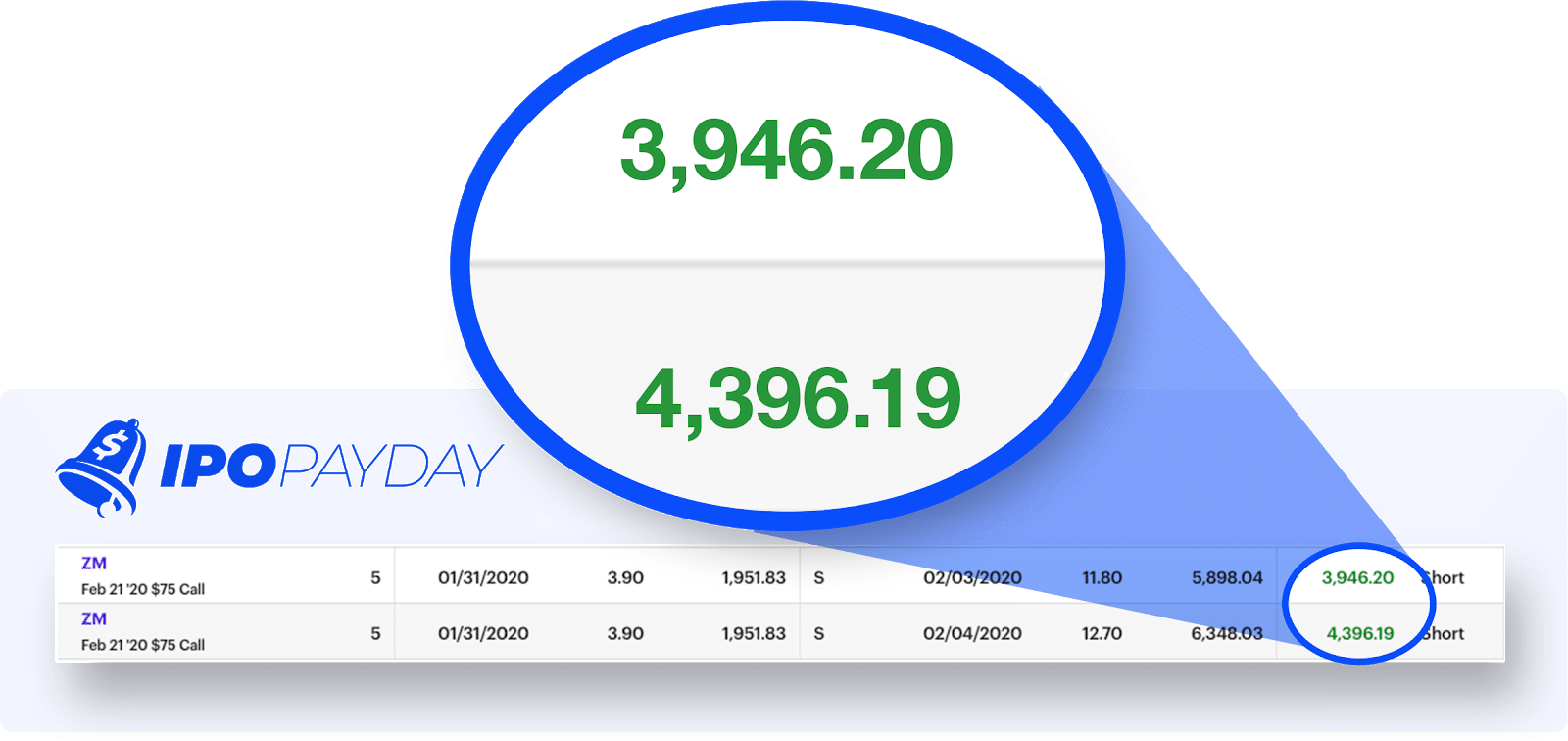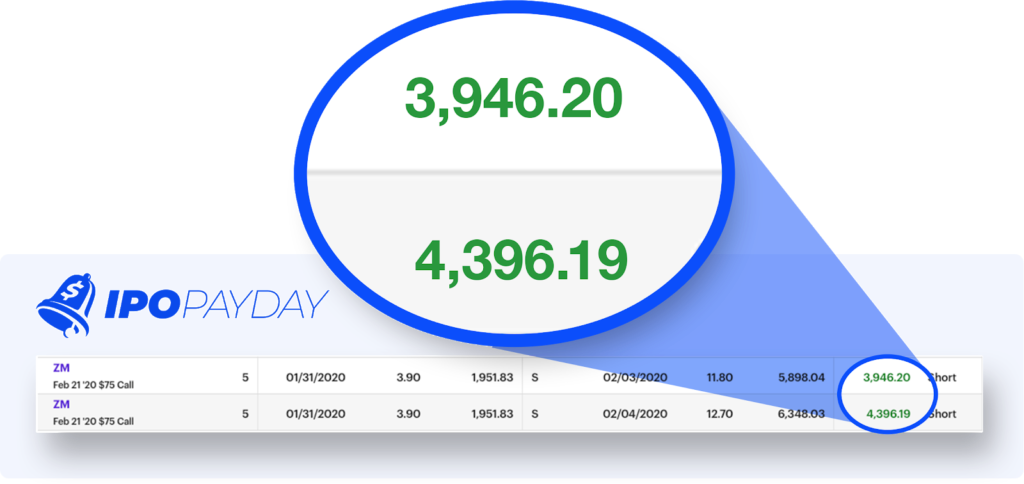 Today, I want to walk you through the technicals in this winning trade and show you how I'm setting up more trades just like it in IPO Payday everyday.
The Secret Behind How I Spotted A 200% Winner In ZM
Of course, while stocks were getting smoked… everyone panics and looks for the exit sign. However, I trade IPOs, which are a different breed. Sure, I follow the overall market, but the thing is, these stocks don't necessarily move with the S&P 500, Nasdaq or Dow.
That's exactly how I spotted a 200% winner in ZM.
Instead of looking to short IPOs, I tried to find the ones that were relatively strong against the market. In other words, stocks that are up when the broader market is selling off.
On Friday, ZM had that price action. The stock did nothing but show strength, and that was a bullish signal for the recent IPO. 
When I looked at the 15-minute chart, I just knew I had to get in.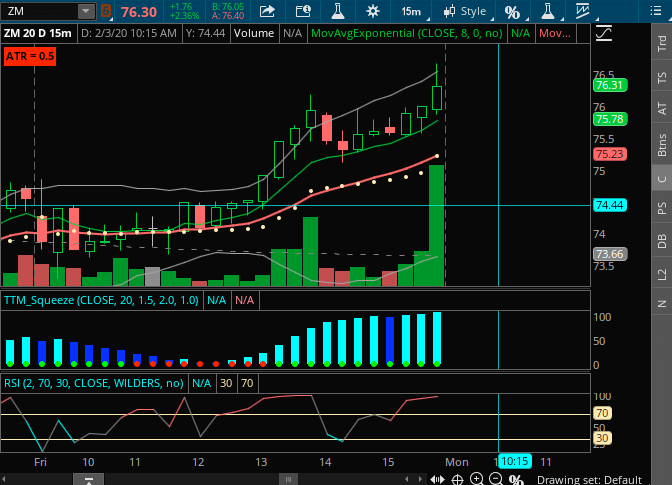 ZM formed a bull flag pattern, and broke above its high of day. Not only that, but if you look at the TTM Squeeze indicator (the bars below the price and volume chart), it signaled ZM had positive momentum.
A bullish chart pattern coupled with positive momentum in the TTM Squeeze let me know this was a high-probability setup. However, I didn't want to buy the stock outright, just in case ZM pulled back on Monday. Instead, I looked to the options market because it's a cheaper alternative.
So what did I do?
I bought ZM Feb 21 20 $75 calls for $3.90 a piece.
Just a few days later, here's what I sent out to clients in my trade plan for February 4.
Additionally, our portfolio had a solid day yesterday with ZM, selling half of that position to lock in profits and now holding the other half to see how high ZM can go. It is now up over 90$ in the premarket so today should be interesting. I'll speak more on this below. The plan today is to scan, look for excellent setups on the current strength of the market and to try to find other IPOs that would benefit from the concerns of the Coronavirus as ZM seems to have, being a conferencing call company. 
Guess what happened with ZM?
The stock made a massive move and actually got above my price target!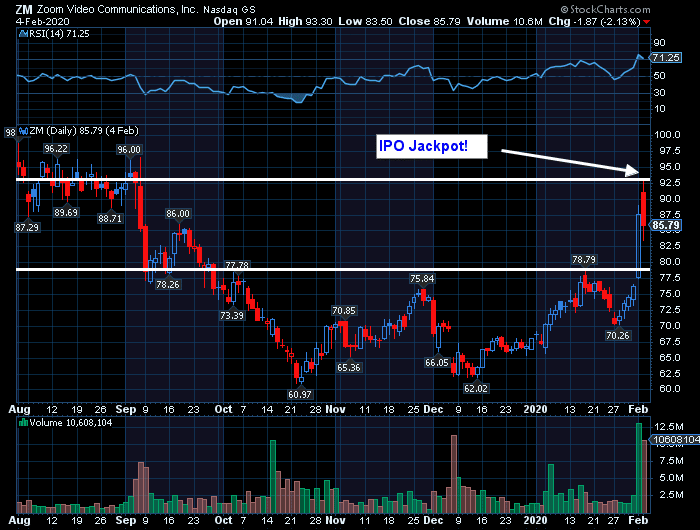 Of course, I took my profits off the table…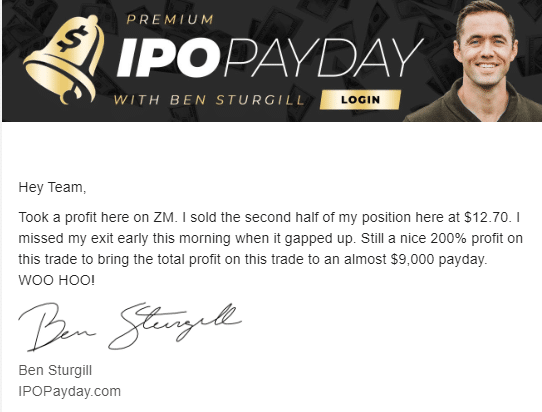 That's the beauty of IPOs. They move to the beat of their own drum, and a lot of the time, you could uncover jackpots. In just a matter of days, I was able to lock in $8,342.19 on a small position!
If you had just put $780 into the position, you could've made as much as $1,760 on the trade. If you want to learn more about the IPO market and find explosive opportunities, just like the 200% winner in ZM… click here to watch this exclusive training session.
Related Articles: