It's been just 3 full trading days since the Casper (CSPR) IPO, and so far this mattress company has given investors more nightmares than actual sleep. 
Since opening around $15 on Thursday, the stock fell just below $10 as of yesterday's close. 
Co-founder and CEO, Philip Krim, apparently isn't losing sleep over it though. 
He said, "The business continues to grow very quickly, and we've been very pleased with where we're making investments and seeing the benefit of those investments."
Whether or not that's the case, the 2019 yearly earnings that the company reports will offer much better insights. 
During the first three quarters of 2019, the company reported $312 in revenue — a figure that's up only slightly from $259.7 for the full year in 2018.
So far, the Casper IPO has been a clear warning sign that investors have no "appetite" for tech-oriented startups that are unprofitable upon their public debut. 
Today, I also want to take a look at how a couple of the key psychological levels could cause investors to trade the stock — and whether it will bounce off or fall below it's current $10 mark.
CSPR Could Find Support Soon, But Pessimism Remains a Driver
While Casper has only been public for a few days, I've been starting to gather some technical evidence that will help me place the stock in either my green, yellow, or red light category. 
For the most part, these technical support and resistance levels are determined by human emotion, which includes greed and fear, as well as optimism and pessimism. 
Support levels form when a downtrend pauses and there is a concentration of demand, whereas resistance levels form when an uptrend pauses and there is a concentration of supply. 
Right now, the stock sits at about $10 per share, and we need to determine if that will form a key support level or if the stock will continue to trend lower. 
The reduced offering price we saw last week indicated that demand for the stock probably was not there. 
The stock may have received a quick pop during the initial day of trading, but that was largely a reaction to the last-minute slashing of the initial offering price that was supposed to be as high as $17-$19 per share. 
Since then, we've seen that investor emotion toward the stock has been primarily pessimistic. 
Is It Time To Get Into Casper?
Casper's IPO has been a complete disaster. After multiple price range and valuation cuts… I don't know anyone who would've bought the stock on the first day. I certainly didn't touch it, and that was the right call.
With these weak IPOs, it helps to remain patient and wait for key levels.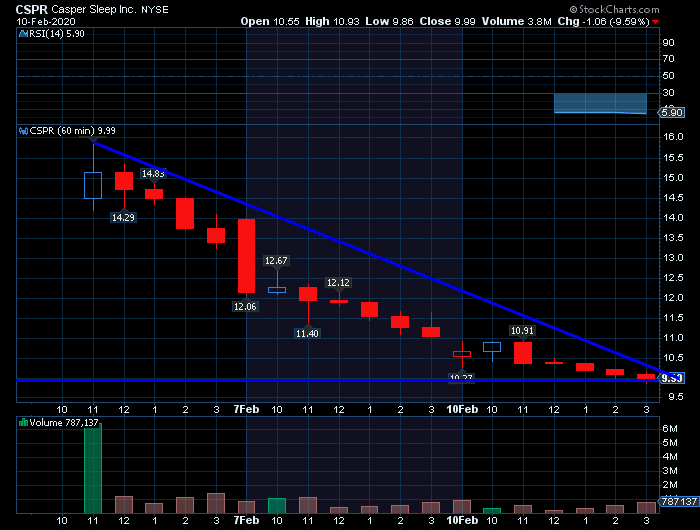 Just take a look at the chart above in CSPR. The stock got decimated and dropped all the way from $15+ to around $10. Who in their right mind would've tried to buy this stock, especially after it broke below its IPO price?
Now, with this selloff, CSPR may actually be undervalued at these levels, especially as it's sitting right around a key psychological level at $10. The stock broke slightly below it already… but it may actually catch a pop if this level holds.
I don't really know the reason behind psychological levels… all I know is this price action is prevalent in the market. At one point, we actually saw the $10 level hold and catch a pop. However, the stock reversed and broke below. But it's still right around there, and the demand could start pouring in.
The big question traders have on their minds right now is should they buy CSPR or just forget about it?
Well, for me, I'm going to keep it on my watchlist and see what it does around $10. If I see the stock hold right around that level and catch a pop… coupled with one of my patterns.
But for right now, it's a yellow light for me. 
Related Articles: