Remember the last time you went to a store and saw the price tag of a cool piece of clothing with not one but two price markdowns?
Like it had… $50 … $25 … and finally $10.
Now, how about the last time you went shopping in hopes of a great deal on a mattress? 
Well, I may have found just the opportunity for you. Not in the mattress itself, but in a mattress IPO. 
The highly anticipated Casper IPO went LIVE on Thursday under the ticker symbol CSPR, and it may be listed at a bargain price. 
While the company initially aimed to offer its stock between $17 and $19 per share, they slashed their initial projections to between just $12 and $13. 
They opened with a slightly higher price of $14.50 on it's Thursday public debut and closed the day at $13.50. And on Friday, the stock fell even further to $11.05 at the market close. 
The company is now valued at $520 million, down from an earlier $760 million — and down even further from an initial $1.1 billion that once gave the company a coveted "unicorn" status. Today, I want to explore whether the recent Casper price drops give it my green light buy signal… or whether all the recent pessimism around it's debut means it's preparing for an even bigger meltdown. 
Casper Could Follow the Footsteps of Blue Apron IPO, Down Almost 100% Since Debut
It didn't take much effort to scan the headlines leading up to Casper's public debut and see that a lot of skepticism surrounded the IPO. 
Now the suspicions that investors would shy away from yet another hot but loss-leading startup are at least partially confirmed. 
Many news outlets are calling the Casper IPO a disaster. 
While the company popped during the initial hours of trading, jumping as high as 25%, things smoothed out and eventually cooled off towards the end of the day.
Given that the Casper bankers initially offered the company at such a lower than originally anticipated price, the first-day performance of the stock was not nearly as good as they had hoped. 
Ideally, the lower initial offering price would have generated a psychological effect where investors saw a bargain and immediately jumped on board. 
That was not the case. 
Casper now sits securely in small-cap territory with its current half-billion-dollar valuation and could walk down the path laid by other consumer IPOs gone wrong… like Blue Apron (APRN) which fell from a price of $140 in June of 2017 to a current price of just $4. 
The biggest problem is Casper's balance sheet, which even the new IPO funding may not be enough to resolve. 
The company ended the third quarter of 2019 with $54.9 million in cash, but could burn through more of that cash in the fourth quarter… just like it did in 2018 to fund all its marketing activities. 
$93 million in net proceeds from the IPO will bring its cash liquidity to $148 million, however it remains to be seen whether Casper can become profitable without capital infusions. 
Casper's Failed IPO
On Casper's debut, it was nothing short of a disaster. The stock priced at $12, and opened at $14.50. Right out of the gate, it looked like a hot IPO. However, what we did know was the demand was probably not there… as the company slashed its pricing range earlier this week.
Think about it like this, when there's heavy demand, the underwriters have to raise the price to take that into account. On the other hand, when there's too much supply, and very little demand… they have to slash the price. 
Well, that's what I figured would happen with Casper (CSPR), which is why I left it alone. I gave it a yellow light signal, and I just watched it to see if it would show signs of strength.
Even though I didn't trade it, there are lessons we could learn from CSPR's failed debut.
When CSPR opened above its IPO price, the one thing to note is what the first trade price was. Well, that's easy to figure out, $14.50 was the first trade price. For every IPO, it helps to be mindful of where the open price was… because if it breaks below, it could provide us with opportunities and clear-cut trade signals.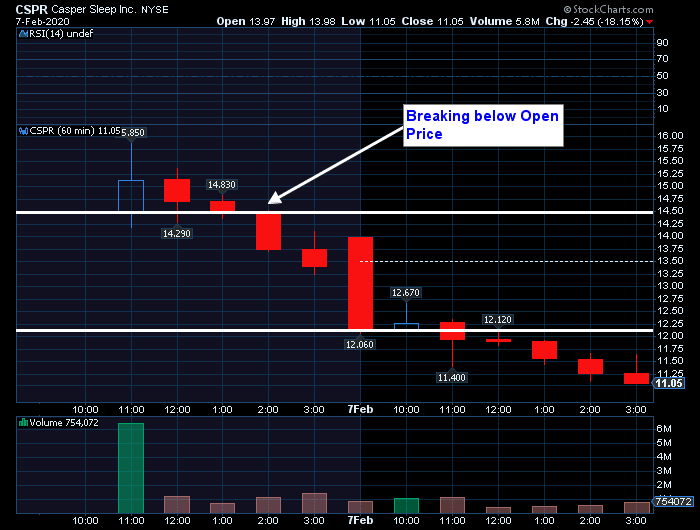 For example, if you look at the hourly chart above in CSPR, if you bought right out of the gate and didn't take profits, you could've placed a stop loss just below $14.50.
Why?
Well, that's the highest someone was willing to pay right out of the gate… and it tends to act as a support level. Just look at what happened to the stock after it broke below. When you see an IPO selling off like this and it breaks below the open price, the next level to watch is the IPO price.
Once CSPR broke below $12, it was quite clear traders didn't love this stock at all… and it fell all the way to $11. Now, I'll keep an eye on this one to see what it does this week. The next area I'll look is to $10 because that's a key psychological level that could act as support.
This is the exact reasoning behind why I watch IPOs very closely and come up with a simple trade plan ahead of time and send it out to my clients.
Just because CSPR was a failed IPO, that doesn't mean all IPOs will be duds. In fact, there are plenty of IPOs set to debut in the coming weeks that I've got my eye on. If you want to learn how to spot the hottest newly-issued stocks, then click here to watch this exclusive training session.
Related Articles: