My wife loves shopping, but I hate it. 
Don't get me wrong, I enjoy looking nice. 
I just don't like spending hours in a mall on a weekend when I could be throwing the ball outside with my 3 boys…
Or studying the market to bring these cutting edge IPO insights to you. 
That's why a company called Stitch Fix (SFIX) recently caught my eye.  
It's an online clothing retailer that offers a personal styling service. 
Using algorithms and data science, it's able to recommend clothing to you based on size, budget, and style.
Now, SFIX is a stock that went public in 2017, but some new circumstances led to it being on my radar in my IPO Payday premium service. 
Today, I want to explain to you why I think Stitch Fix is an appealing stock to hold during quarantine.  
I also want to walk you through exactly how I played the pop in the stock last Friday and locked down a nice 30% win. 
Stitch Fix (SFIX) Could Thrive While Brick-and-Mortars Continue to Struggle
The current quarantine makes SFIX an attractive short term hold because shoppers currently don't have the option to buy in-store. 
Stitch Fix is essentially disrupting the conventional brick-and-mortar experience. 
The real advantage of going to the store as opposed to shopping online is being able to try out clothes in person and get advice from the retailers. 
Stitch Fix makes that increasingly unnecessary, however.
Not only does the website use algorithms to sort by style and preference upfront, a stylist aided by data science chooses a "fix" of five different clothing items to ship to you. 
It's super easy, and customers can try on the clothes in the comfort of their own homes after the order gets quickly shipped to them.
But I think that SFIX could have some solid long term prospects as well. 
As more and more shoppers report a preference for buying online over purchasing in-store, Stitch Fix could continue to grow in popularity. 
Stitch Fix separates itself well from it's online retail competition because it removes the stress of sifting through an endless selection of clothes in your web browser.
Stitch Fix's Financials Look Very Strong 
The market for this is huge, evidenced by the impressive sales record of Stitch Fix last year. 
In 2019, Stitch Fix reported apparel and accessories sales of $440 billion in the U.S. and U.K. 
Not only that, during Q1 and Q2 of 2020, revenue per active client grew by 9.5% and 8.3% respectively. 
The company has also had a strong record of cash flow since it was founded in 2014. 
It's balance sheet boasts an impressive $300.6 million in cash and short-term investments and no debt.
How I Snagged a 30% Win In SFIX Options 
All the fundamentals of SFIX aside, the chart was what looked especially appealing last week and convinced me to jump in. 
The stock was forming a picture perfect bull flag set up.
Having made a nice run into earnings, the stock was entering a consolidation. 
Here is a picture of this chart, which shows why it looked so great…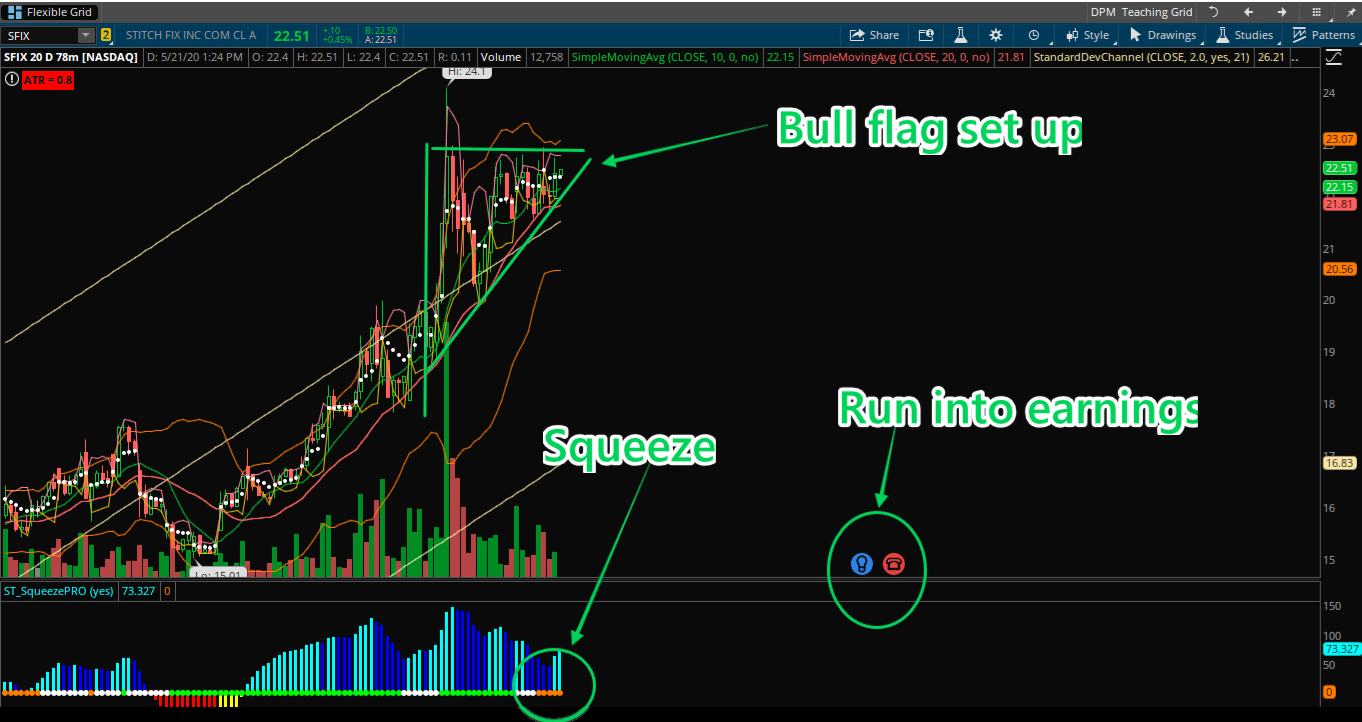 I went ahead and bought a position in SFIX MAY 29 $22 Calls at $1.70 off my watch list Thursday morning.
In case the trade didn't work out, I had a stop loss set at $21.50, which is the yellow line on this chart above representing the middle of the trading channel.
But the stock popped and I sold my SFIX May 29 $22 Calls for $2.15 for a 30% win on Friday.
It was a really nice run up and exactly what I was looking for.
While I could have held on longer, the options were dated for this Friday…
And with a short trading week this week, I didn't want to hold them over the 3 day weekend and have theta eat what I already made.
Join Me As I Attack the IPO Market Each Week
If you missed out on this exciting trade in SFIX and want to see what trades I'm currently cooking up on my IPO watchlist for this week, consider joining my premium IPO Payday service here.
Related Articles: