This past week was an unusual week for the market. 
After trending downward for 3 straight weeks, the SPY suddenly reversed that pattern and trended upwards last week.
What shifted fundamentally is that the weekend before, the Fed announced that it was going to provide "unlimited support" of the economy and congress reached an agreement with its stimulus bill. 
But while everything looks rosy at the moment, I'm still projecting that the next moves for the market will be downward. 
The coronavirus continues to spread, the economy remains on lockdown, and even more jobless claims are about to roll in.
Want access to my pre-week market breakdown each Sunday?
Find out here how I'm keeping subscribers in the IPO loop. 
What all of this means for us is that we'll have to continue being super selective with our IPO picks. 
The fact of the matter is that the IPO market is moving in lockstep with the overall market.
But just because we have to be more selective doesn't mean profits aren't there to be found. Believe it or not, some IPOs are actually benefitting from all this mayhem. 
Last week, I scored a nice $5K win on Chewy (CHWY), the pet supplies IPO that's been on a tear recently as people in quarantine use its online ordering services to have pet food delivered to their homes. 
I want to take a look at that win here today and elaborate on some similar setups I'm eyeing this week. 
CHWY Popped, Just Like APRN and Other Food Delivery Plays Benefitting From CONVID-19
You thought toilet paper went fast…
You wouldn't believe what people do for their pets who they practically consider additional members of the family. 
People have been lining their shelves with dog food cans the same way they line their cupboards with cans of beans in preparation for Armageddon. 
It's the same story we've been seeing all across the food industry really.
Just as food delivery company Blue Apron (APRN) has caught a bounce as people are fear grocery store shortages and are unable to dine at restaurants, CHWY has people soaking up its pet food delivery services.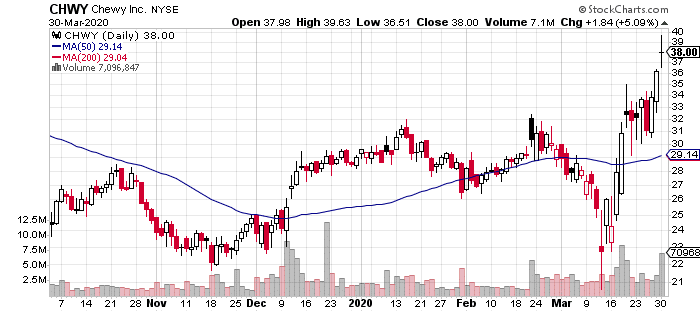 CHWY continues to show momentum.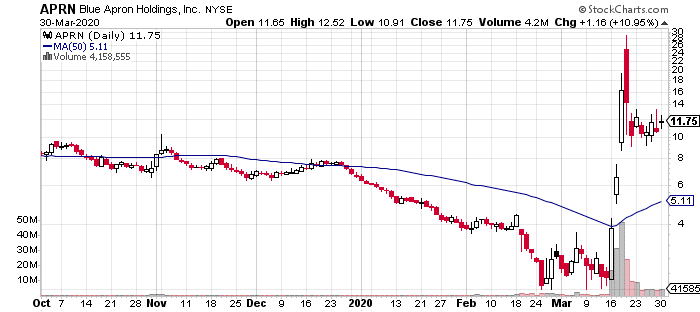 My buddy, Jason Bond, recently took big profits on APRN.
Watch how it all went down…
With all of this in mind, in addition to a recent analyst upgrade and 25% annual revenue growth, the CHWY stock has risen almost 23% since March 12 whilst the overall market is still struggling. 
CHWY is a potentially recession-proof stock since it's based on more of a need than a want. Even when the economy is struggling, people still need to feed their pets. 
How I took Profits On CHWY
On Friday, I closed out the first half of my CHWY Apr 17 30 Calls – $6.80. 
I wanted to see it get above $35, which it did that day. 
Rather than sell the whole position, I took off a piece to pay myself a nice $1,000 before the weekend.
And because the squeeze was firing long on the 78-minute chart, I decided to hold onto the position over the weekend in hopes to see it hit the $37 dollar target.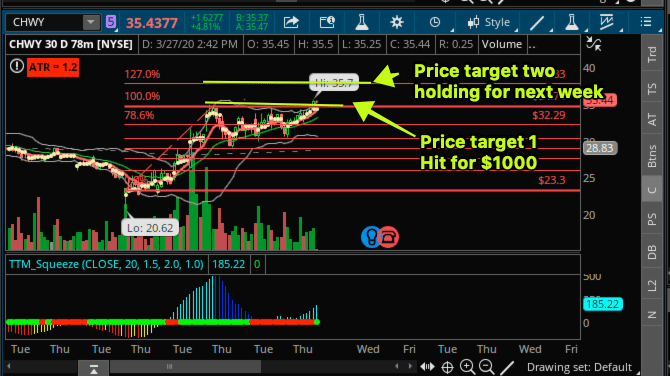 Then, just yesterday, I sold the remaining CHWY Apr 17 30 Calls – $10  for a nice 150% win and an additional $4K in profits. 
It was a great win overall, and I couldn't be more pleased to score like that in these market conditions.
I'm currently back at it, looking for more setups. 
Specifically looking to get into some in the money calls for WORK, given that I think more and more people will use Slack's services as they continue working from home.
Check out my premium service here to get my current IPO watchlist and see how I'm playing this position in WORK this week.