What a heck of a week it's been already and it's only Tuesday. 
Hopefully, you're staying safe, drinking water, washing hands, and maintaining social distancing. 
As an extrovert, it's been pretty tough to stay away from people because I love to help and serve.
But we have to honor the rules.  So I've been sifting through a lot more charts and studying my indicators with my time. 
Whatever the case, it's clear that the markets, including crude oil and commodities, are being affected during this time of national emergency. 
I was at the gas station and gas was less than $2 for the first time since I was a teenager.
Gold has become more and more attractive over the recent weeks, and I may pick some up if it moves down to the 14s.
So where does that bring us in the IPO market?
The fact of the matter is that just like the S&P 500 index, a quick look at the Renaissance IPO index indicates that in the IPO world things are additionally not looking too good.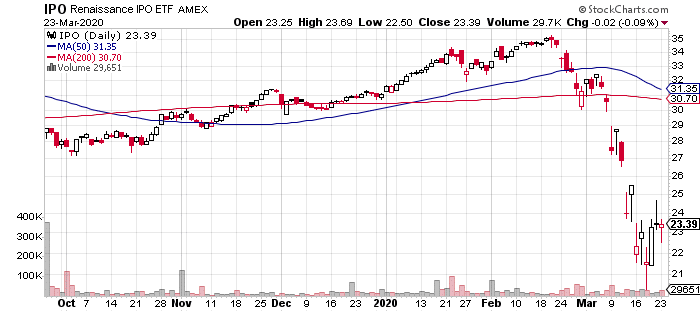 What this means is that we have to be very choosy about which IPO trades we decide to jump into. 
I myself made only one IPO trade last week, and that was a trade-in Zoom (ZM) for $4,000 in profits. 
Right now, until we see a cure for COVID-19, you may be seeing only one or two trade per week out of me in IPO Payday, but you can guarantee that these trades are going to be high-conviction.
On the other hand, I'm making trades every day on the simple up and down movement of the S&P 500 in my Daily Deposits service and have been successful in 23 of 26 of those trades in the past two months. 
But today, I want to share a few potential setups I'm eying from my IPO watchlist and explain what conditions I'm waiting on before jumping in. 
Remote Work Stock, DocuSign (DOCU), May Catch a COVID-19 Bounce
Much like Zoom, DocuSign (DOCU) is a remote work stock that has been getting lots of attention recently. 
Until our nation shifts back to its normal state of affairs, I believe that this remote work stock could continue to show resilience. 
As people avoid seeing each other face to face over the next few months, digital signing will increase. 
Not only that, DocuSign believes that this coronavirus pandemic could actually cause a bounce for their business long term, as it will cause many companies to permanently make the shift from physical to digital document signing.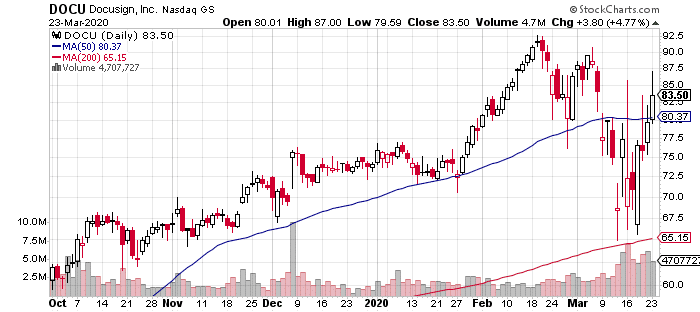 DOCU is currently trading in the low 80s with a market cap of around $13 billion.
Though this stock is up a little high right now — even in February it touched a 52-week high of $92.55 — I think it's showing some strength and we could possibly ride it for some great momentum. 
Moderna (MRNA) and Vir (VIR) Are Taking the Coronavirus Head-on
Several of the stocks that I have on my watchlist this week include biotechnology plays that are specifically addressing the coronavirus by searching for a vaccine.  
That includes Moderna (MRNA) and Vir (VIR).
Moderna has recently stated that its coronavirus vaccine could be available as soon as by early fall of this year. 
The company is also currently scaling up so that manufacturing can meet the needs of thousands of people around the world through millions of doses each month.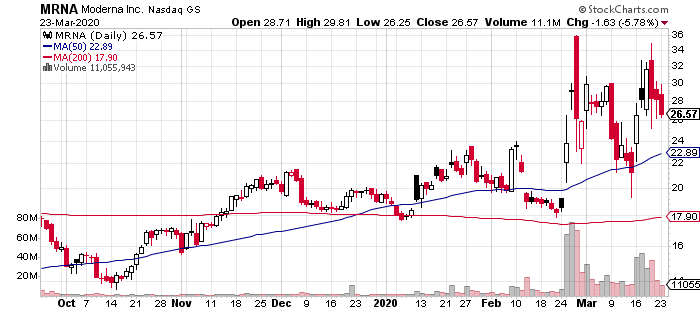 Vir (VIR) is also making substantial progress towards the development of an effective COVID-19 vaccine. 
The company has a bold vision that someday infectious diseases will simply be a thing of the past. 
One great thing about Vir is its partnerships. The company recently announced that it would be working with WuXi Biologics, a Chinese based company, to search for a coronavirus cure.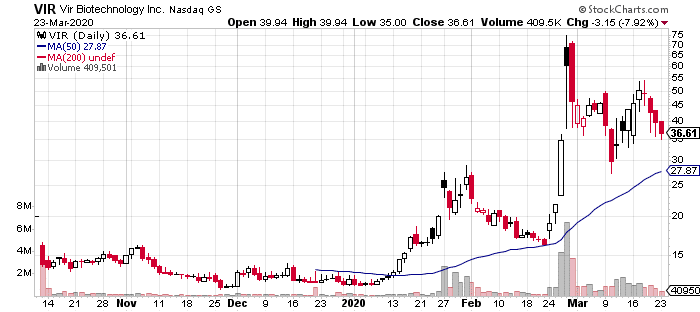 Vir is currently showing some really strong financials. 
Last year, the company had $320.2 million in cash and $22.5 million in liabilities at the end of the third quarter and it reported $1.4 million in revenues for the fourth quarter. 
I think these financials could spur investor confidence as the search for a COVID-19 cure continues to heat up. 
We could easily see the company bounce off its current levels in the mid 30 in the week ahead. 
As Biotechs Dominate, Arcutis Biotharputics (ARQT) May Benefit From Sympathy Plays
Arcutis Biotherapeutics ARQT may not be a biotechnology company directly addressing the problems of COVID-19, but it may get pulled up with the biotech industry as a whole. 
ARQT is a company that currently addresses the gaps in the dermatology drug development field. 
Dermatological diseases are a problem for tens of millions of people worldwide each year, and impact the quality of life on a mental, emotional, and physical level. 
A few of the skin diseases the company hopes to treat include plaque psoriasis, atopic dermatitis, hand eczema, and vitiligo. 
Right now, more topical treatments that maintain a good balance between safety and efficacy are badly needed.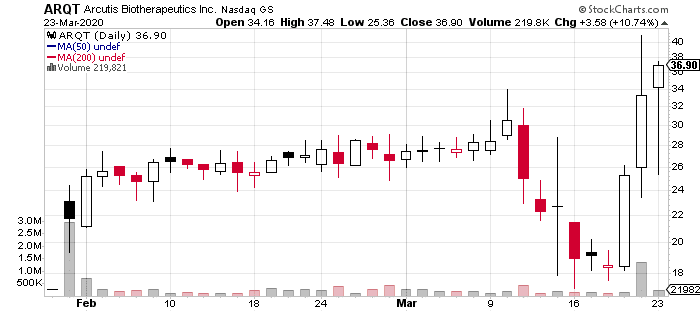 Last week, ARQT dropped down to $19 before shooting straight back up to $41. 
That's a 100% move from Wednesday to Friday, which means that this stock is currently showing some really good price action. 
I believe that ARQT will come back down and bounce back up yet again, so I'll continue to monitor it. 
And as with all the potential trades that I have on my watchlist this week, my subscribers will be the first to find out whether or not I'm jumping in thanks to the green, yellow, or red light signals I provide in my IPO Payday service.