As the nation makes moves to fend against the coronavirus outbreak, businesses are temporarily shutting down their operations like wildfire. 
Restaurants, bars, gyms, hotels, and theatres are just a handful of the ones being mandated to turn customers away, putting them at risk of bankruptcy as no business can survive long periods of time without revenue. 
However, many corporations are allowing their employees to quarantine themselves as they work from home. 
Even the New York Stock Exchange is temporarily moving operations away from the trading floor to electronic trading. 
While the whole turn of events still looks pretty grim for the stock market as a whole,  I've been saying for the past couple weeks that I was looking for high conviction IPO trades of tickers that show strength and are being helped by the Covid-19 virus in some way. 
Well, it just so happens that I hit the sweet spot yesterday with my trade in Zoom (ZM), a recent IPO that has been catching a bounce from all the attention it's garnered by providing a work-from-home video conferencing solution. 
Right before the closing bell yesterday, I sold half of my position for a nice 80%+ win, around $1,500. 
I'm still holding the remainder to potentially catch some additional profits and will notify my subscribers here immediately as soon as I make an exit.  
But today, I want to take a more detailed look at the circumstances around this Zoom trade. 
I also want to walk you through a potential setup in Slack (WORK), another work-from-home stock that could catch a bounce. 
Zoom shares are up 75% this year whereas the S&P 500 is down over 21%. 
But it's really no surprise that while many companies are getting hurt by the coronavirus, Zoom is successfully providing solutions. 
Zoom enables employees to hold video conference meetings while they are working remotely at home. 
Not only that, but the online platform is also subject to increased demand by everyone from college students, yoga practitioners, and churchgoers who cannot participate in their usual activities. 
As Zoom application downloads have topped Facebook Messenger, Netflix, and Tiktok in the Google and Apple mobile app stores, the companies stock has been one the few technology stocks investors have supported over the past few months. 
I took 225% profits on Zoom back in early February when the coronavirus issue was first hitting the news and downloading of the app had increased exponentially almost overnight.  
Thanks to a little encouragement from that previous trade, I decided to take a swing at the trade again on Tuesday and the position got as high as 113.75 that day before coming back down again. 
I then decided to hold it overnight, thinking that it might catch another run again the next day… and sure enough, it did!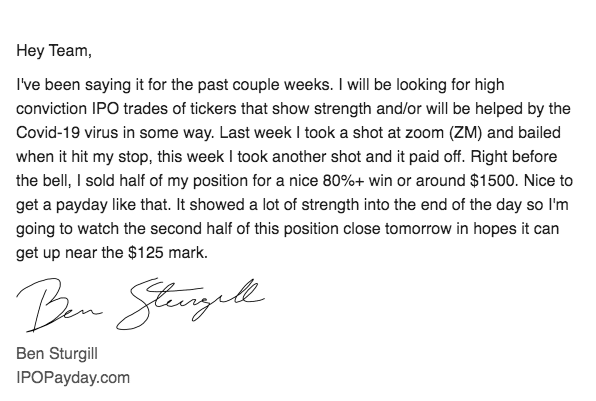 Like I said before, I'm still holding the remainder to potentially catch some additional profits and will notify my subscribers here immediately as soon as I make an exit.  
Post-Earnings Selloff, Slack (WORK) Could Be Prime for a Coronavirus Breakout
Zoom is not the only digital application that is providing remote employees with a work-from-home solution during this coronavirus outbreak.
Slack allows employees to instantly message through their well-designed application portal. 
The Slack CEO even announced recently that they would offer free upgrades to paid plans for teams working on coronavirus research, response, and mitigation. 
The company even just launched a redesign of its product to help remote workers collaborate more easily.
While shares sold off recently after earnings reports that showed slowing revenue rates, the stock may provide one of the few good buying opportunities in the weeks ahead. 
Here's what I'm watching on the 78-minute chart for WORK.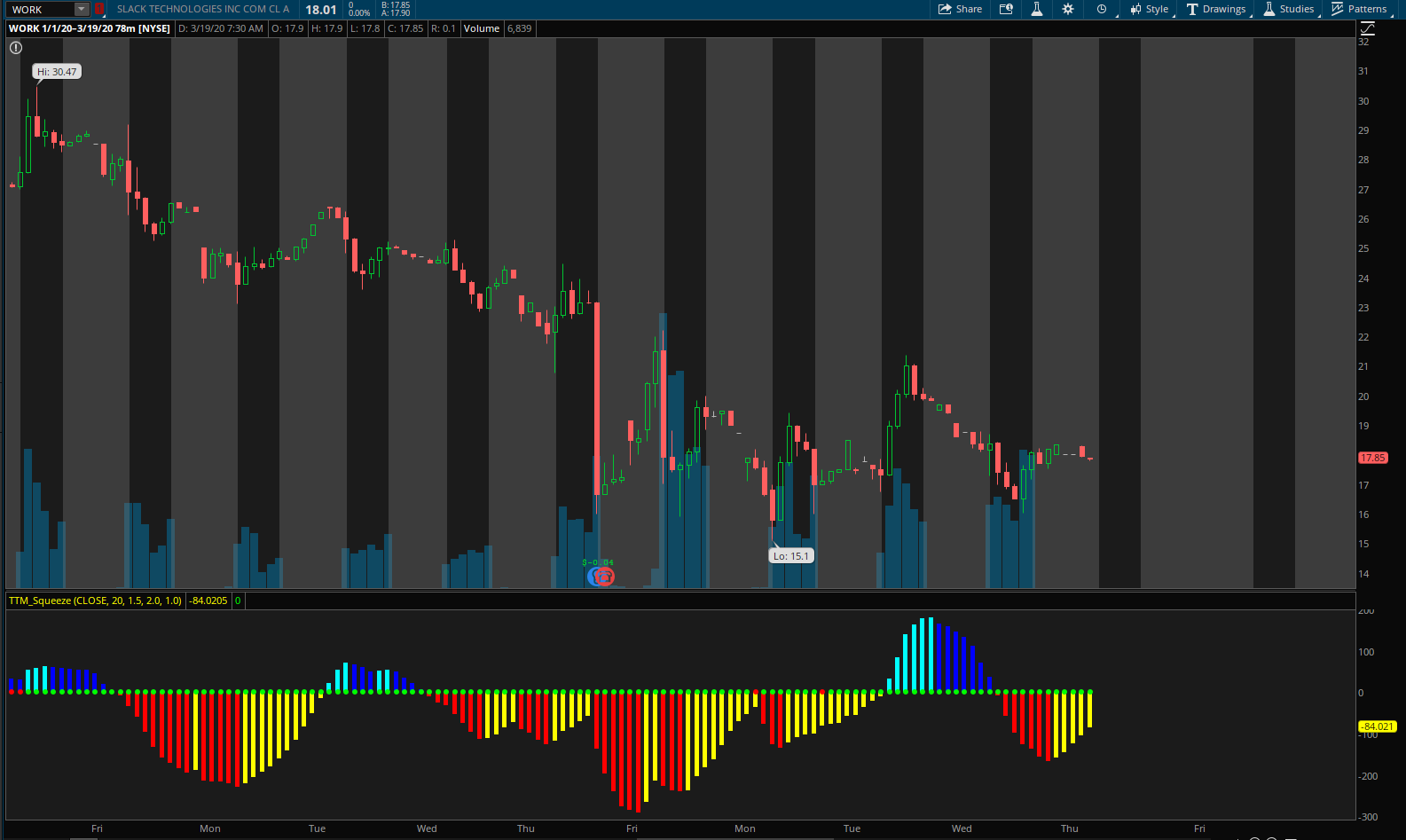 No doubt about it, WORK has been getting pummeled, but it could be a buying opportunity for me very soon. Right now, I'm watching the TTM Squeeze (below the price chart) very closely.
If I see the TTM Squeeze cross above the zero line, coupled with one of my favorite patterns… I'll look to strike. However, it may be too soon at these levels, so I will remain patient and wait for my setup. If and when I do come up with a play in WORK, I'll be sure to let my clients know with a simple green, yellow, or red light signal.