Are you a cryptocurrency geek, excited about the prospects of Bitcoin, Litecoin, Etherium, and other digital currencies?
If you are, then an IPO on the lineup this week will really interest you.
That company is Ebang international Holdings (EBON).
Ebang is a bitcoin mining equipment technologies company, and it plans to use its proceeds to expand its operations into new geographies.
If you're unfamiliar with bitcoin and the mining process, I want to demystify it for you a little bit today by providing a quick gist.
I think that educating ourselves by staying abreast of cryptocurrency innovation is valuable.
With the Fed recently injecting unprecedented amounts of cash into the economy and mushrooming its balance sheet (now $7.1 trillion) to offset a market freefall, the value of each dollar has weakened.
If this trend continues, more people may gravitate to the use of alternative currencies over time.
I also want to talk today about the Ebang company profile and its trading potential.
It could be an exciting backdoor way to profit on cryptocurrency innovation without ever logging into a decentralized exchange and buying/selling tokens.
Bitcoin is a digital currency that cuts out the middleman from transacting— meaning that nobody within a central banking system has to verify transactions.
It allows us to transact peer-to-peer— such that if you want to send money to your friend in China, your money doesn't have to pass through a long network of banks, which would be slow, costly (fees), and insecure (potential fraud).
So instead of relying on centralized banking, anonymous people are incentivized through the use of computers to help maintain a decentralized ledger called the blockchain where a network of transactions is stored.
The people using these computers engage in a process called 'mining,' which allows them to verify transactions by solving complex algorithms.
Nowadays, the level of computing power required to solve these algorithmic problems is immense, making the process unpractical for everyday people.
Even back in the day when bitcoin was first created, you would have practically cooked your house running all that equipment in your garage.
The increasingly gigantic supercomputers used now have to compete to solve these complex algorithms, which is where companies like Ebang come into play.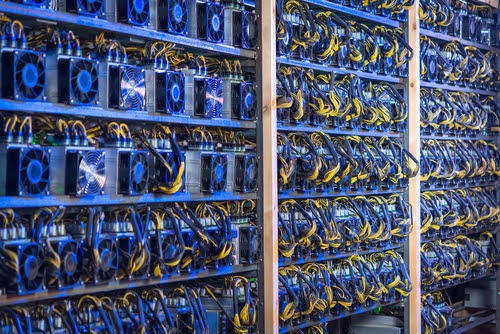 Ebang Aspires to Take Their Bitcoin Mining Operations Global
Ebang is based in Hangzhou, Zhejiang Province of China, and plans to raise $106 million in its IPO through the sale of its Class A shares.
The company is led by chairman and CEO Mr. Dong Hu who has a robust background in teaching information engineering and working in networking and communications.
He currently owns 41.82% of the company stock pre-IPO, but is hoping to expand the company out through the IPO sale in order to reach North America and Europe.
The company currently acquires customers through sales they conduct both online and offline, including social media campaigns, product launch events, and industry conferences.
The company has a few different models of their mining equipment available so far, which it believes will help service the growth of the blockchain industry.
Ebang is currently experiencing sharply reduced topline revenues from $319,042 for 2018 and $109,060 for 2019.
This has much to do with the extreme fluctuations of the cryptocurrency market that we have seen over the past several years.
The market for mining hardware is expected to continue to grow in the short term, however— by $2.2 billion between 2018 and 2022.
Only thing is, I'm not loving Ebang long-term for one important reason…
Ebang's Energy Inefficient Technology Could Go Obsolete
My main concern with Ebang is the long term prospects of the company.
I believe that just as the clunky internet provider AOL was overtaken by Comcast and Verizon, Bitcoin itself will likely be overtaken by sexier and more efficient distributed ledger technologies.
Many of these newer distributed ledger technologies are designed to make the process of mining obsolete by replacing it with better, more energy-efficient solutions to verifying transactions.
Currently, Iota, Elastos, QuarkChain, and Zilliqa are few of the top candidates vying to overtake bitcoin as the dominant digital currency.
Each of these newer digital currency projects, in addition to improving the speed and scalability of transactions, intends to replace the mining process and its excessively wasteful use of energy.
It was proposed in a study recently that Bitcoin currently consumes 64 TWh per year, more than the energy consumption of the country of Switzerland.
Electricity use through bitcoin mining currently accounts for .25% of the entire world's energy consumption.
That's awful— and completely unsustainable!
How I'm Sizing Up Ebang's IPO for Trading Opportunities
To get a sense of how Ebang (EBON) will trade, I think it's helpful to consider it's competition.
It's main competitors are Bitmain, BitFury, Halong, and Canaan (CAN).
Only one of the four, CAN, is a public company— and it has performed quite poorly.
While EBON provides similar technology CAN, a lot of the success of this IPO will depend on the public's view of the cryptocurrency market from this point forward.
A quick view of Bitcoin's price history shows that the market for digital currencies has improved since Bitcoin's December 2018 lows.
Yet the market environment certainly remains uncertain for Bitcoin, so if I do decide to trade EBON it will be a very short term play.
To find out whether I decide to trade EBON— or to see what IPOs I currently have a position in— consider joining my premium IPO Payday service.