Have you ever heard of Uber (UBER) and Lyft (LYFT)?
I know, I know. You're probably thinking, "Umm… duh… of course we've heard of them, Ben!"
Uber alone has over 110 million customers worldwide.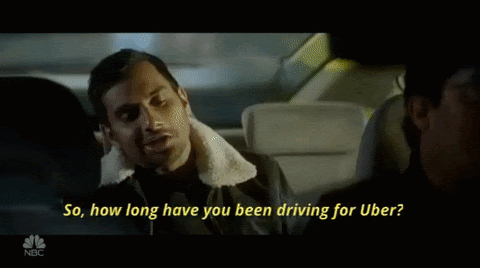 But here's another question for you…
Have you ever heard of YayYo (YAYO)?
Perhaps you haven't, but I'll bet you $500 and my best watch that the Uber or Lyft driver you rode with last week has.
That's because this company — which just IPO'ed this past November — rents cars to rideshare drivers and even provides them with its proprietary insurance.
In an industry that currently adds a whopping 50,000 new drivers a month to keep up with the demand, many of them are starting without their own car.
So today, I want to share with you some of the company's key fundamentals — including a rather suspicious referral commission structure — as well as, my strategy on how to trade them.  
The Ridesharing industry is growing fast, and YayYo wants to grow fast with it.
Uber alone has added roughly 2 million drivers in the United States, and it doesn't plan on stopping anytime soon.
YayYo may have IPOed at $4 per share and declined to just over $1 over the past two months, but the growing supply of new drivers without cars means that YayYo could have a lot of room to grow.
YayYo has ambitious goals and wants to be the number 1 provider of rental cars to drivers in the industry.
It hopes to accomplish this through its two subsidiaries — RideShare Rental, which provides a platform for the rental of cars, and Distinct Cars, which owns a fleet of vehicles available for rent.
But there's one aspect of YayYo's growth aspirations that has me raising an eyebrow…
I dug up one passage from the company prospectus that made me wonder if the whole thing is just one giant multi-level marketing (MLM) scheme…
"Drivers renting cars from our Rideshare Platform can join the Ambassador program and refer other potential drivers and prospective customers to rent from the Rideshare Platform, providing our customers with additional income opportunities. The Company has designed and deployed a referral commissions team matrix that allows for both depth and breadth of commissionable referrals for the participating driver. As participating drivers add additional referred drivers to their down line, they progress in gaining additional levels of commission rewards. Eventually they are able to earn a free vehicle rental from Rideshare as a premium reward."
If referral commission structures make you cringe and recall the last time you were pitched on a bottle of snake oil, you're not alone.
Not only that, I recently learned that the YayYo's CEO, Ramy El-Batrawi, was charged by the SEC for share price manipulation of Genesis Intermedia, his dot-com era company.
So while I'm certainly not eager to jump into a long term buy-and-hold situation with YayYo, I am however interested to eye some potential short-term profits on the ways things shake out.
Let's take a look at a potential setup I'm eyeing today…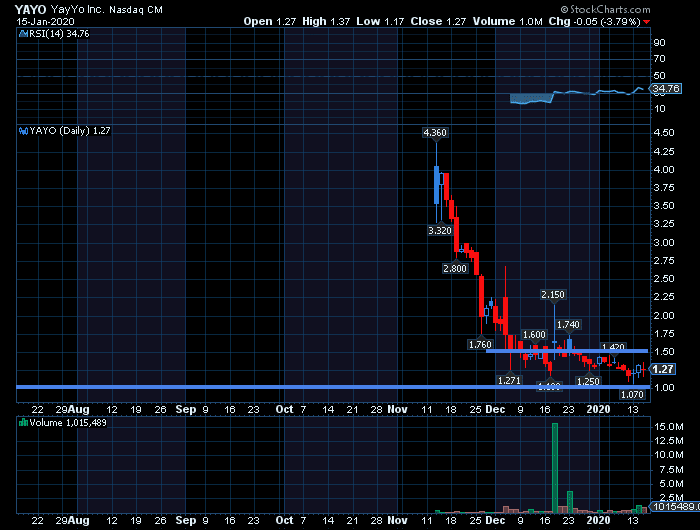 When you look at the daily chart in YAYO above, you'll notice this stock got destroyed… but it's found some support just above the $1 level. Of course, in order for YAYO to continue listing on Nasdaq, it'll need to stay above that price.
For the most part, I don't trade micro-cap IPOs like YAYO, but this one is interesting because it does have just around 10M shares floating – that means if demand kicks up for this stock, I wouldn't be surprised if it gets back to its IPO price.
However, I'm going to remain patient and be very careful with this name… and if I do decide to trade it, it'll be a really quick trade.
I'll be keeping my IPO Payday subscribers in the loop.
Related Articles: