The uncertainty and volatility experienced over the last four months has some wondering—what's gonna happen to the housing market?
The 2007-2008 financial crisis was an awful time for the housing market obviously.
Mortgage delinquencies and foreclosures ensued, and the decrease in residential investment led to a drop in household spending and business investment— in short, a recession.
Whether or not we are currently in a market bubble that will eventually bear the brunt of the pandemic and unemployment remains to be seen.
At the moment, we know that the Home Construction ETF (ITB) sits just below all-time highs in congruence with the overall market.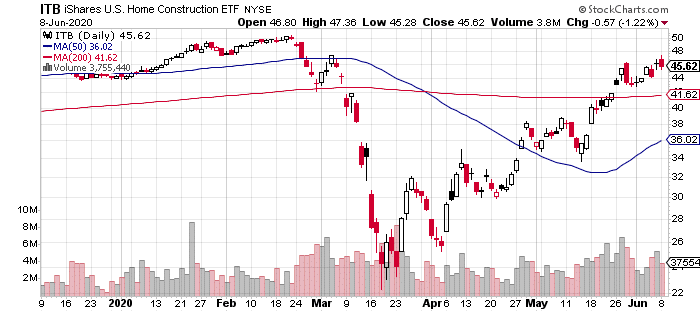 The SPDR S&P Homebuilders ETF (XHB) and The Invesco Dynamic Building & Construction Portfolio ETF (PKB) are in the same boat.
But today, I want to share with you a few warning signs that could trigger a real estate market collapse.
While it's not my view that these warning signs will necessarily cause a collapse, I feel that they're important to be aware of.
In addition to that, I want to share my thoughts on the trading prospects of a building and construction products company, the AZEK Company (AZEK), that conducted its IPO this week.
Surveys by the National Association of Realtors (NAR) indicate that home buyer interest has been reduced by 90% as a result of CONVID-19, although 60% of those surveyed are just delaying decisions until the pandemic clears up.
But if you ask my opinion, I'd have to agree with the two-thirds of buyers (63% according to the NAR) that we can expect lower home prices soon.
A few of the warning signs I have on my radar are these:
Overinflated asset bubbles
As I mentioned already, most of the large home building ETFs are not too far off all-time highs.
It leads me to believe a larger scale correction in these ETFs is still long overdue.
Lack of Regulation Among Mortgage Brokers
The number of unregulated mortgage brokers has been increasing.
53% of U.S. brokers are unregulated as of 2018 and many of the top mortgage lenders in the U.S. aren't even banks.
Interest Rates Changes
While the current drop in interest rates to zero should help the housing market just as much as business, it's nevertheless something we should keep our eye out for.
In theory, the Fed will eventually have to raise its interest rates again to unwind the massive balance sheet it built up in after the 2008 housing crisis— and more recently, the pandemic.
The AZEK Company Will IPO Bravely With It's Beautiful and Ecofriendly Building Products
The AZEK company, based in Chicago, IL, is an industry leading manufacturer of building products that are not only low-maintenance but also gorgeous and sustainable.
These building materials are intended in large part for homes, but also for commercial businesses.
The company has over 100 patents across both of these spaces.
A few of their leading categories of products include trim, decking, and railing.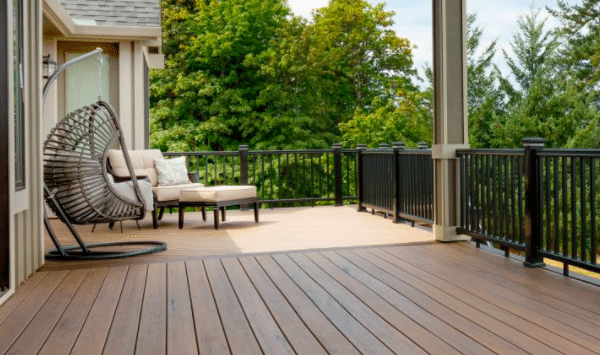 Source: The AZEK Company
Some of their products are even quite innovative. They developed a proprietary PaintPro technology to ensure better and faster point adhesion.
The company is also committed to the use of recycled materials, which is something we can all appreciate.
The fact that their products strike a balance between being stylish and sustainable is what sets the company apart.
As part of their path forward, AZEK plans to continue engineering new products that could drive more customer acquisition.
AZEK Remains A Short-Term Only Trading Prospect For Me
AZEK recently set terms for a $625 million IPO.
They plan to offer 31.3 million shares at a price range of $19 to $21.
The midpoint of that range would yield a market value of $2.8 billion.
On the books for the 12 months that ended in March 31st of 2020 is a solid $848 million in revenue.
The company has a number of bookrunners including Barclays, BofA Securities, Goldman Sachs, Jefferies, Citi, Credit Suisse, Deutsche Bank, and RBC Capital Markets.
Whether or not I decide to trade AZEK, I can guarantee at the very least that it will be a short-term trade.
Given some of the potential warning signs in the housing market, I won't be holding the stock long-term.
To see what stocks I'm already trading this very week, consider joining my premium IPO Payday service here.