In general, what moves the market is two things— sentiment and earnings.
With 10M unemployed over the last two weeks, and the majority of the country locked inside their homes, I don't have to tell you about the sentiment. 
And while the market has shown some bounce over the last two sessions. We do have a long road to take for a full recovery. 
So how is all this affecting the IPO market?
Well, there's a negative feeling towards IPOs right now. 
When the market drops like it did, investors will tighten their belt and move into safe haven stocks.  But that doesn't mean there aren't opportunities for IPOs. In fact, some of last year's best companies are now trading for pennies on the dollar. 
There are also some once forgotten names which have now become favorites among active traders. 
Take the Chewy trade I put on with my premium subscribers last week: I got out of this trade last Monday for a great win, taking $4,000 on the second half of it. 
Much like this Chewy trade from last week, I'm eying plays in a few other IPOs this week that are actually benefiting positively from the CONVID-19 quarantine we're currently experiencing.
Zoom (ZM) 
Zoom has been showing some of the best market divergence right now— not just among IPOs, but the market overall. 
I for one can say that I've been on more Zoom conference calls over the past month than I have ever. 
As the coronavirus quarantine continues, Zoom downloads will continue to rise as people work remotely. 
Looking at the technicals, Zoom is showing a lot of potential right now.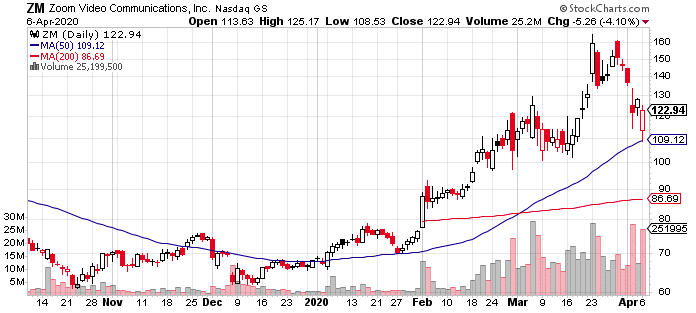 Zooms is back down on the 200-day moving average and I think it has potential to get back up to the 140s. 
It showed great strength previously around the 200 simple moving average. I like that because it's a great base to work from.
I'm going to continue watching for it to come back a little more until I consider a move back in. 
But as always, I'm going to have the appropriate precautions in place with this stock. You don't want to chase in these markets. 
In this market if I'm wrong I have to cut losses. I can't afford to stay in trades that aren't going the right way. 
When I have to get out, I have to get out. You don't want to be holding the bag when the stock drops way lower. 
Grocery Outlet Holding (GO)
Grocery Outlet Holdings has a lot of potential in this environment because lately a lot of people are hitting up grocers. 
My wife and I just spent a whole lot of money at a grocer this morning. In fact, we stood in line for about twenty minutes, waiting to get in. 
Quite frankly, with the exception of all the people in masks, I haven't seen anything like it since the last time I went to 6 Flags.
I think grocers are going to be doing great right now simply because that's where people can spend their money.
While people can still order many things online, most other retailers are getting hit hard at the moment because the in-store foot traffic is not there. 
So, unsurprisingly, the GO stock recently saw a move upwards followed by a whole week of consolidation. 
Then, just yesterday, the stock POPPED.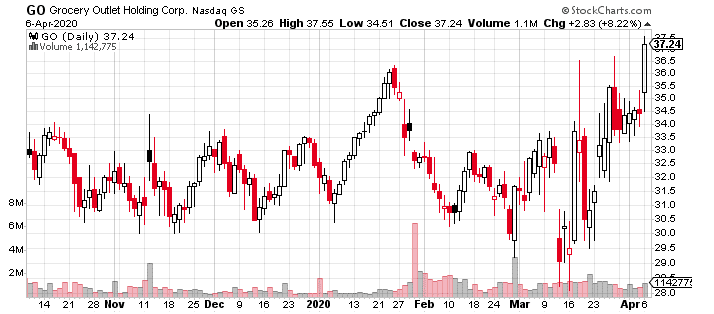 Now, this one might have been a nice stock to get a piece of action on yesterday, but I'm going to continue watching it. 
I had previously set a mark at 35 and was watching to see if it could break back up through that. What was looking out for is to see whether resistance could become support.
It has done that.  
Since this stock has been popping off lately, I think there are going to be some trade opportunities there in the very near future. 
Peloton Interactive (PTON)
I've been watching PTON and I'm liking it. 
It's been showing some nice divergence and fighting the market pretty darn good. 
Many people are trying to develop at home workouts, given that all gyms are currently closed down. 
The stock is currently sitting below all-time highs.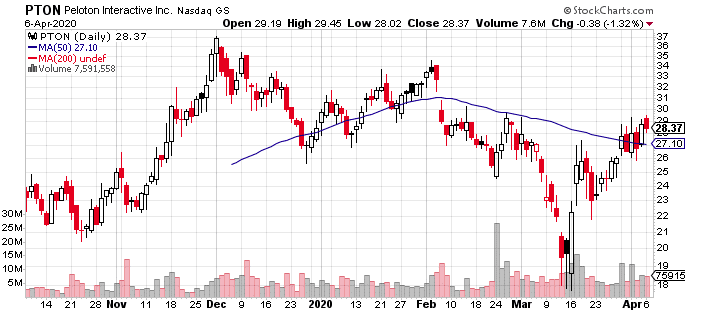 Be aware that the stock does have resistance above it, so it may be smart for us to wait until it comes down. 
We saw recently that the stock came up against resistance. After coming down just a little, it broke straight through resistance the next time the stock tested it. 
I think the most recent resistance has now become support. The 200-day simple moving average could become support. 
Sign up to Get These Trades
I'm putting on IPO trades just like this every week for my exclusive subscribers to show them how to get a piece of this exciting market. 
The overall market may be tricky right now, but I'm putting out a watchlist each and every week to help folks learn to take profits on the IPOs showing great market divergence. 
Click here to find out how to access my exclusive IPO Payday watchlist and see exactly what trades I'm putting on.