Whenever the NYSE or Nasdaq lists a foreign company on its exchange, it's an opportunity for investors to diversify their portfolio through international products, technology, and services. 
Many investors feel more comfortable buying shares in domestic IPOs because they're familiar with the brands associated with them, but foreign IPOs can be a huge opportunity.
This is especially the case with Chinese IPOs. 
Chinese IPOs in the United States have contributed to the largest percentage of proceeds among foreign nations in 2016, 2017, and 2018— contributing 35%, 42%, and 58% in proceeds respectively. 
Alibaba, the Chinese technology company that specializes in e-commerce, retail, and the internet, has been by far the biggest in terms of total proceeds generated. 
However, countless other Chinese "unicorns" have taken the U.S. markets by storm.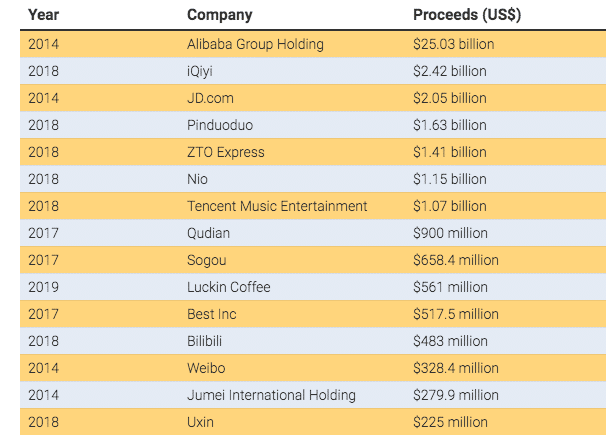 Source: Refinitiv. Courtesy of: SCMP
Tencent, the conglomerate holding company that specializes in internet technology, entertainment, and artificial intelligence, launched their music subsidiary on the NYSE in 2018 and has held its ground even despite the recent market selloff.  
On the other hand, the Chinese video streaming company, iQiyi, fell under intense scrutiny for fraud and inflating its financial numbers following an investigation by Wolfpack Research.
Luckin Coffee— same deal. The COO of this "Starbucks of China" was found guilty of fabricating sales by 2.2 billion yuan ($314 million), causing shares to tank over 80% and trading of its shares to halt.
These allegations, on top of the recent hostility that the Trump administration has been drumming up against Chinese companies, currently make Chinese IPOs a much more difficult proposition.
But one Chinese company, Kingsoft Cloud, decided to throw caution to the wind. It conducts its IPO today, and I want to talk about why it could actually have some massive trading potential here.
Kingsoft Cloud Will IPO in Tough Conditions, But the Demand for It's Services Could Be Huge
Kingsoft Cloud, a subdivision of Kinsoft, is an online cloud services and cloud distribution provider.
If you're wondering what the "cloud" is, I'll tell you since I myself was too embarrassed to ask for a long time. Here's my simplest definition layman's terms:
The cloud is a metaphor for the internet.
It's a way of storing and accessing data and programs through your internet rather than your computer's hard drive.
While I'm not an expert in the subject matter, I do believe that cloud computing is seeing exponential growth as a technology — and that could put this week's IPO in a very solid position.
According to tech analyst Gartner, adoption of the technology is revving up in the years ahead. They forecast that the worldwide public cloud services market will grow 17% in 2020 to a total of $266.4 billion, up from $227.8 billion in 2019.
Cloud computing is one of the top 3 technologies that global chief information officers are anticipated to increase their spending this year.
Nevertheless, as demand for cloud services among companies around the world increases, the sector is going to become increasingly competitive.
A handful of the top cloud providers in 2020 are Amazon Web Services, Microsoft Azure, and Google Cloud.
Cloud providers like these could become increasingly in demand also as a result of the cultural shift we're seeing towards increased work-from-home situations.
As many companies become less attached to maintaining locations where employees can remain in close physical proximity, the reduced dependence on on-site storage hardware could cause it to become more obsolete.
Kingsoft Cloud Has Financial Potential and Could Make You Big Money
The underwriters in this Kingsoft Cloud IPO are J.P. Morgan, UBS, and Credit Suisse, as well as China International Capital Corporation (CICC), a Chinese investment banking firm.
Kingsoft Cloud plans to issue 25,000,000 American depositary shares (ADS), though it could issue up to 3,750,000 more.
The company anticipates that each ADS will be priced between $16 and $18.
Assuming that it issues 25,000,000 ADS within that range, the company should raise between $3.4 billion and $3.8 billion.
While the company's net loss increased from 1 billion yuan in 2018 to 1.1 billion yuan in 2019, its revenue lept 78.4% year-over-year to 3.9 billion yuan ($568.3 million).
According to the company, it will use the money it raises to do a few things— upgrade instructure, boost technology by developing products in the area of artificial intelligence, and expand internationally.  
The company will start trading on the Nasdaq tomorrow, and I'll be sure to alert my premium subscribers if I jump into this one to seize some exciting profits.
If you're thirsty to learn about how I trade IPOs. It's simple— grab a copy of my latest eBook, IPO JackPots. Inside you'll learn the three phases of an IPO, how you can trade them, and potentially profit off them. Download IPO JackPots here.
Related Articles: