Today's top financial institutions exist in a competitive landscape.
They're under immense pressure to provide customers with speed, convenience, and trust.
In order to fulfill these growing expectations, they need high-quality technologies that provide a personalized experience.
Unfortunately, many financial institutions today are overburdened with manual processes that put them at risk.
These risks include inefficiency and non-compliance, and they threaten to put them out of business if unresolved.
But there's a really hot IPO that hit the market yesterday, which helps to alleviate these risks for financial institutions.
Enter: nCino (NCNO).
It's a company that provides cloud-based software for financial institutions.
I have been incredibly optimistic about the IPO because it was multiple times oversubscribed and had its price ranged moved from $22-$24 to $28-$29.
I alerted a green light on the IPO yesterday in my premium IPO Payday service and it exploded 150% straight out of the gate.
I think there may still be a chance to grab a piece of the action here, which is why I want to share more about the company today.
nCino aims to revolutionize the financial services industry through its digital, cloud-based technology.
Unsurprisingly, the talented founding team is comprised of software developers who were once bankers themselves.
They provide a state-of-the-art operating system for bankers.
The operating system integrates many steps of the banking employee's experience into one experience on a single platform.
That includes business process management, customer relationship management, enterprise content management, customer & third party engagement, and business intelligence and reporting.
It's a lot of different processes that would otherwise be scattered across different platforms and sometimes handled manually.
But with everything in one place, bankers can identify new opportunities and make better decisions.
It all comes down to the power of being able to spend less time gathering data and more time analyzing it.
With iCino, banking employees can log into a single dashboard and see the full spectrum of all aspects of their business, such as the status of loan goals.
Using iCino, bankers can easily underwrite loans and open deposit accounts.
But customers can also implement the iCino services.
They can easily upload documents regarding the status of their loans and contact their banking agent through the platform.
Overwhelming nCino Demand Screams "Buy" to Me
nCino (NCNO) has been growing fast and is already being used by over 1,100 financial institutions around the world.
Their operating system is allowing these businesses to resolve challenges and make the whole experience from banking employee to customer more digital, expedient, and convenient.
They have a 54% compounding annual revenue growth rate with a 64% growth in their recurring subscription-based revenue.
Also of note: Lots of backing for nCino comes from Salesforce, which had a 13% pre-IPO stake in the company.
But in case nCino's beautifully designed platform and strong reputation is not enough validation, the IPO demand was through the roof.
As early as the middle of last week, this IPO was many multiple-times oversubscribed (50X) and they amended the price range of their terms from $22-$24 to $28-$29.
That only modestly increased their number of shares offered from 7.625 to 8.06 million.
Just yesterday, I came to find out that even after that price range increase they ultimately priced at $31, which is very bullish.
I would have been surprised if they didn't hit the market at $50 or greater.
They ended up soaring 150%, even higher than I had anticipated.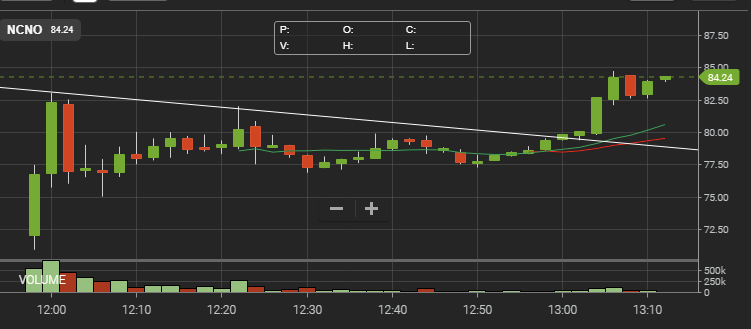 All in all, I'm excited about the NCNO IPO and already jumped in early.
Given its already strong debut, taking a position could be higher risk from here. But there may still be plenty of upside remaining.
To see how I'm exiting NCNO, or to see how I potentially pick up more positions in it over the coming weeks, consider joining my premium IPO Payday service here.