Here at IPO Payday, I'm always on the hunt for the next unicorn.
Unicorn is a term venture capitalists use when referring to privately held companies with valuations over $1 billion.
They're incredibly rare, but if you're lucky enough to get in on one of them prior to their IPO, you could see some of the greatest returns of your life.
But even if you aren't that lucky, there has been plenty of upside in the past for buying unicorns on their IPO day.
Take, for example, the amount of money three of the most successful ones would have handed you at the time of their peak gain, assuming you had invested $10,000 in them when the first went public:
Beyond Meat (BYND): $35,169 (251.69%) – IPO Date: 5/2/2019

DocuSign (DOCU): $25,295 (152.95%) – IPO Date: 4/27/2018

Zoom (ZM): $25,277 (152.77%) – IPO Date: 4/18/2019
Zoom and DocuSign are both work-from-home stocks that I've been following very carefully during quarantine.
They have each enabled companies to conduct business as usual, all thanks to their user-friendly applications.
And right now, both of them are trading at all-time highs.
Zoom downloads, especially, have soared through the roof over the past couple of months as companies have been forced to conduct their business meetings remotely.
I already crushed the stock twice in my trading, taking 225% profits on it back in February and 80% profits on it late in March.
But here's the thing, team…
As much as I love crushing my trades on a unicorn— or holding it from its IPO date to somewhere around peak gains— it's nothing like investing in one before it actually went public.
Umm… I'm talking about how professional angels have managed to generate returns up to 2,067,000% on a single investment.
That's why today, I want to do something a little special. I want to introduce you to an investment opportunity in a startup that I feel is poised for massive gains.
The best part?
It's perfectly positioned right now to actually benefit from circumstances created by the coronavirus.
This Communication Startup Could Follow the Zoom Cookie Trail
Without a doubt, the coronavirus has shaken things up, and the effects may be felt for years to come.
While most of the implications are all-around devastating, there's at least one silver lining to all this.
Just like 2008, behavioral changes in response to the current circumstances and economic downturn are actually a doorway for entrepreneurs to create new meaningful products and services.
That means that now is the very best opportunity to become an angel investor and jump onboard with exciting new startup companies.
As we move into the next few years and prepare for the next unstoppable uptrend in stocks, we have to reform the way we're thinking about investment.
We have to start by asking ourselves these questions…
Which sectors will be essential in helping the economy recover?

What companies in these sectors have the strongest vision and leadership and have a realistic plan to generate profits?

Will we demand their products and services even more in response to the coronavirus?
Right now, the communications technology sector is playing a major role in not only how we adapt and respond during this coronavirus crisis, but also how we will communicate in the future.
Zoom (ZM), the peer-to-peer video conferencing platform, was one of the best-performing stocks during the recent coronavirus selloff that began in February. And it remains on an absolute tear.
Starting tomorrow, the company will get listed on the Nasdaq 100.
In fact, it's possible that Zoom may be S&P 500 bound. It already meets many of the criteria.
You see, communication is indispensable and has infinite demand.
Even within the past week, Zoom users have grown by a whopping 1 million.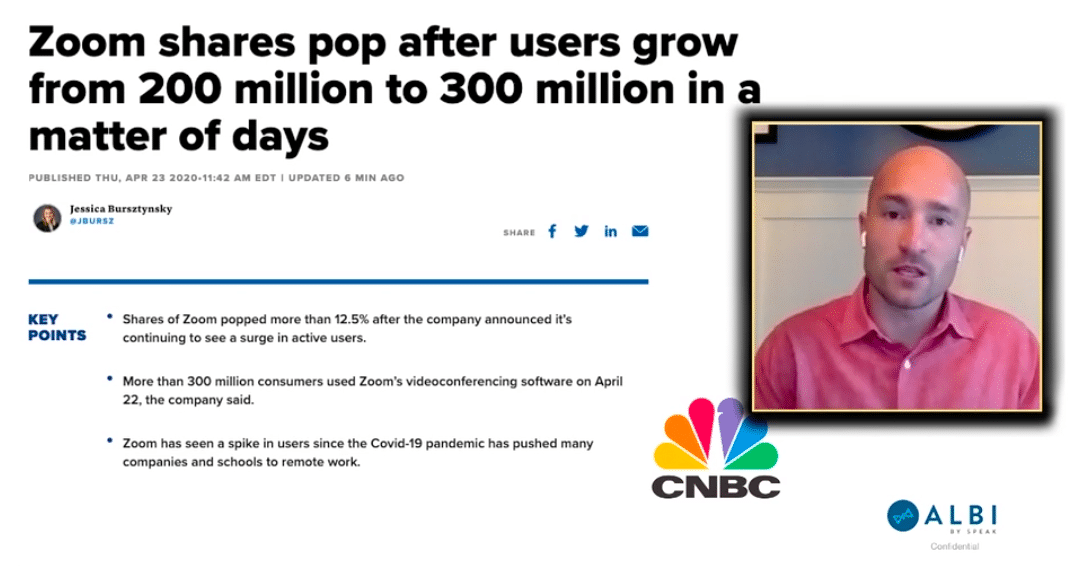 More and more people are using Zoom to conduct work remotely. They're also using it to stay in touch with friends and family.
Heck, I even jumped on a fun happy hour conference call recently with some members of the RagingBull team following a nice long week.
Because of this extraordinary demand and the shift in how we are utilizing communication technology as we proceed throughout the current crisis, Raging Bull's premier angel investing team, the Boardroom, had a goal…
They wanted to find a startup that was perfectly positioned to capitalize on these changes by providing a new set of solutions.
And thanks to an exciting new startup called Albi, they found it.
We can't control the recent impact of the coronavirus, but the work-from-home environment it has created recently has actually benefited Albi.
Albi relies on work-from-home web tools just like Zoom.
And because Zoom is growing so quickly, Albi is in a perfect position to grow incredibly fast alongside it.
Albi Could Revolutionize Your Meetings at Work… And Hand You Huge Gains
The mission of Albi is to improve the quality of company meetings.
We've all sat in unproductive meetings. Meetings suck.
But the founders of Albi set out to make meetings better so that every meeting could be a great meeting.
Their initial thought was this… "We're having trouble with meetings, but is everyone else having trouble meetings?"
After digging into the stats prior to the development process, they discovered that the answer was a resounding YES.
Here are some stats about meetings…
20+ hours per week are spent in meetings

55 million meetings take place every day

$37 billion are wasted on meetings each year

67% of meetings are unproductive
The fact of the matter is that by focusing their technology on improving meetings, Albi taps into an enormous market.
There are 157 million people out there working today, representing a $92 billion market.
Obviously Albi can't reach all of them. But by focusing on software technology companies within mid-sized fortune 500 companies, Albi feels it can still capture a $1 billion market.
So how does Albi work?
Albi syncs with your calendar

Albi joins the meeting

Albi summarizes the key information

Albi sends the key information to your team
The biggest problem that Albi solves is note-taking.
Every meeting needs notes, but nobody wants to take them.
So how do you delegate the taking of notes from a meeting so that everyone on the team can actually focus on the people and discussion?
Albi effectively resolves this problem by making use of artificial intelligence.
Now, because it relies on artificial intelligence, it might occasionally get something wrong. But it learns more about you and gets more and more accurate with each interaction.
The good news is that the company is developing and improving its technology rapidly.
The company has been in build mode for the last 9 months and they are just starting to launch their product into the world. It's in beta with 30+ companies.
That means that now is a once in a lifetime opportunity to get in on this at the very inceptionbefore the whole world finds out.
Now, while the tech may be quite promising, the company leadership is something we love even more.
The co-founders of Albi have a background of successful startup exits. And one of them has successfully exited all of the last 5 startups she's developed.
Want to join these cofounders and the Boardroom team by investing alongside them in Albi?
On Thursday, April 30th at 8 pm ET, the Boardroom is opening up the doors to generational wealth once again with this big investing opportunity.
By registering here today, you'll have the opportunity to watch the live PitchDeck session and tap into their exclusive network and share their gains!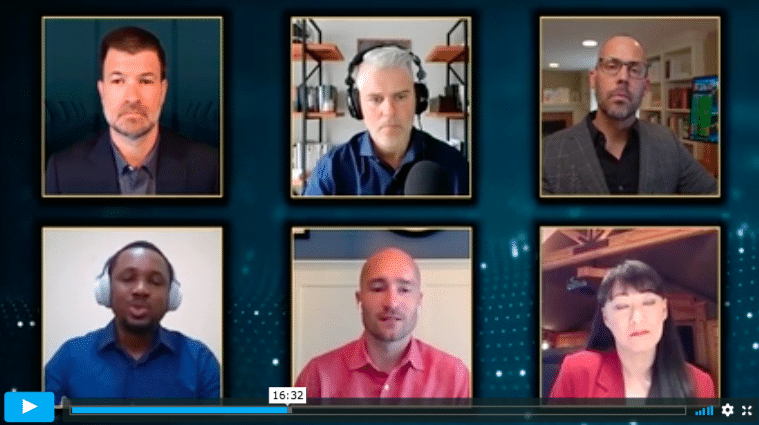 But you have to act quickly.
Because of the level of feedback we've received about this company already, we're anticipating the very first investment round to sell out almost immediately.
You don't want to miss this!
Register for the live event here
You'll also receive access to these complimentary gifts…