The world has changed greatly since the advent of COVID-19.
Social distancing and work-from-home precautions have demanded that we discover new ways of connecting with each other.
That means products and services that facilitate these new methods of connecting virtually are in hot demand right now.
Zoom (ZM) is a great example of this.
The IPO has been on a 136% tear since mid-February when the coronavirus first rocked the markets.
I was fortunate to take 225% profits on ZM back in February and 80% profits in late March on its options.
But I'm thirsty for some more, and currently sizing up more potential IPO opportunities in the communications technology sector.
One of those opportunities that I have my eyes on could play a major role in how we adapt and respond during this coronavirus crisis.
The IPO is Agora (API), a Shanghai-based video-interaction software company.
It held its public debut last Friday— and unsurprisingly, the stock soared 153% during the initial day of trading after pricing well above its expected range.
I want to share more about API today, including why its technology could be a game-changer and how I'm interested in trading it for potential profits.
Agora (API) Takes App-Based Digital Interaction to a Whole New Level
API is a real-time engagement platform for meaningful human connections.
It allows people to quickly and easily interact through LIVE video streaming on any application, using any device, anywhere.
This includes applications that facilitate live video dating, virtual classrooms, patient and therapist connections, interactive gaming, retail streaming, family/friends chats, and much more.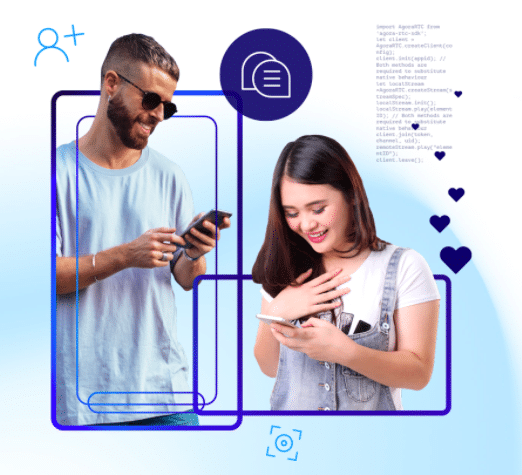 Already global companies and startups like MeetMe, Hallo, Talkspace, and Bunch are using the API platform to help them bring people together.
So whereas Zoom (ZM) is an end product that deals directly with its own consumers, API works with other businesses.
API leases the building blocks of their software through embeddable code to companies based on a pay-as-you-go price model.
Voice streaming in online chatrooms cost $0.99 per 1,000 minutes.
Video chat for 1-on-1 and group meetings, conference meetings, call centers, and remote assistance costs $3.99 per 1,000 minutes for HD 720P and below and $14.99 per 1,000 minutes for HD+ 720P and above.
API Provides Much Needed Scalability to Support Clients
The thing that's so great about API is how scalable its technology is. Their software allows companies to reach millions… and billions.
Their live broadcasting solution can accommodate an unlimited number of users and the video quality will remain the same.
The API technology is reinforced by 200 globally distributed data centers and 15 pending patents.
While video streaming has long been popular in Asia, U.S. based apps are finally waking up to the true potential and increased user engagement and monetization it can bring.
As you may have already noticed, apps like Facebook and Instagram are actively experimenting with live video.
With apps like MeetMe, users no longer have to rely on static pictures, profile page, or text chat to gather information about someone they could potentially date.
MeetMe is able to power 10 billion minutes of real-time communication among its users around the world each month.
Thanks to API, The Meet Group (MEET), which includes MeetMe, Tagged, Skout, and Lovoo generated total first quarter 2020 revenues of $55.1 million, up 11% from the first quarter of 2019.
I'm Bullish on API
API just went public on Friday and the company priced well above its anticipated price range.
This unicorn anticipated selling shares in the range of $16 to $18, but ended up selling 17.5 million shares at $20 per share.
That brought in a total of $350 million in proceeds and gave the company roughly a $2 billion valuation.
As Agora Chief Executive, Tony Zhao, put it, "Our service is quite relevant in this work-from-home climate, and the feedback to our public debut today is good."
I think Zhao is being modest.
Though the stock price has stabilized since last Friday's debut, I'm anticipating a positive trend from the stock over the coming months.
I just alerted a green light on API in my premium IPO Payday watchlist.
To see exactly how I may decide to trade API, consider signing up for my premium IPO Payday service here.