Just about everyone has at least one scar on their body.
I for one have fallen down and gotten scraped up my fair share of times, given all the sports I played growing up.
It's like a right of passage on the athletics field.
And it's not so bad when it's a little scar here or there.
The problem is when an injury is so bad that the wound heals in a pathological way, such that there is significant permanent tissue remodeling.
It's called fibrosis, and it's similar to scarring except that connective tissue replaces the normal functional tissue in an extreme way.
Fibrosis can occur both externally on the skin or internally in the muscles and organs of the body, such as the lungs, liver, kidney, and gastrointestinal.
When the normal tissues repair pathways in these body parts become dysregulated, excessive collagen builds up and can leave the organs physiologically impaired.
If the fibrosis is left unchecked, the damage can become irreparable and the organs can fail.
Idiopathic pulmonary fibrosis alone affects roughly 140,000 patients in the United States and an estimated 30,000 to 40,000 new people each year.
There's a quite heavy demand for a more suitable cure for fibrosis for sure.
That's why yesterday's IPO, Pliant Therapeutics (PLRX), which I gave premium subscribers my green light signal, is on a fearless quest to uncover the biological drivers of it.
I want to tell you a little more about the company today and why I alerted subscribers to a possible course of action.
Pliant Therapeutics Has Exciting Clinical Stage Goals
Pliant Therapeutics (PLRX) is a clinical stage biotech with the ambitious goal of discovering and developing new therapeutics that can stop the progression of fibrosis and restore organs back to functional health.
The company is combining medicinal chemistry, signaling and integrin biology, and translational screening technologies to target specific tissues in the body.
They hope to address issues in a wide variety of patient populations, including those with conditions of the skin, muscles, lungs, liver, kidney, and GI.
They even use actual human fibrotic disease tissue to test their compounds for potential fibrosis cures.
Thanks to a world-class team, including co-founders from University of California, San Francisco, the company has some exciting prospects.
They have several product candidates focused on fibrosis and a secondary candidate focused on Chronic Fatty Liver Disease.
Two of their fibrosis product candidates are in the clinical phases.
Both of those are in their PLN-74809 program and are targeting idiopathic pulmonary fibrosis and primary sclerosing cholangitis.
Biotech IPOs Are Hot Lately… PLRX Is No Exception
As you know, not a whole lot has been hot in the market in general since the pandemic kicked in.
But one of the few exceptions is biotechs searching for vaccines and healthcare companies getting sympathy plays from them.
PLRX is one of those companies.
There is strong investor demand in PLRX and strong insider buying too (including from Novartis, it's strategic collaboration partner).
They have upped the shares they are offering from 6 million to 9 million.
Additionally, they have decent underwriters and have priced at $16 dollars which is at the top of their range of $14-$16.
But with the demand, I anticipated yesterday morning that this IPO would hit the market at over $20.
I told my premium IPO Payday subscribers that my plan was to buy early and hold if it didn't price me out at the start over $25, in which case I would wait for a pull back.
Well, it turns out that PLRX successfully raised $144 million as shares roared in it's opening debut by 55% yesterday.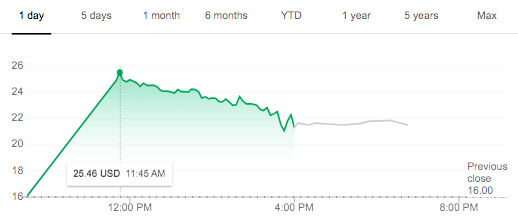 I'm going to keep my eye on PLRX following this hot debut, as I believe the stock could continue to maintain high potential moving forward.
Whichever way I choose to proceed, my premium IPO Payday subscribers will be the first to find out. If you're not already a member of my premium IPO Payday service and would like to learn how I'm attacking this exciting corner of the market each week, grab a copy of my IPO Jackpots ebook here.