While most traders are taking some much needed time off for the extended weekend…
I'm looking for the next hot momentum plays.
You see, I don't want to walk into the week come Tuesday morning and scramble to uncover trade ideas… especially in this volatile market environment.
It's important to have an idea of what tickers to potentially trade, so you can develop a plan for the week.
I want to show you what specific momentum stocks I believe can pop off this week, and the techniques I used to discover them.
3 Hot Momentum Stocks On My Watch
The first step of my technique is to scan and filter down the thousands of stocks out there to potentially trade down to just a handful.
I use a tool called Easy Scanner by Scanz Technologies to uncover potential ideas. Here's a look at the filter.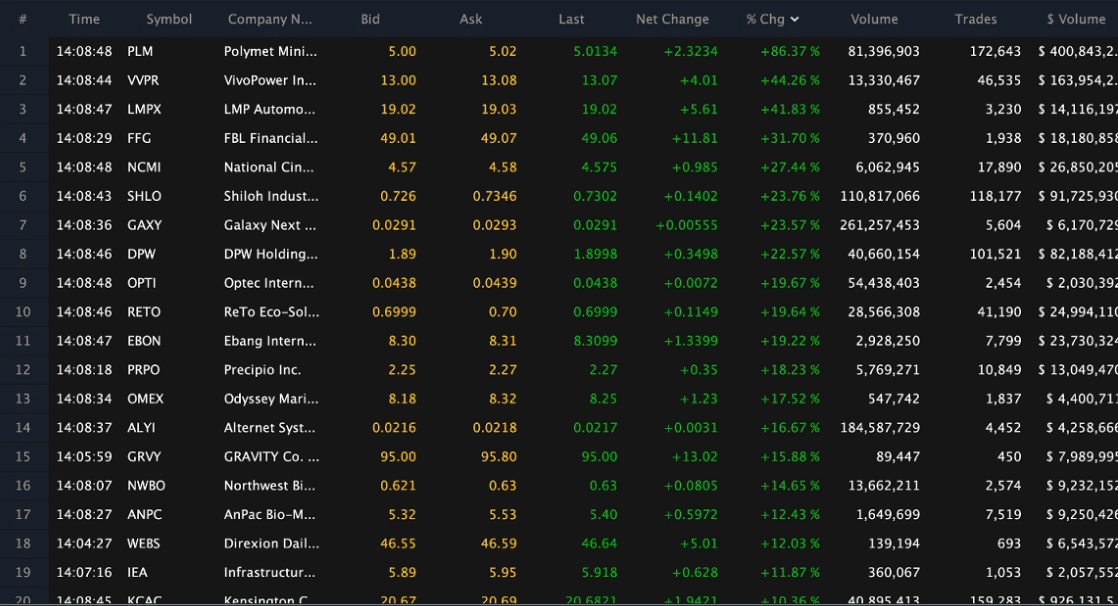 I want to trade stocks with at least $2M in trading volume that are running higher on a specific day. This lets me know which stocks are strong and can continue running higher.
Thereafter, I just blast through the charts and try to find what stocks are interesting.
On Friday, this was pretty easy for me. These stocks were relatively stronger than the market, and I just went down the list to narrow it down to just three plays.
First up, there's EBON.
Ebang International Holdings Inc. (EBON) is another stock on my radar. It's a Bitcoin-related stock… and despite the drop in Bitcoin the last few sessions, EBON has been relatively strong and bucking the trend.
The key levels I'm watching here are $8.50 (near recent highs), and $6.50 – $7.00 for a potential entry.

Next up, there's VVPR.
VivoPower International PLC (VVPR) is one momentum play that can pop. The stock exploded higher on Friday, and since this is a low float, I think it can get crazier.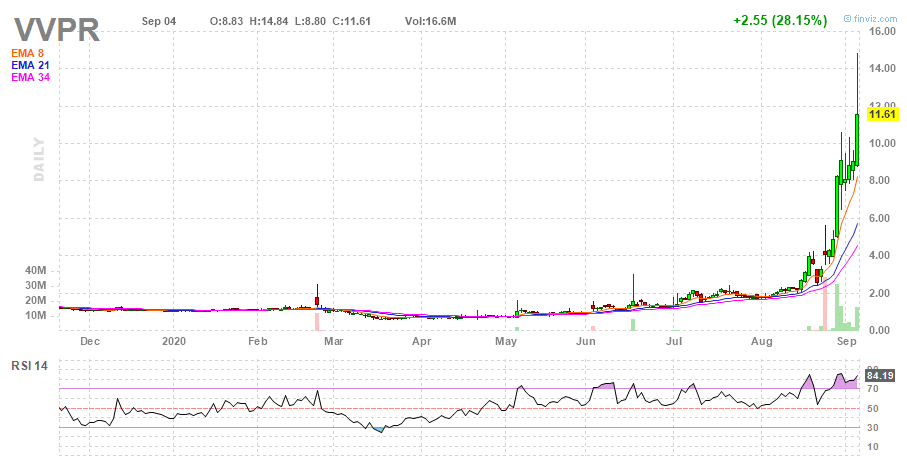 Some areas I'm watching are the $10.00 – $10.50, and $8.00 – $8.50. Why those levels?
Well, they are specific levels one of my indicators pointed out, and it signals there can be some demand around there. I would use my Fibonacci retracement tool if VVPR explodes right out of the gate on Tuesday,
So I can figure out other areas of demand.
Last up, I've got Infrastructure and Energy Alternatives Inc. (IEA) on my watch.

It's been on a clear uptrend, and I would wait and see if IEA can consolidate, which would present me with an entry zone.
Listen, the beauty of the stocks I trade is that they don't always move with the market. The key is to develop the necessary skills to know where to look for them…
And recognize the reliable patterns that can signal they might move.
If you want to learn a pattern that some momentum stocks typically experience form Fridays into Monday…
Check out this short training clip.
Find out how I uncover stocks poised to gap up after the weekend AHEAD of time.