The coronavirus pandemic seems to have slowed down, and market participants are eyeing the reopening of the economy. Over the weekend, New York Governor Andrew Cuomo said it would re-open the state's economy in phases.
Additionally, Texas, Alaska, Georgia, Tennessee, and South Carolina are starting to slowly re-open. 
At these levels, this pandemic is looking more and more like a "V-shaped" recovery. With that being said, I believe there can be a sea of momentum trading opportunities for me to hunt down.
In this market environment, I'll be sticking to my bread-and-butter setups — and right now there are 3 stocks I have on my radar that could be set to move very soon.
What are these stocks on my watchlist?
[Revealed] 3 Stocks On My Radar
With the U.S. government implementing stimulus packages, I think it can actually benefit stocks… and right now, I'm starting to get extremely bullish with my trading. Now, there are 3 stocks I'm watching that I think could start to run.
This morning at 8:24 AM, I sent my subscribers these trade ideas… and if you want to receive my watchlist in real-time, then you can join Jason Bond Unchained.
The 3 stocks I'm watching are: MFIN, RLGY, and HTZ.
Could Medallion Financial (MFIN) Continue Higher?
MFIN bounced from $1.29 to $3 recently and has retraced into a higher low setup I like above $2. Range to $3 resistance offers a big window of opportunity, should it go higher again, while the stop loss below the $2.06 low is a tight $.05 from Friday's price action. I've taught this pattern for years as the fish hook continuation pattern and will likely take a shot on this one soon looking for that move.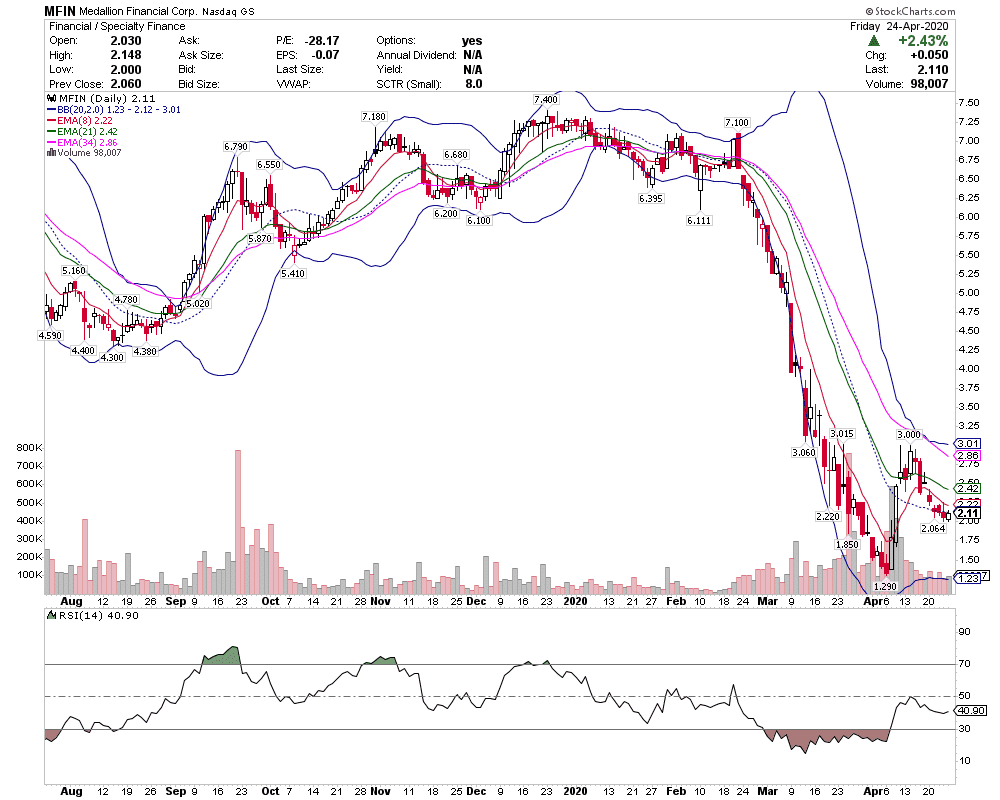 Chart Courtesy of StockCharts
Now, if I do decide to buy shares of MFIN, I'll be sure to send an advance notice alert to my subscribers AHEAD of my actually buy alert. MFIN did catch a large pop this morning shortly after the opening bell, so I'm going to be patient with this one.
Realogy Holdings (RLGY)
RLGY very similar story but it's already made the higher low bounce. See the initial fish hook was $2.09 to $3.72, then the higher low setup at $2.25, pretty much a double bottom and bounced to $4.13. Now it's made a higher low again in the low $3's making $3.24 the stop loss and like the last bounce, a higher high into the middle to upper $4's would be the goal of this trade.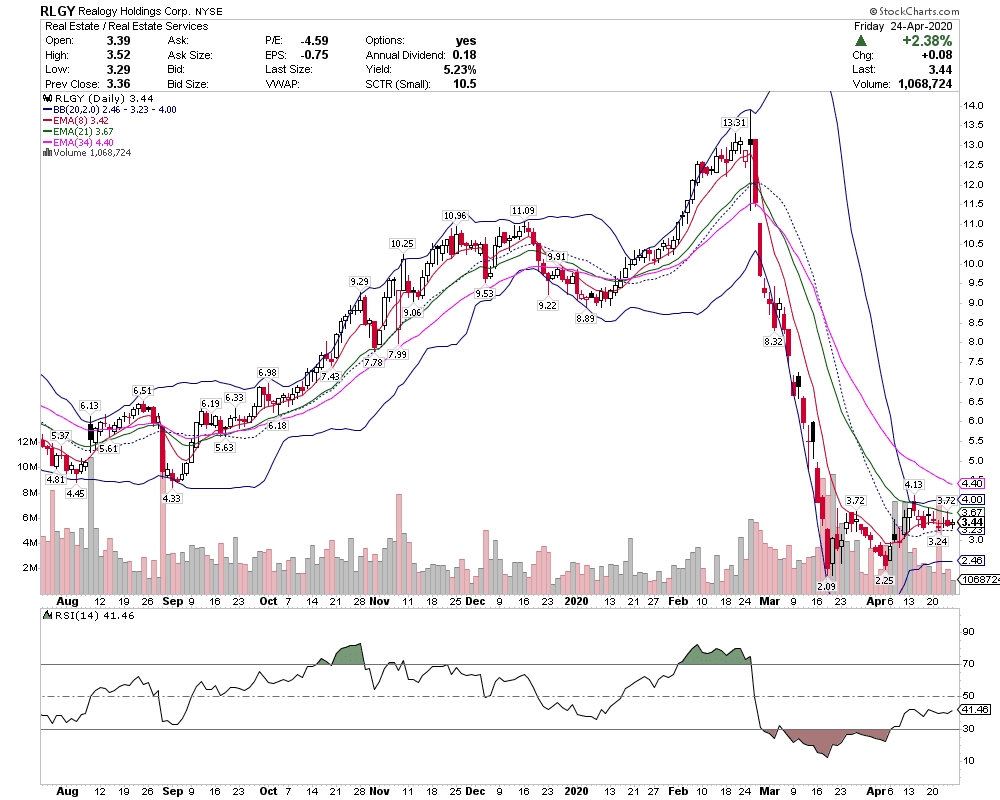 Chart Courtesy of StockCharts
Now, RLGY did make a move higher today, I think this could potentially move to the upper $4 area… and potentially break above $5.
Is Hertz Global Holdings (HTZ) Set For A Massive Bounce?
HTZ price action is pretty scary but it offers a tight stop loss just in case it fails. I'll either reference the lower band at $3.66 or Friday's low of $3.42 as the stop loss since the $3.18 low would be too big of a loss. The initial fish hook from $3.18 to $9.04 should illustrate the reason I'm watching this i.e. super juicy bounce there. Now I don't expect that type of action again, or at least I think it's less probable. However, a move back into the $5's certainly seems reasonable as the economy starts to open again.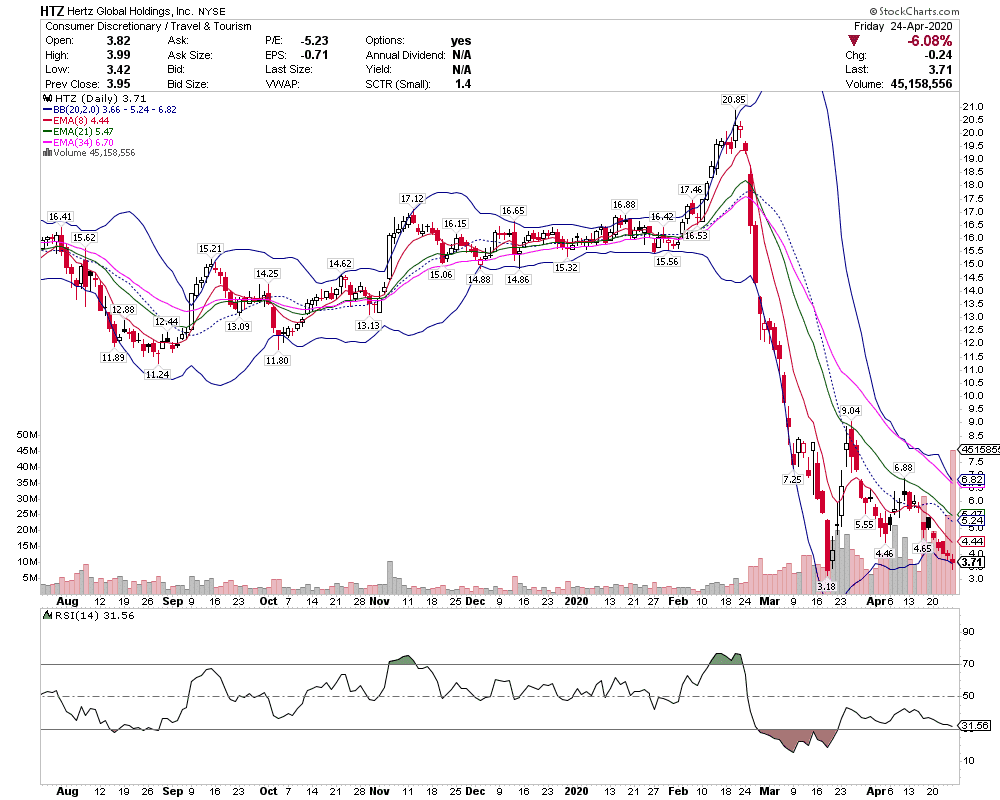 Chart Courtesy of StockCharts
Right now, I think it's important to be patient and not try to chase stocks… so I'll be looking for areas of value before I get into these names. Now, if you want to learn how I uncover momentum trading opportunities and my number 1 edge in the market, click here to gain access to my new eBook — Momentum Hunter.
Related Articles: