3D printing stocks took off today, and it's one area I think traders will be focused on very soon.
What I mean by that is I think these stocks can see demand very soon.
Why?
First, there was news with Stratasys (SSYS) this morning. The company announced it would acquire Origin, a startup company, which would help SSYS expand and produce production parts. In other words, it's Stratasys' attempt to grow at a rapid rate.
Next, there's Trine Acquisition (TRNE), a Special Purpose Acquisition Company (SPAC) that's set to take Desktop Metal — a 3D-printing company — public.
Of course, you may be wondering, "Jason, did you tell me about these stocks to make me have FOMO?"
Absolutely not!
I genuinely believe these are great learning opportunities, and I want to show you how one could've traded it utilizing chart patterns to help identify entries and exits.
Learn How To Trade Momentum Stocks When They Move Fast
Keep in mind, the stocks I typically trade (momentum stocks) move fast. So when I refer to entry and exit levels, it may not be possible to get those prices if you're actually trading.
Also, keep in mind, this is strictly education, and I just want to show you the patterns I noticed in SSYS, as well as TRNE.
So take a look at SSYS on the daily chart.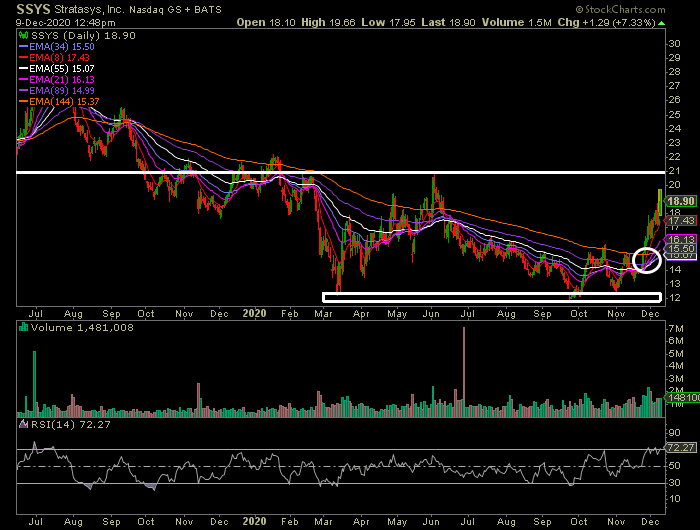 These indicators signaled a bullish reversal, in my opinion. First, there's the white rectangular area in the chart above, that's the support level. Notice how SSYS held above that area over the last few months.
In late November, you can see the short-term bullish trend start to develop. Typically, when I notice a stock break above key exponential moving averages (EMAs), it's a sign the stock can run higher.
I mean take a look at that white circle in the chart above. That shows me there's demand for the stock because it's breaking above the orange line (the 144-day EMA).
Of course, I'm not saying this is the be-all and end-all when it comes to trading, but for me personally, understanding price action has helped me identify momentum plays.
Now, I want to show you the chart in TRNE. This is expected to trade under DM soon.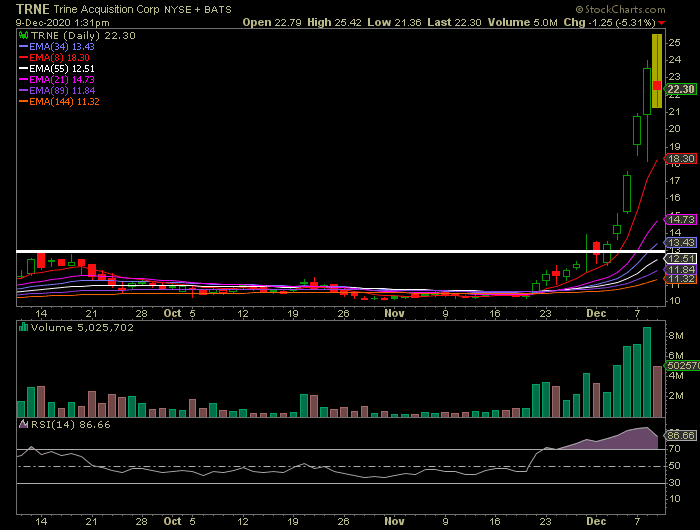 Notice how the stock broke above that horizontal line?
When this happens with momentum stocks, I typically see them run higher. Of course, it doesn't happen all the time, and it's just my observation. Now, with this play, there was actually a catalyst date. The stock ran up as traders flooded in ahead of the vote date on Dec. 8.
I think these two stocks may attract attention from other traders, and then some momentum traders may look to jump into other 3D printing stocks, such as NNDM, VJET, DDD. That's just my opinion though.
Of course, only time will tell whether these 3D printing stocks will take off or not.