While I'm waiting for the price action to shake out in the market before I look for options on mid- and large-cap stocks…
I wanted to take a step back and show you another way I've been attacking this market.
To be honest with you, some of these plays can offer as much money-making potential as my options trades.*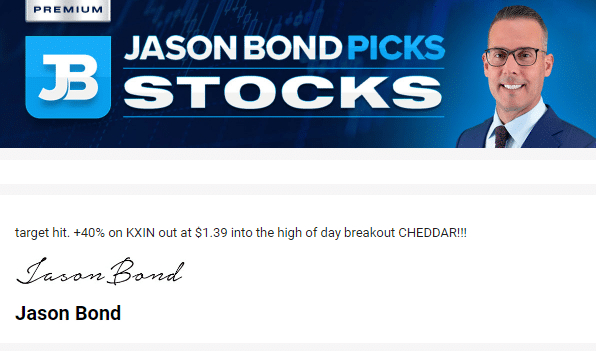 Not only that, but the way I uncover these plays is very similar to the way I spot large-cap trades.
It's known as pattern recognition.
Basically, what I'm doing is filtering for stocks to trade and looking at chart patterns to see if I can uncover my three favorite setups.
I want to bring your attention to three momentum stocks that I believe can take off, and why traders should keep an eye on them.
Three Momentum Stocks Set To Pop Off
Typically, I trade small-cap momentum stocks… but I want to show you these patterns pop up in large caps as well.
Take Virgin Galactic Holdings (SPCE) for example.
I am sure you're familiar with this one. In case you're not, Virgin Galactic is another enterprise of a widely famous billionaire Richard Branson. The company focuses on developing space vehicles and aims to make space travel affordable.
SPCE had a monster run early in the year: the stock shot up from $10 to $42.49 in a matter of 3 months. Now, after almost 8 months of consolidation, it might be getting ripe for another move higher
On the daily chart in space, there's a confluence of indicators. In other words, SPCE is in an uptrend with higher lows above all the exponential moving averages (EMAs). On Oct. 13, it held the 21 EMA, showing that both long term and short term momentum is to the upside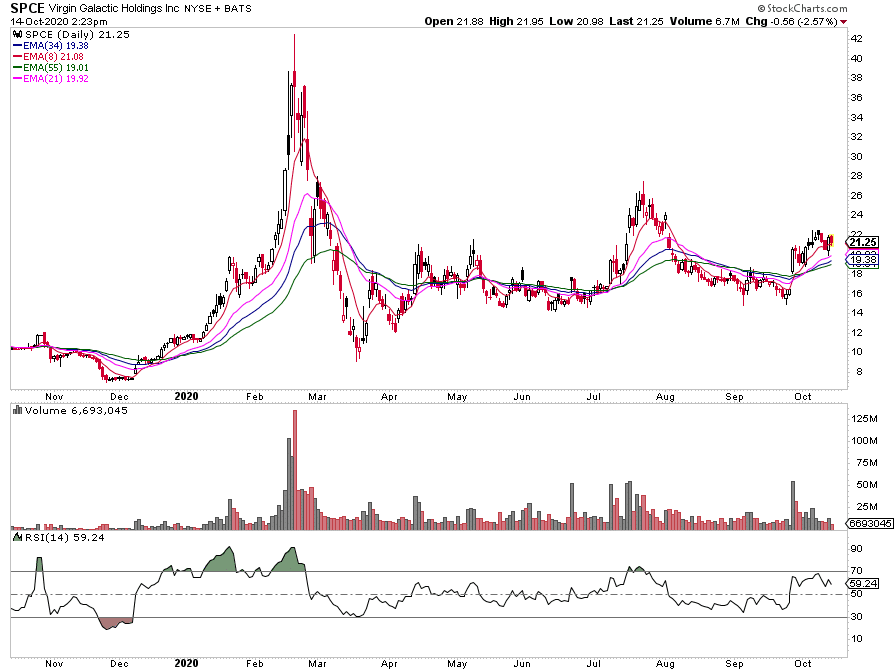 This is one I want to keep on my radar if it can stay above the 21-day EMA.
SPCE is a heavily-shorted name, and it's got a nice little bull flag / pennant formation… that's a signal to me it can lift off very soon.
Next up, there's Arcimoto (FUV).
Arcimoto develops and manufactures electric three-wheeled vehicles. It also manufactures bicycles and automotive parts.
Arcimoto has been gaining some attention from the mainstream media: it teamed up with Maryland officials to promote Baltimore as a host city for FIFA World Cup 2026 and was chosen as a delivery vehicle for Wahlburgers.
Given the tailwind from the EV sector (examples like TSLA, NIO, LI), I could see this one picking up some steam again.
FUV chart looks good as well: it has been in a giant consolidation since its run-up from $2 to $8.89 in June.
The stock has a massive bull flag / pennant formation, and I think it can break out from this consolidation phase very soon.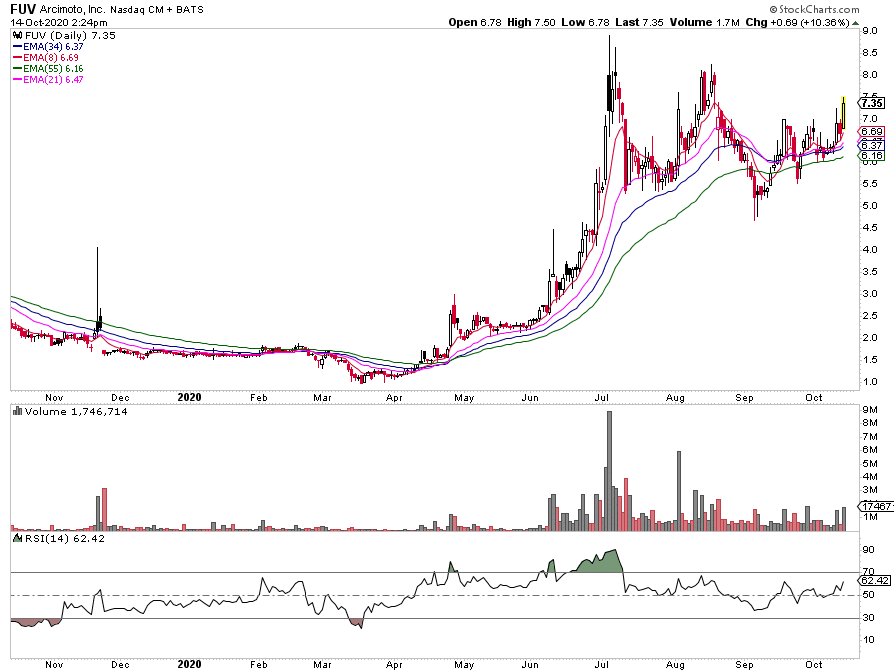 Last, but not least… Plantronics (PLT) is another stock on my radar.
Plantronics manufactures headsets and headset accessories. The company also makes specialty telephones for hearing-impaired users and noise-canceling headsets for high-noise environments.
The company has earnings report scheduled for 10/29/2020 after the market close.
In the past couple of months, multiple analysts upgraded the stock, including JP Morgan, Northland Securities and Sidoti & Company.
I like this chart because it broke out of a base from $12.5 to $17.4 and got above all of the 5 EMAs I keep track of.
It has had two inside days since then. While this might be a slower trade, I think it has excellent risk-reward potential.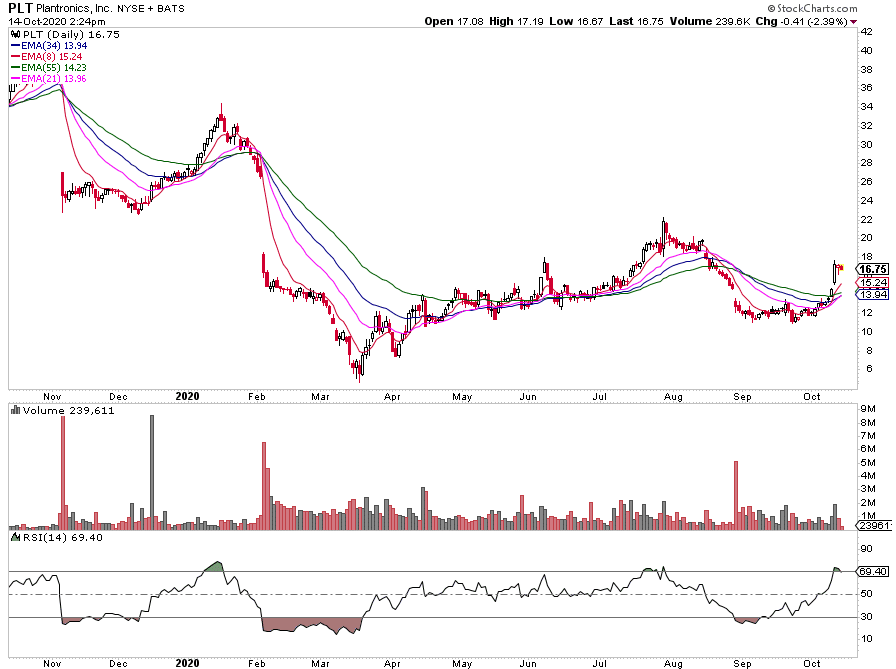 With the stock breaking out from the EMAs on the chart above, I'm going to keep an eye on this one to see whether a bull flag sets up, or if it pulls into a key EMA.
There are plenty of money-making opportunities out there. I want to show you the techniques I use to uncover them.
For me, it's as simple as narrowing down my trading universe and looking at what I believe to be simple patterns.
If you to learn how I utilize pattern recognitionand chart patterns to uncover momentum stocks before they take off…
Then register for this exclusive training session.
You'll discover my three favorite chart patterns to hunt down some of the hottest stocks in the market.