Every single trading day there are plenty of opportunities to take advantage of, and I expect there to be even more money-makers to fish for not only this month but 2021.
Heck, in all my years as a trader and educator, I genuinely believe 2021 can be my most profitable year yet due to all the catalysts on the table.
We've got Janet Yellen potentially heading the Fed again, and that means more potential stimulus.
A new presidency means there will be specific sectors and stocks that can benefit, and if you can spot them ahead of time… it can put you in a position to make money if the trends start to develop.
Of course, you're probably wondering, "Jason, if there are so many opportunities out there… how can I possibly know which ones to trade… do I just start buying randomly?"
Let me show you how to identify these plays.
Why 2021 Can Be Filled With Fireworks
There are plenty of major catalysts on the table in 2021, but the change of powers is one major one. You see, a lot of traders are eyeing more stimulus to support the economy.
With Janet Yellen set to be in the picture, I think we'll see an even more dovish Fed policy.
What does that mean for stocks?
Well, when money is being thrown at the market, stocks go up, and some of the most attractive opportunities are actually in small-cap momentum stocks…
Which just so happens to be my bread and butter and one of my favorite strategies to teach to traders.
Of course, you're probably wondering… "Jason, how do you actually uncover these trading opportunities?"
For me, it's simple.
Every trading day, I look at a scanner and filter for stocks to potentially trade. For the most part, I want to look for stocks gapping higher on the day with at least $2M in dollar volume.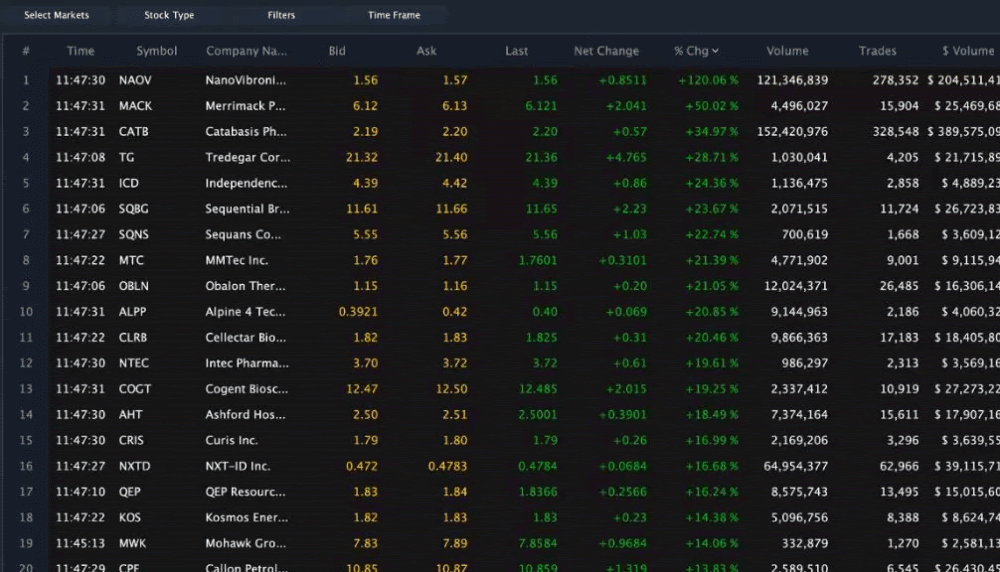 Thereafter, I look through all the charts to find opportunities, especially if I see any of my patterns pop up.
If you look above, it's not a lot of names.
One stock that looks interesting is ICD.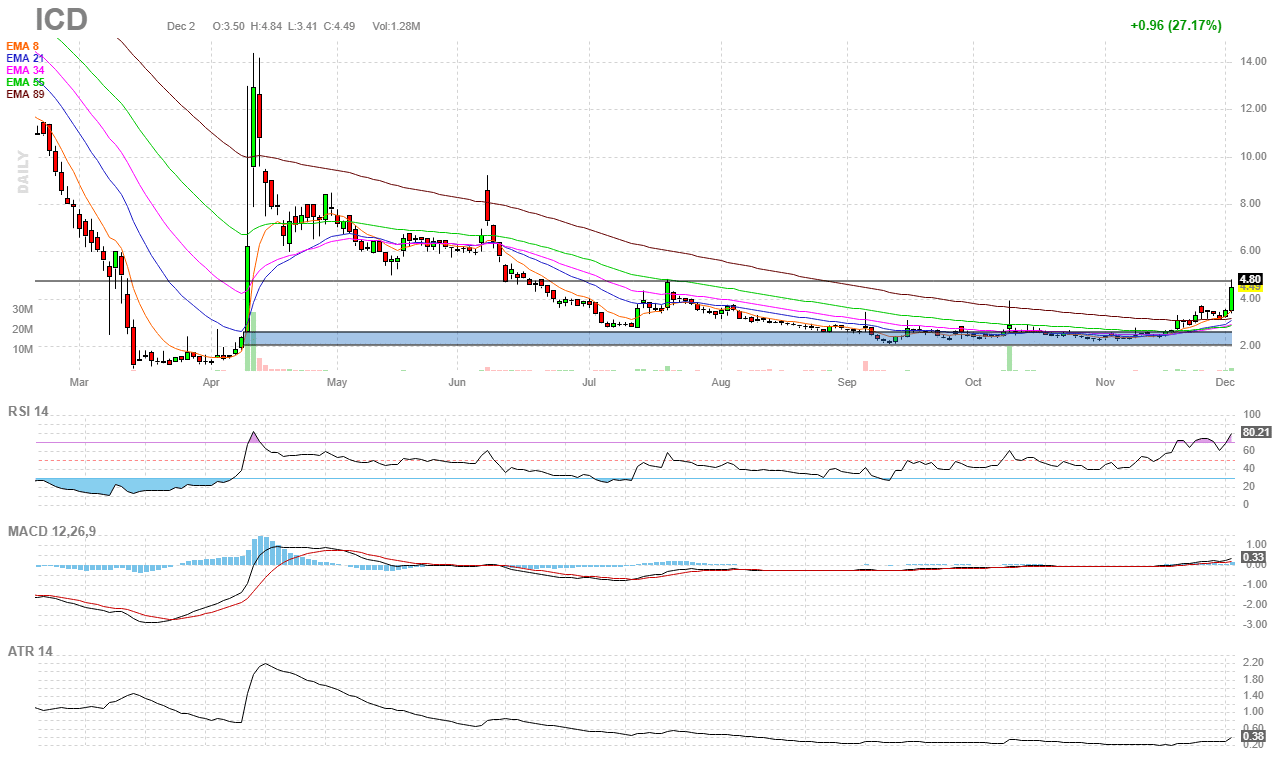 You see the stock has been trending higher after finding support. Right now, the stock is at a key resistance level, and if it breaks above that… the buyers can rush in and potentially cause the stock to get to $6.
Since this stock is a low float and only has 5.06M shares, we can see a scenario where the buyers outweigh the supply significantly, and that could cause a parabolic move.
Next up, there's Sequans Communications (SQNS).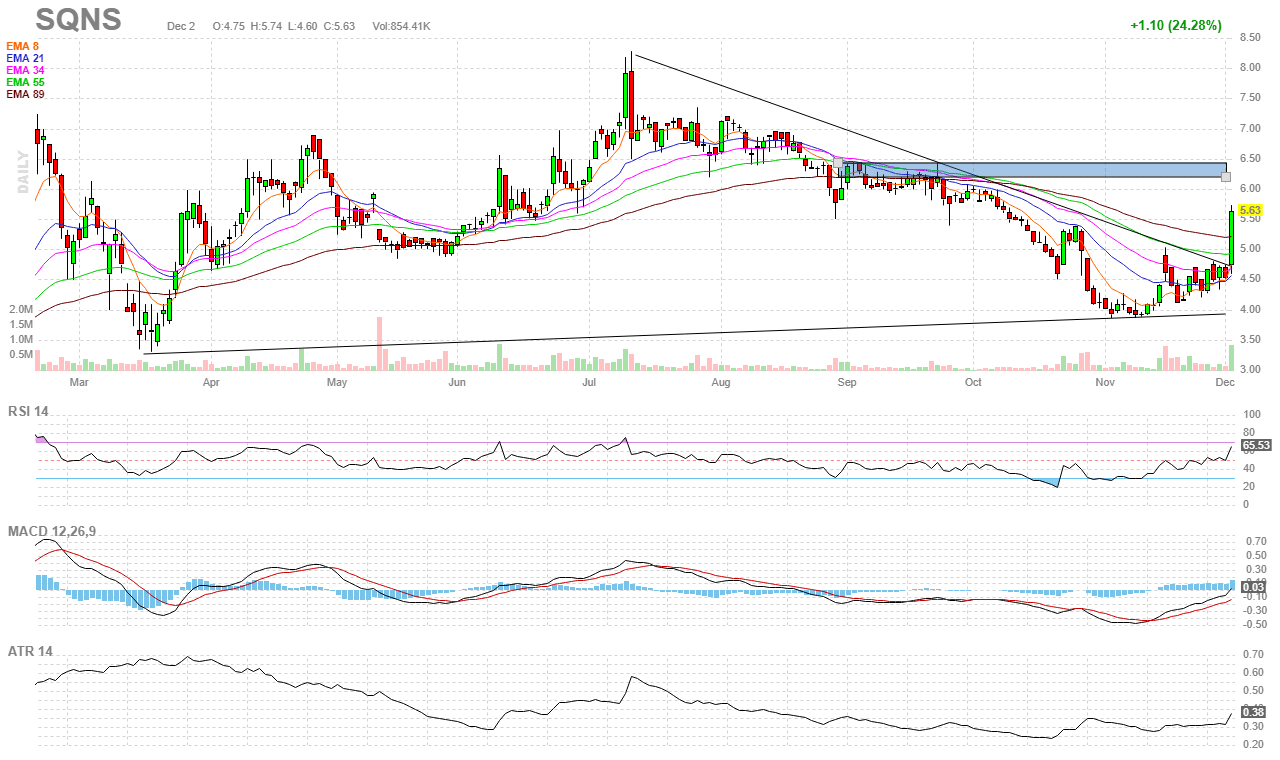 The stock is another low float, with just 3.98M shares available to trade. It's starting to take off and if it can break above the $6.50 level, I think it has room to run to $8.
Of course, if I do make a move on these plays… I'll be sure to let subscribers know.
Right now, I believe the biggest potential returns can be found in small-caps, and I want to show you why, LIVE tomorrow at 8 PM ET.