So many new traders have piled into the market, and many have a tough time coming up with trade ideas right now.
To be honest with you, I don't blame them.
Either there's way too much action and they get overwhelmed — then have a deer in the headlights moment and miss out…
Or there's no action and they just sit there bored all day.
The key to becoming a successful trader all starts at idea generation, which can help you put yourself in a position to make money.
If you don't learn how to come up with your own trade ideas, you'll always be one step behind.
I know what you're probably wondering, "How do you actually find stocks to trade?"
To me, the easiest way to uncover stocks to potentially trade is by focusing on price action.
It's what I teach all my subscribers to do, and I believe if you're able to spot my recognizable patterns — you can generate trade ideas in some of the hottest momentum stocks out there.
I want to draw back the curtains and teach you how can start to find stocks to trade on your own.
My Process To Uncover Momentum Stocks
Listen, there are thousands of stocks to potentially trade each and every day. However, you won't make it as a trader if you just randomly pick one and buy it… it simply doesn't work that way.
I believe the key is filter down these stocks down to just a handful to potentially trade. The first step I take every morning is looking to my scanner.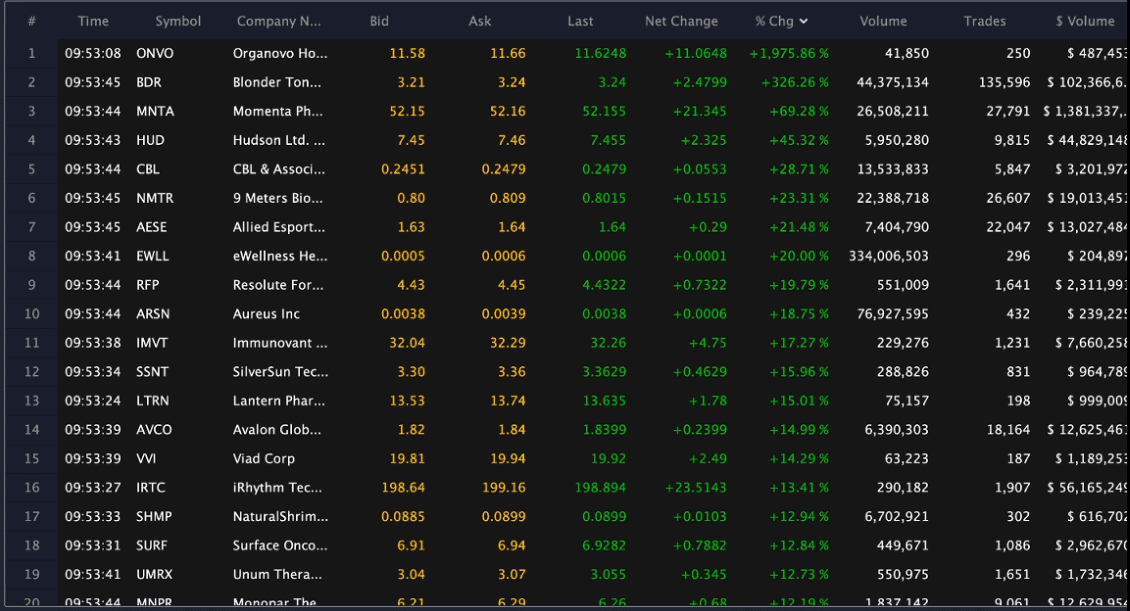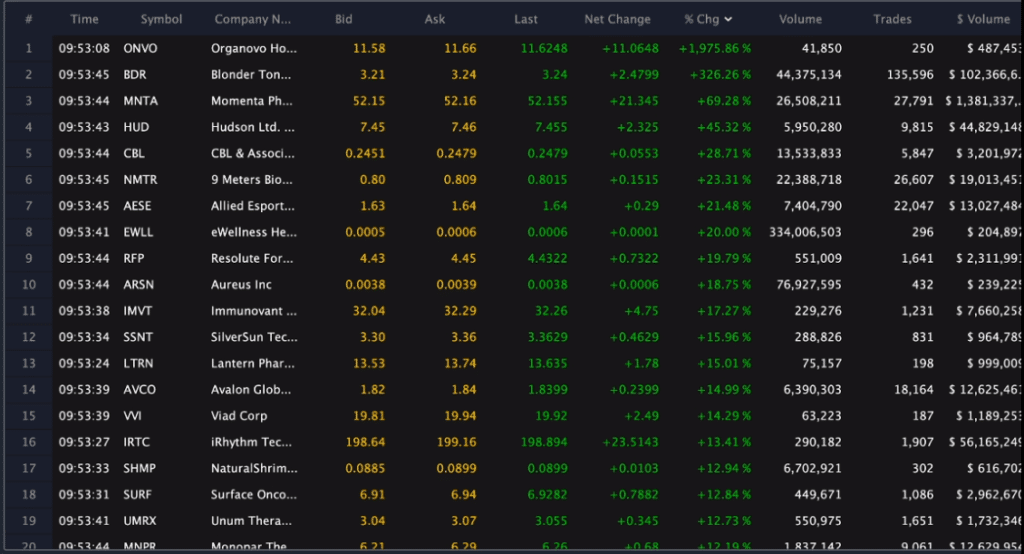 Source: Scanz Technologies
Above, you'll notice a screenshot of the Easy Scanner, and it's great for filtering down liquid names to potentially trade. If you don't want to pay for a subscription, your brokerage platform might have a scanner you can use, so just call them and they should be able to help.
With the Easy Scanner, I look for stocks with at least $2M in Dollar Volume ($ Volume) when it's after the opening bell. This allows me to find liquid momentum stocks. Thereafter, I'll sort by % Change.
With a filter, you can change the price of the stocks you want to see and really tailor it to your trading wants and needs.
The next step I take is to look through all the stocks that are moving and try to see if one of my favorite patterns is popping up.
For example, one stock that was on the scanner that looks interesting is Viad Corp. (VVI).
Why?
It's got a bull flag / pennant pattern forming on the daily chart.
If it breaks above $20, the stock can build some momentum and potentially get to $23 – $25 in a short period of time. So I'll put this one on my watchlist.
Another interesting stock is Surface Oncology (SURF).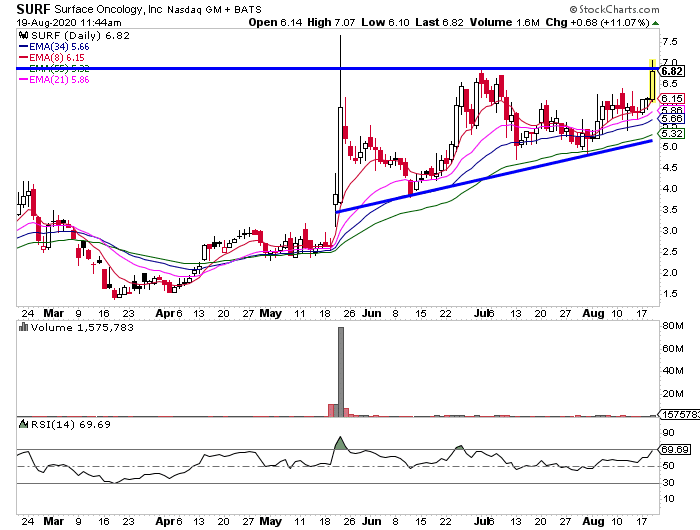 The stock is forming an ascending triangle, and it's looking to break out right now… so I'll keep this one on my radar as well.
This process seems pretty simple, right?
Filter for stocks to trade, identify recognizable patterns, put them on a watchlist and develop a trade plan around it… then execute.
Listen, I believe spotting chart patterns is a heck of a lot easier than trying to dissect the news. If you want to learn how to come up with trade ideas by looking at charts…
Then you'll want to register for my exclusive training workshop.
You'll learn my techniques to hunt down momentum stocks poised to move, and how I'm able to trade on a part-time schedule.