With June in the books…
I'm looking forward to July and the second half of 2020.
I started June with about $150K in trading capital and finished with a realized gain of $109,226.63.*

It's one of my better months, and I plan to replicate that success more often.
Today, I looked at the queue from my AMA prompt and found one common theme…
Traders want to learn how to remain consistent.
I love hearing that because I intend to do the same.
How?
By reviewing my trades to figure out what worked really well for me June… and stick to it.
Over the years, I learned some tips and tricks that I believe can be beneficial when it comes to remaining consistent.
My Plans To Continue My Stellar Performance
When it comes to trading I believe there are three things traders need to learn:
Find the best practices and strategies that fit your style.

Take the best practices and dedicate time to learn them.

Encourage and stimulate your brain with those practices until it becomes ingrained in your mind.
For me personally, I found that a bulk of my realized gains stemmed from Jason Bond Picks and Monday Movers strategies.
About $70K of my gains were from trading those two strategies alone… and I intend to stick to them.*
You see, those two strategies fit my style. I like action, but I don't have all day to sit and stare at my screens, nor do I want to do that.
While I believe I have traded those two strategies well at times, I still dedicate time to develop my game and take time to learn them.
Each and every day, I try to stimulate my brain by trying to identify momentum trading setups that allow me to uncover hot stocks… before they run.
By sticking to continuing those practices each and every day, I believe that I can maintain the performance I had in June.
I know what you're wondering…
Jason, can you show us an example?
Real-Money Case Study
I'll do so with a recent Monday Movers winner.
Typically, I release my Monday Movers watchlist on Fridays…
But there was a change of plans because I wasn't comfortable holding over the weekend with the price action last Friday.
That's one best practice I learned over the years. It's better to be safe than sorry as a trader.
Instead, I waited for things to pan out, and I found stocks I was willing to hold overnight on Monday.
One of those stocks was in Waitr Holdings (WTRH).
Here's what I sent out to Monday Movers subscribers the other day.
WTRH coming out of consolidation with range to the low $3's. Easy to see the bull flag here so the demand line becomes the stop loss

Source: Finviz
There was a bull flag pattern in WTRH, and that's one of my favorite setups.
It was clear to me where the stop-loss area was and where I should look to take profits.
Now, with my strategies… I'm not looking for home runs because they're hard to nail and don't help with maintaining consistency.
Instead, I look for base hits. For me personally, that's about 10% – 20% in gains.
That's what's worked for me over the years…
And I believe I nailed WTRH right on the button.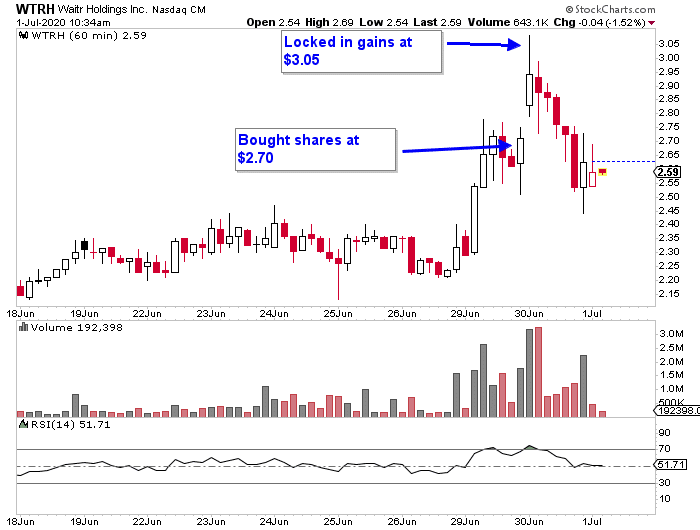 Source: StockCharts
I bought shares at $2.70 and sold at $3.05.
That was pretty much near the high of the day. Of course, I could've held shares and looked for a bigger win… but I was real with myself and knew that was an area to lock in gains.
As you can see, that was the right choice, in my opinion.
To me, in order to be the best trader I can be… I have to focus on what works for me… and that's finding chart patterns in momentum stocks.
If you want to take things slow and learn how my strategy works, then you'll want to check out this short training clip.
In it, I detail one of my newest strategies and how I'm able to find stocks set to pop come Monday mornings.
*Results presented are not typical and may vary from person to person. Please see our disclaimer here: ragingbull.com/disclaimer