Man what a wacky market out there today…
Stocks are bouncing all over the place, and that's why I like to stick with trading momentum stocks.
Now, when it comes to trading fast-moving stocks…
I believe it's important to focus on one overall sector.
There's one that comes to mind right now — cannabis.
This sector has been beaten down and with a large looming catalyst, it may catch a pop soon.
Today, I want to show you some cannabis stocks on my radar, and what I'm watching for.
Cannabis stocks have been beaten down recently, but I think the tides can turn very soon with the upcoming election.
Next month, there's going to be some big events, and the Connecticut primaries will be held early in August.
Not only that, but the 2020 Democratic National Convention, as well as the 2020 Republican National Convention, will be held next month.
I believe one of the many talking points will be cannabis legalization.
With Biden leading the current POTUS in polls right now, it may cause some traders to pile into cannabis stocks in anticipation.
Who really knows.
One thing I do know is these stocks can move, if a catalyst hits… and some cannabis stocks I want to keep on my radar include: HEXO Inc. (HEXO), Canopy Growth (CGC), Aurora Cannabis (ACB), and Tilray (TLRY).
Now, these stocks are all heavily-shorted, which actually is attractive to me.
You see, if a positive catalyst actually hits and these stocks start to run higher…
The shorts may be squeezed, which can push the cannabis sector higher.
Right now, the short interest for these names are:
TLRY with 23.71%

ACB with 19.03%

HEXO with 11.62%

CGC with 23.58% 
I wouldn't be surprised if these stocks gain momentum very soon headed into the election events.
That's why I actually bought shares of TLRY on Tuesday.
On the hourly chart, TLRY is forming a bull flag pattern.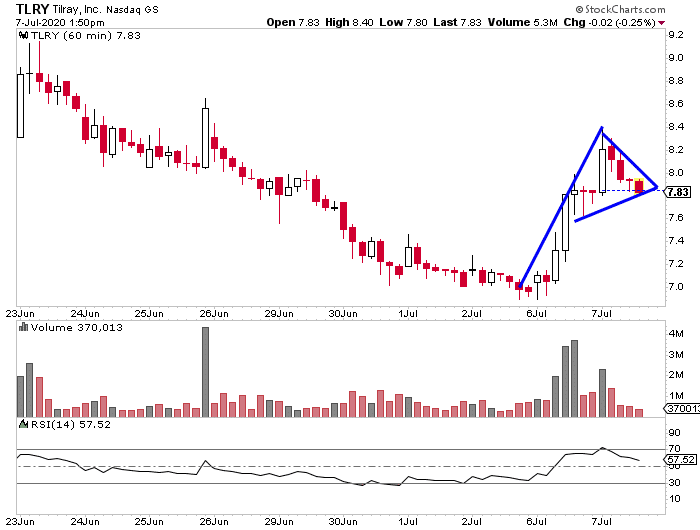 Source: StockCharts
This is one of my favorite patterns to trade because typically, when I notice this pattern… there's a high chance, in my opinion, the stock could break out and run higher.
On the daily chart, TLRY has been consolidating and just bounced off a key support level right under $7.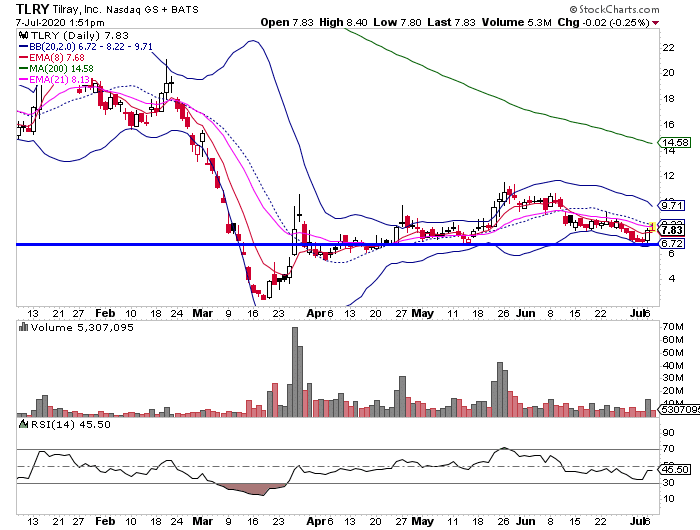 Source: StockCharts
That signals to me there's demand for the stock there.
Right now, I'm going to keep on eye on these cannabis stocks… and see whether my momentum patterns pop up in these names.
I'll be sure to update subscribers about anything new I see in the names.
Now, if you want to learn more about my techniques to hunt down momentum stocks… I wrote down all of my thoughts and my number 1 edge in my new eBook Momentum Hunter.
Click here to claim your free copy.
After reading it, you may be shocked at how much easier trading can be if you just focus on the setups and techniques I lay out in the eBook.
WE MAY HOLD SECURITIES DISCUSSED. RagingBull has not been paid directly or indirectly by the issuer of any security mentioned in the Services. However, Ragingbull.com, LLC, its owners, and its employees may purchase, sell, or hold long or short positions in securities of the companies mentioned in this communication.