Man has it been a rollercoaster ride this week… stocks have been all over the place, as coronavirus fears are still rampant and traders are just starting to figure out its impact on the global economy.
If you've been trying to pick bottoms or tops in the market, you may be feeling the pain. With so much volatility, it's getting difficult for many traders to spot winners in the market.
However, it doesn't have to be that way.
The thing is, I've still been able to spot winners amidst the bloodbaths using my scalable and repeatable patterns.
In times like these, I find it beneficial to take a step back and look to which setups have been working. Today, I want to walk you through one of my favorite chart patterns and equip you with the necessary tools to uncover money-making opportunities, no matter what the market is doing.
Just take a look at the S&P 500 ETF (SPY) this week (including pre-market action this morning)… it's just been choppy price action. If you've been having trouble finding winners in this environment, I don't blame you.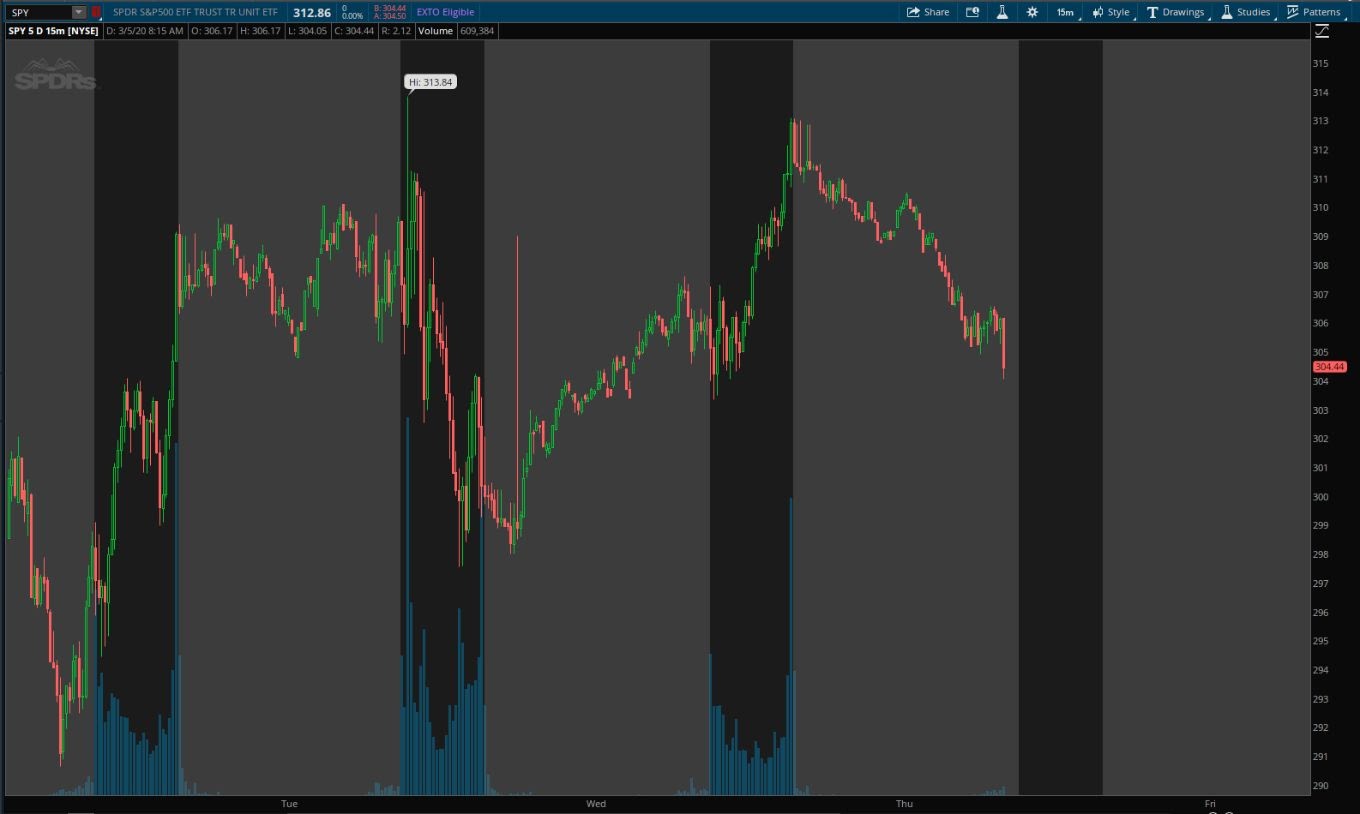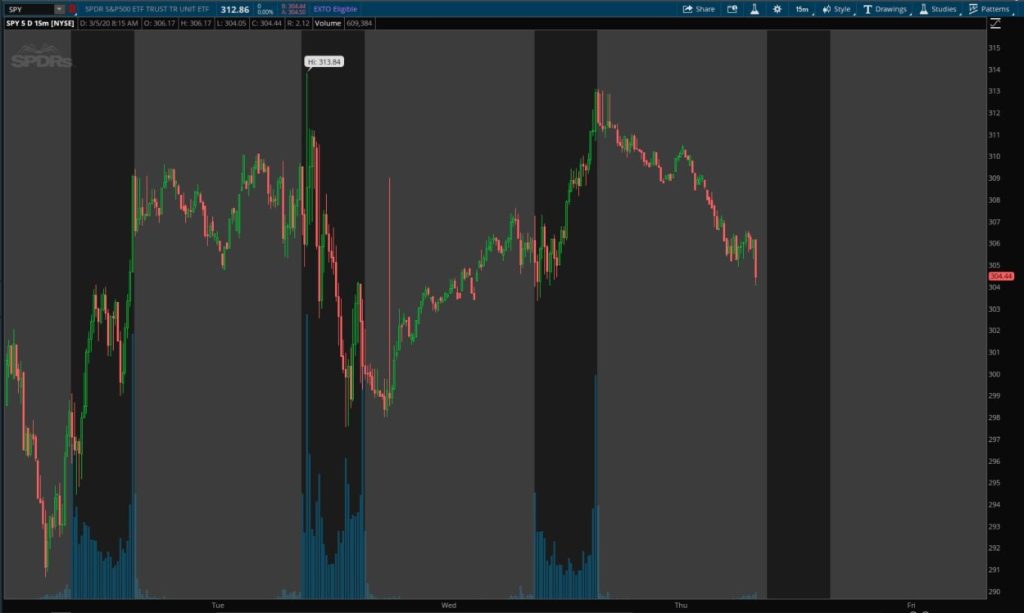 Source: thinkorswim
However, that may be an indication you're looking in the wrong places for opportunities. You see, it's very easy to get caught up in all the headlines that come out… ones like:
West Coast Shows the Damage Outbreak May Do to U.S. Businesses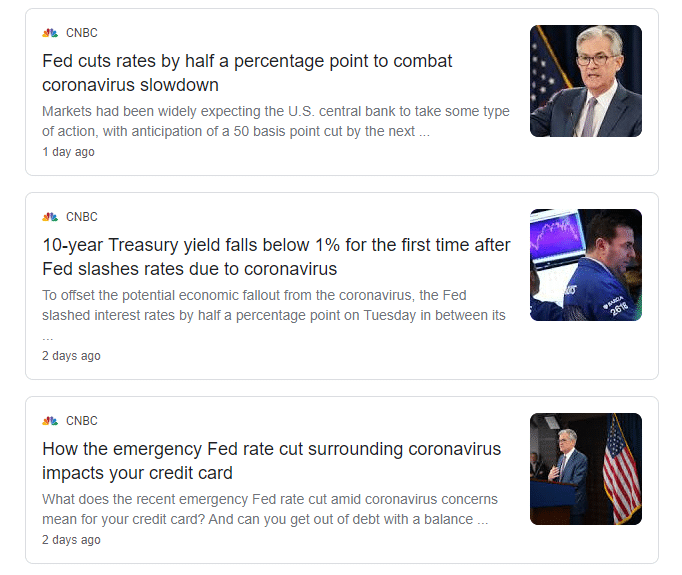 Of course, to me, this is just all noise… and what I've found to work in this news-driven market are patterns, value, and catalysts. By catalysts, I mean company-specific headlines, news, or fundamental changes.
Just by focusing on those three simple factors, I was able to lock in a $3,752.62 winner in less than an hour.
Don't believe me?
Let me walk you through this real-money trade.
How To Uncover Winners In Bearish Markets
On Tuesday, stocks were extremely volatile… as we saw the market pop off the back of a "surprise" Fed rate cut. However, coronavirus fears ensued and the market reversed all the gains and sold off.
However, I was still able to spot a winner using a simple pattern… and if you think I shorted stocks that day, I didn't. I actually made money buying!
On Tuesday, Stealth BioTherapeutics (MITO) released news that the U.S. Food and Drug Administration (FDA) granted Rare Pediatric Disease designation for its Barth syndrome drug. That catalyst was enough to cause the stock to skyrocket. 
Of course, when stocks have a positive catalyst and explode… buying blindly is one way to get sliced up because there could be whipsaws along the way. Instead, finding a scalable and repeatable pattern works best for me.
That's exactly what I noticed in MITO. Check out the 1-minute chart when I traded the stock.
If you notice, MITO exploded right out of the gate and stalled… this formed the bull flag pattern, and I waited for an area of value to get in. If you notice, there was an area of consolidation (the flag portion of the pattern).
I was patiently waiting for the right price, and once it hit the demand line… I bought shares in anticipation of a run higher. Here's what I sent out to clients as I was getting into the trade.
Mar 3, 2020 at 10:46 AM – Jason Bond:
JBP: morning bull flag up on news, bought 7k MITO at 3.93, range to 4.50, maybe nhod, probable day trade
Since I bought on the pullback, there was a high probability that MITO could retest the high of day, and potentially break out and make a new high of day (NHOD).
Pretty simple right?
As you can see, MITO broke above and actually got to $5… 
Once I saw that explosive move, I decided to take off a little more than half of my position off the table…
Mar 3, 2020 at 10:58 AM – Jason Bond:
JBP: sold 4k of 7k MITO in the 4.70's as it hit 5 on the breakout, riding 3k shares, see what happens
Here's what my PnL looked like just as I took some profits off the table…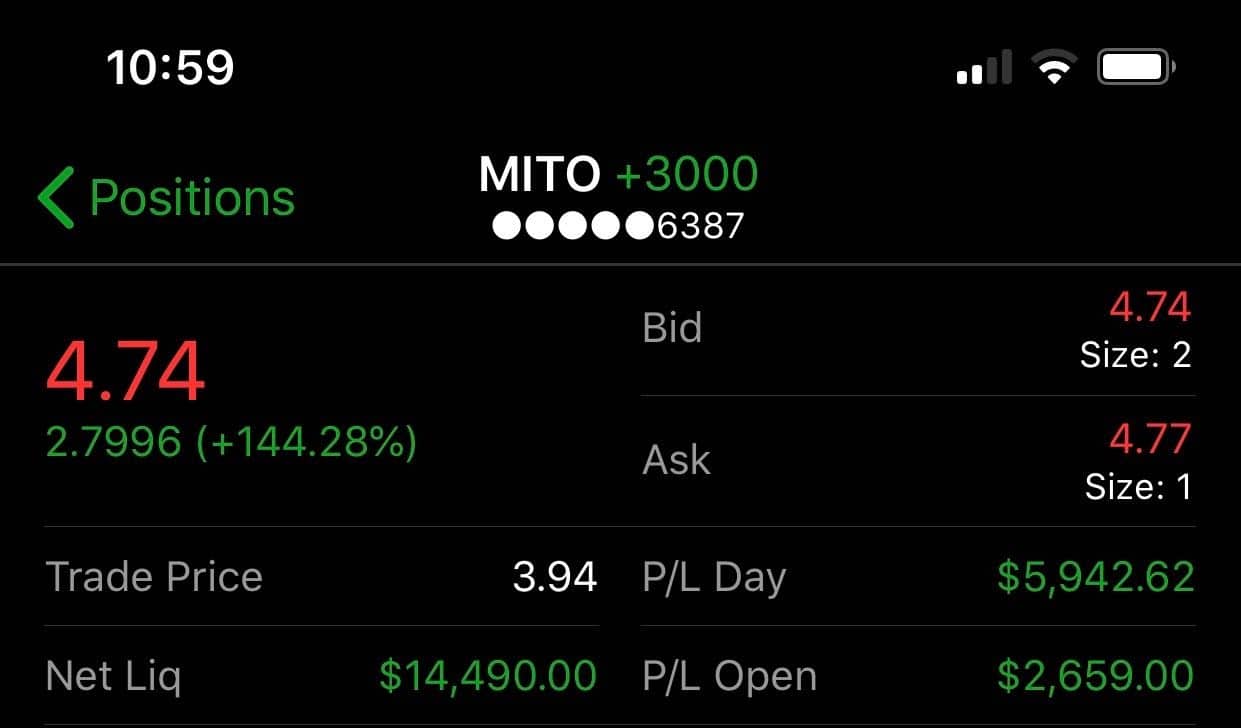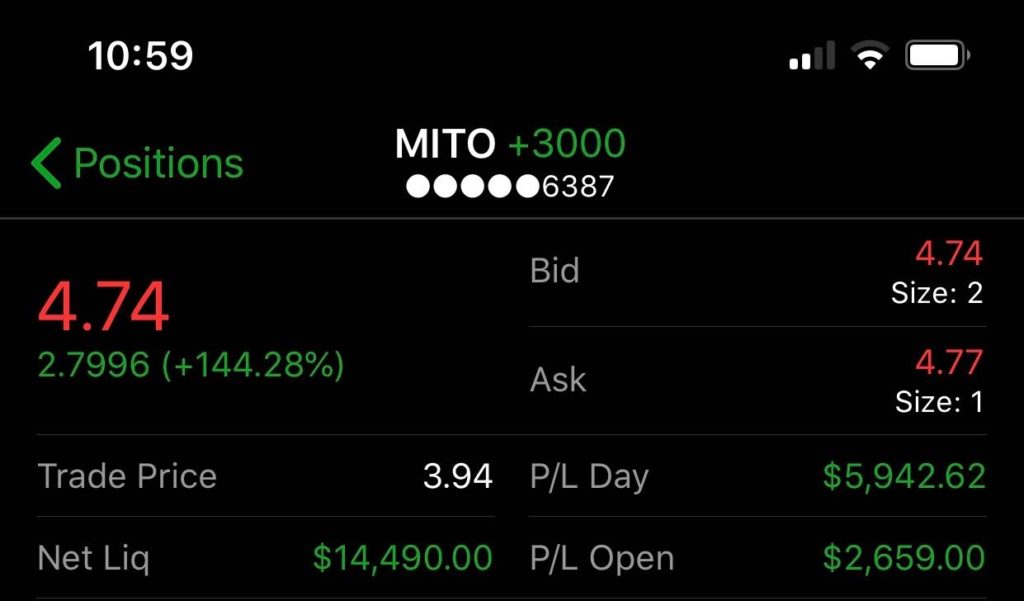 Now, with fast-moving stocks that are up more than 100% on the day, it's not surprising to see pullbacks along the way. So to be prudent, I placed a profit stop, just in case the stock retraces below my entry.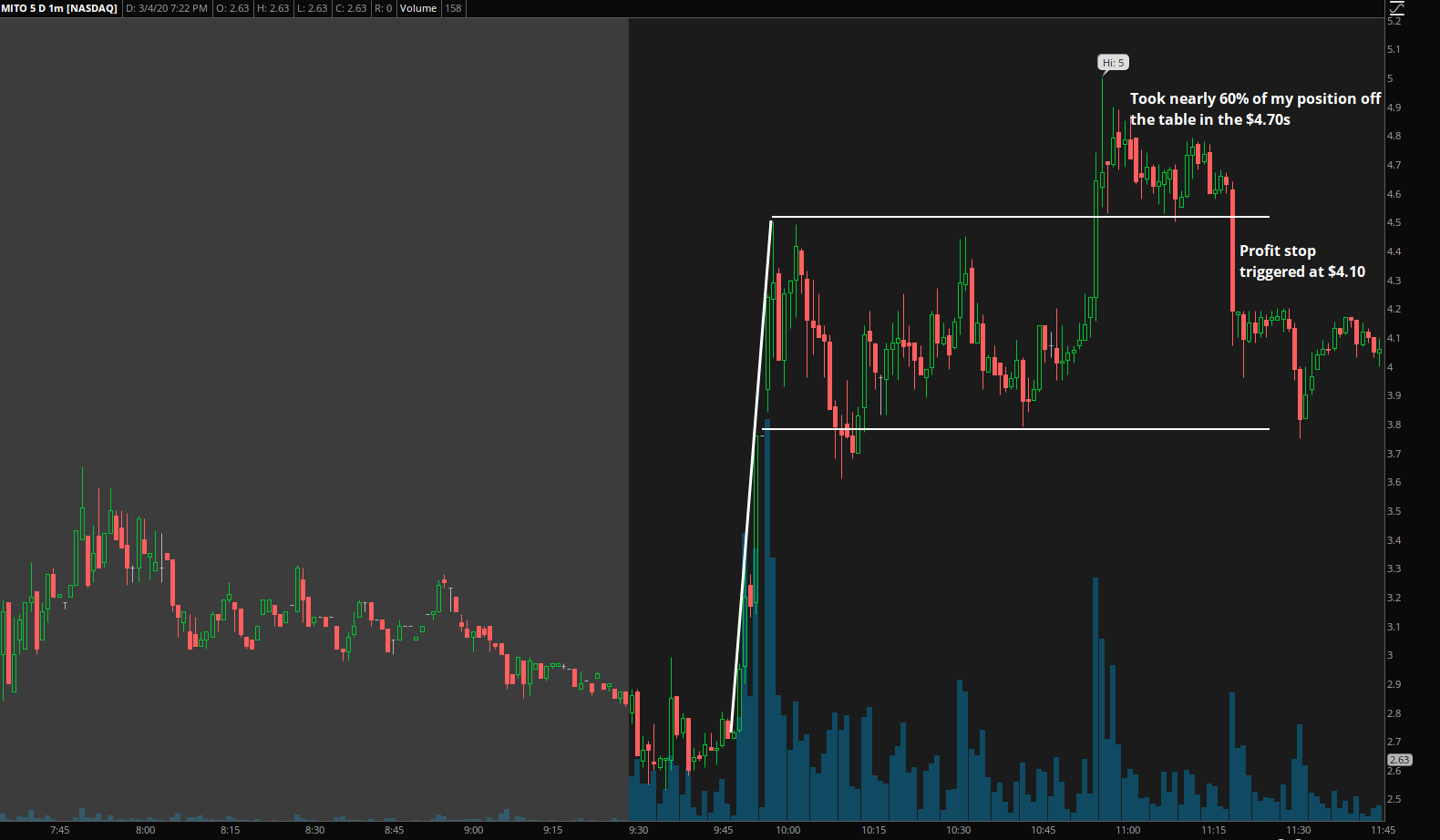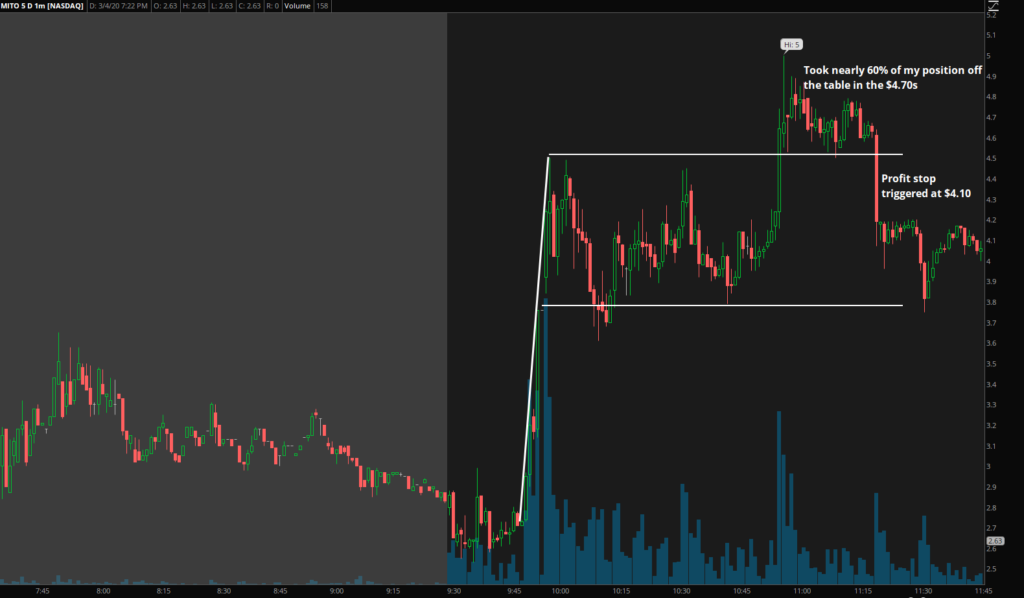 Mar 3, 2020 at 11:33 AM – Jason Bond:
JBP: MITO profit stop at 4.10 triggered
My profit stop was triggered at $4.10. Of course I could've taken all my profits in the $4.70s… but at the time, the stock looked like it could continue much higher, and the play was to hold the rest for a bigger move.
I'm happy with the trade, because overall, I locked in a $3,752.62 in less than an hour… even when the market was tanking.
If you're having trouble finding money-making opportunities in this environment, then click here to watch this exclusive training session and learn how my patterns could help you achieve profitability.
Related Articles: