The tech sell-off has led Wall Street to its third straight weekly loss.
With volatility picking up…
Some traders will react as if they're deer in the headlights, while others will capitalize on the momentum trading opportunities.
Of course, I'm part of the latter camp, and that's why every weekend, I look for potential momentum trading opportunities to set myself up for success.
This week, I've got three momentum plays on my radar that I believe will be in play.
They're three stocks with some of my favorite patterns, and who knows… maybe one of them will be my highest-conviction trade idea one day this week.
Why These 3 Momentum Stocks Are On My Watchlist

First up on my list is Veritone (VERI).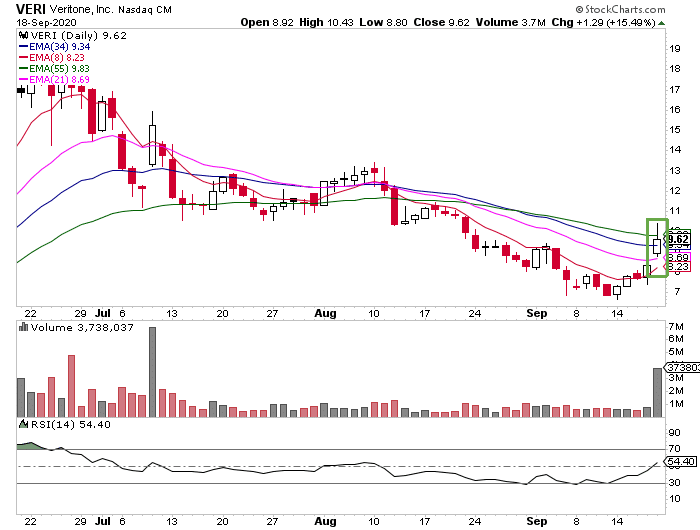 The company was awarded a $1.3 million contract with US Air Force to enhance satellite imagery analysis on Sep. 17, 2020. So there's a catalyst on the table.
The float is 21.2M, and the short interest sits at 17.9% – possible squeeze combo here. You see, there's not a whole lot of supply out there… and if the stock pops and build momentum, short-sellers may be forced to cover, leading to more demand.
From a technical standpoint, the stock closed above a key moving average (the 34-day exponential moving average).
That signals to me the stock has room to run higher, and I wouldn't be surprised if it gets to the $11.50 area, followed by the $13 level.
This one is a former runner known to make outsized moves. If it fails to go down, many shorts can get caught on the wrong side of the trade.
Cassava Sciences Inc (SAVA)

On Sep. 14, 2020 Company reported promising results for its lead drug showing potential to trade Alzheimer's Disease in Phase 2b. Not only that, but the stock caught an upgrade from Maxim.
On Sep. 17 2020, two insiders bought 225k shares which prompted to the stock to gap higher.
With two catalysts on the table, I think this stock as some legs.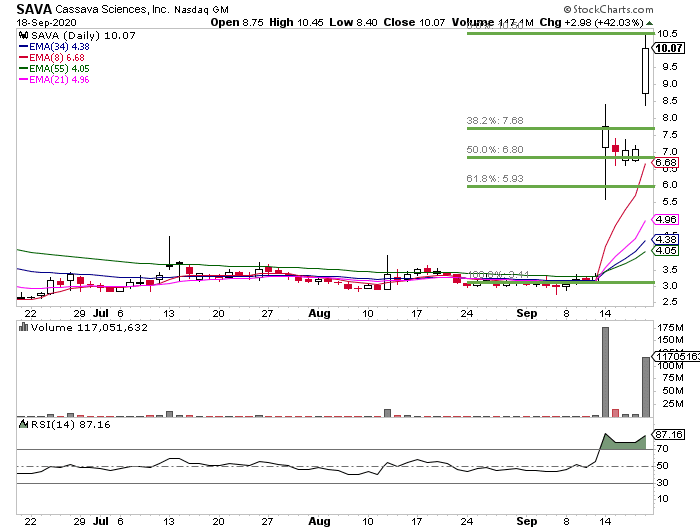 SAVA has a float of 22.1M, while the short interest is 13.65% – also good potential for a short squeeze here.
With this play, I want to remain patient and focus on key Fibonacci retracement levels for a potential entry.
Tortoise Acquisition Group (SHLL)

Hyliion announces Robert M. Knight to join the Board of Directors. Mr. Knight served as CFO of UNP, ranked as the Best CFO by Institutional Investor for 6 consecutive years
Shareholder vote to merge SHLL and Hyliion on September 28 making a potential run-up catalyst
The float is 29M, while the short interest is 8%. Although the short interest is not as high, the float below 30m could help a move higher become explosive, should it start rallying.
Technically, the stock is an uptrend, with strong support at $45 and $53.5 area serving as resistance on the daily chart. Currently, the stock is trading around $51.5, not far from the resistance.
There's also a bull flag / pennant setup in SHLL, and if it can break out from there… I wouldn't be surprised if SHLL makes new highs.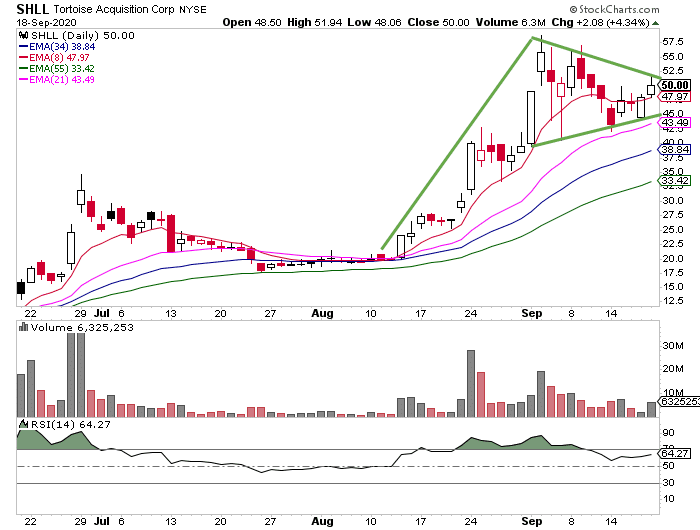 Uncovering momentum stocks to trade is my number 1 edge in the market.
Now I want to show you how you can find these trades on your own.
Click here to discover one of my favorite money-making strategies.
And how you can start applying it to start disrespecting this market.