Despite overnight futures dropping in the overnight session at one point…
Stocks are raging this morning, as news came out the U.S.— China trade deal was still intact.
In this environment, things can get a bit wacky… and that's why I tend to focus on specific stocks I believe can move…
More specifically, momentum stocks because I believe I have an edge in that arena.
However, there are so many stocks to pick and choose from… and the key is to…
Hunt down the ones set to run… ahead of time.
Right now, I think pot stocks can make a move…
And there is one cannabis stock on my radar… and one that can squeeze soon.
So which cannabis stock is on my radar, and what signals am I looking at?
The One Cannabis Stock On My Radar Right Now
Yesterday at 2:56 PM ET, I sent out an advance notice alert to my subscribers…
TLRY is getting some $8.50 call sweeps for this Friday. I like that chart and have been watching it. I think above $8 I'm interested, entry prolly above $8.20 or so for me, goal is 5-20% on a swing. I don't think I want those options expiring Friday, but if sweeps keep hitting the scanner it's likely to continue up.

Source: Finviz
Now, TLRY has been beaten down recently and come off recent highs.
However, I believe there's a key support level around $8. If that area holds, I think the stock can run higher.
Why?
Well, there are catalysts on the table.
First, there's the SAFE Banking Act… which can provide cannabis companies with access to capital and loans. In turn, this can allow them to expand and it's a step in the right direction for legalization.
Not only that, but more states are also easing their stance on cannabis. Most recently, New Jersey passed a bill to decriminalize marijuana ahead of its legalization referendum.
Polls have shown that a majority are for the legalization of cannabis.
I believe as that date approaches, traders will want to buy the stock to play the runup into the catalyst event.
Now, from a technical standpoint…
TLRY is a heavily shorted stock.
According to ShortSight, more than 21M shares are short TLRY.
In other words, 22.92% of the float is short.
To me, if there is a positive catalyst…
The shorts may be forced to cover… causing momentum to build in the stock.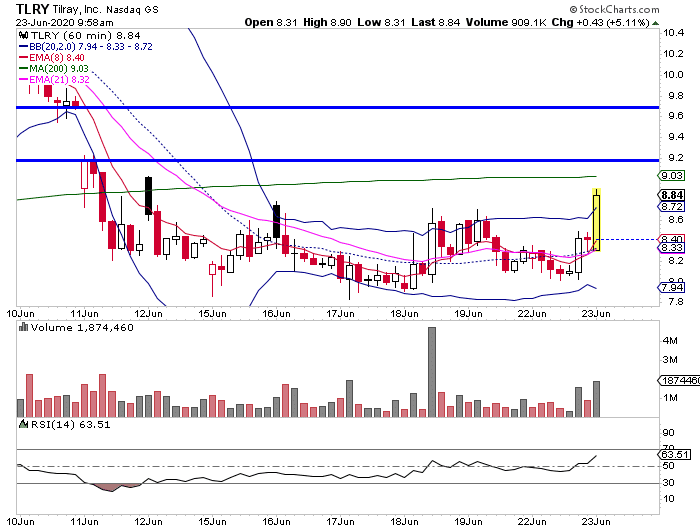 Chart Courtesy Of StockCharts.com
Right now, there's a gap above in TLRY, and if it gets into that gap…
I wouldn't be surprised if it gets to $10 and continue higher.
Now, if you want to learn how I spot these moves ahead of time… claim your complimentary copy of my momentum trading eBook here.
WE MAY HOLD SECURITIES DISCUSSED. RagingBull has not been paid directly or indirectly by the issuer of any security mentioned in the Services. However, Ragingbull.com, LLC, its owners, and its employees may purchase, sell, or hold long or short positions in securities of the companies mentioned in this communication.
DISCLAIMER: To more fully understand any Ragingbull.com, LLC ("RagingBull") subscription, website, application or other service ("Services"), please review our full disclaimer located at https://ragingbull.com/disclaimer.