Etsy Inc. (ETSY) has been one of the hottest stocks this year — up more than 165% year to date…
The price action signals the stock might have another leg up, and there are some specific key levels I want to keep an eye on for a re-entry.
You see, I already locked in a 25% winner on ETSY over the course of just a few days.*
However, I believe the pattern I used to uncover the trade idea will materialize again.
The pattern I'm referring to has been popping up a lot with stocks breaking out to highs, and it can help make you a better trader if you know how to spot it.
So what pattern am I referring to, and how did I use it to spot the 25% winner in ETSY?
The Pattern That Spotted ETSY
Here's what I sent out to subscribers on Friday.
ETSY is demonstrating continued weakness as it approaches the 34 EMA around $120. It's held that 34 EMA since March, only touching it two times since or in the last five months. $116 is technical support so I think it'll consolidate above that level soon and be my entry point for ITM call options 4-6 weeks out.
If you look at the chart above, ETSY was pulling into a key support level — the 34-day exponential moving average (EMA), the blue line.
That 34-day EMA has held up well on its move higher, and I figured it was a great area to take a stab at ETSY.
You see, the risk-reward here was favorable for me. Around $119 – $120 made sense because $116 is a technical support level. ETSY is a pretty wild stock, so it can move to $135+ and then all-time highs in a fairly short period.
With that setup, it made sense to go long because typically, when a stock holds at a key moving average, the demand picks up.
Instead of buying shares of ETSY, which are pretty expensive and don't allow me to get the size I want…
I purchased calls instead.
Here's what I sent out to subscribers on Friday at 11:13 AM.
I bought 6 ETSY Oct 2 $120 call at $9, sizing in, will add next week
On Tuesday, ETSY made a move and broke above $124 (the 21-day EMA), and I figured it was a good area to take profits. Sadly, I didn't pick up more contracts of ETSY.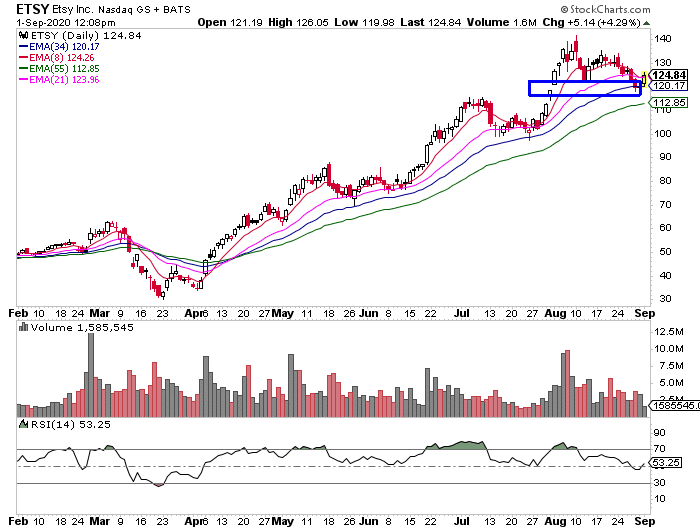 But I'm not going to complain about a 25% winner.
Here's what I sent out to subscribers on Tuesday morning, letting them know about my moves.
JBP: sold ETSY calls at 10.70 for about 25%, nice swing, on watch for rebuy
watch those masterclass lessons to understand this trade. same continuation pattern i've been teaching for a decade applied to higher priced stocks using the lower priced call options. definitely my future unfolding before your eyes here, I plan to master this in the next decade.
Listen, in nearly any market environment… price action matters the most in my opinion.
If you can pinpoint where demand will likely pick up and supply can fall, I believe you can become a better trader over time.
The best way to acquire that skill set is through pattern recognition.
If you want to put yourself on the path to trade some of the hottest stocks on a part-time schedule…
Register for my exclusive training session here.