On Sunday, I sent out my weekly watchlist and one of the stocks on it was Westwater Resources (WWR).
The stock took off on Monday and Tuesday, and WWR has actually been on my radar for the last few sessions.
The reason I bring this up is due to the fact I found this explosive opportunity utilizing one of my favorite chart setups.
If you missed out on the move, don't worry… I believe there are plenty more momentum trading opportunities and I want to show you how to uncover them.
Let me walk you through my thought process and how I uncovered the trade.
How I Uncovered An Explosive Opportunity In WWR
Here's what I sent out on Sunday, regarding WWR.
Westwater Resources (WWR)
WWR explores and develops mineral resources essential to clean energy production. The company is involved in exploration of lithium, key component in lithium ion batteries
Shares skyrocketed on Friday, up 49% on the day. The move came with the tailwind from the sector. Another lithium miner LAC closed up 17%
Although there was no fresh catalyst in the stock, I believe the sector strength could continue the next week: a lot of shorts might be caught on the wrong side of the trade
I would love to see this one open weak but hold a support level like $3.5 or $4 to lure some fresh shorts in. If the stock is able to hold and start perking up later in the day, I believe it could go parabolic. While I will need to see some confirmation first, I will watch this one closely next week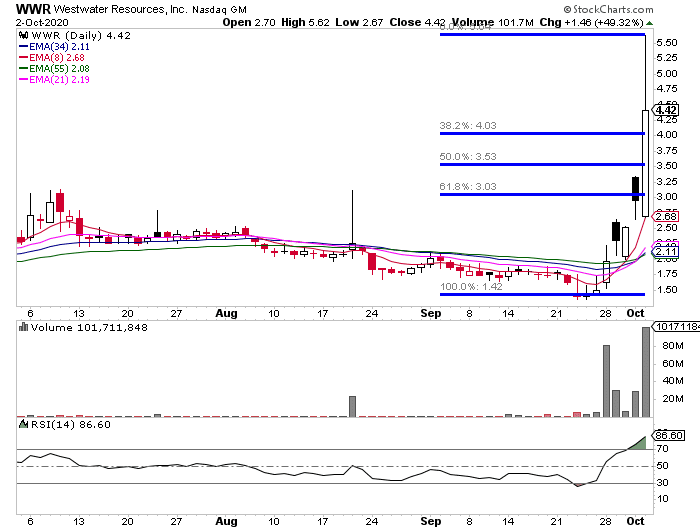 If you look at the chart I referenced, it was the Fibonacci retracement (the rest and retest) I was looking at.
With the way the price action was on Friday, it signaled WWR could make a move.
The key level that made sense to be long against was right around $4.
So the plan could've been to purchase shares on Monday with a stop around $4. The goal would be to try to get as close to $4 as possible (or if the stock pulled back a lot, the other key levels to watch were $3.50 and $3).
On Monday, there was a point when the stock was trading around $4.60, and it looked as if that area held.
Shares took off on Monday, as news hit the wire…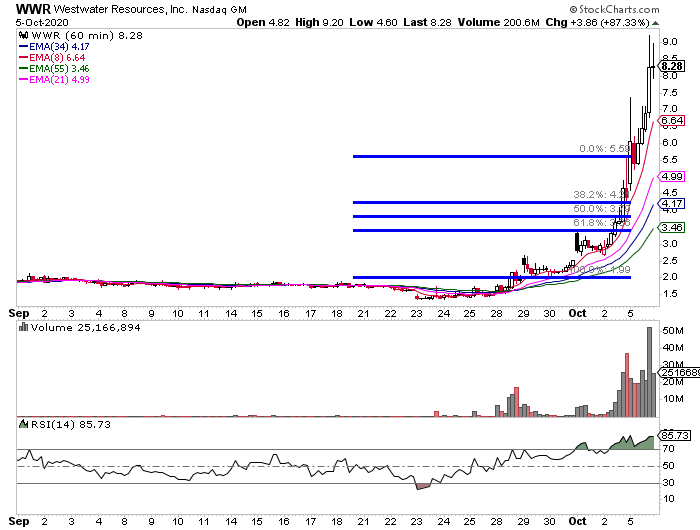 And gained momentum on Tuesday.
The thing is, with these plays, it's possible to find other opportunities even after the stock takes off without you.
For example, with WWR, the key Fibonacci retracement levels are just under $10, then $8.22. That can help identify key potential areas of demand and help traders better plan their ideas out.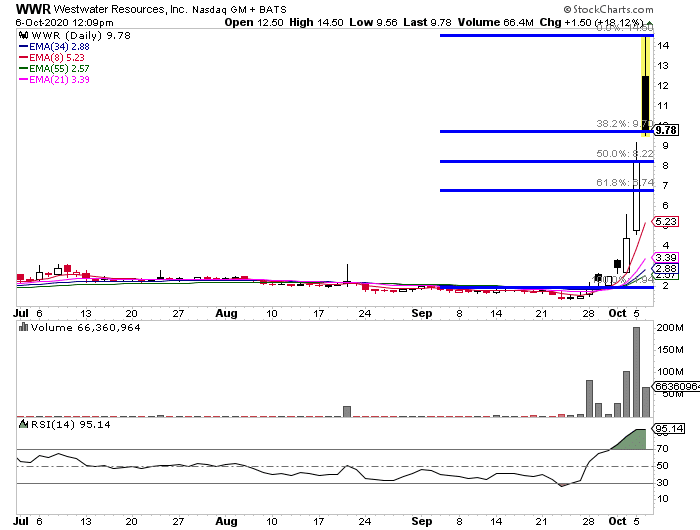 If you want to find out the three patterns I use to attack the market, then you'll want to attend this important training session.
You'll find out how to recognize my reliable patterns, and how to identify momentum stocks before they take off.