Cannabis stocks are sitting at multi-year lows… and one question small-cap momentum traders have on their mind is: When will the bounce come?
I'll tell you one thing, trying to pick bottoms is a dangerous game… unless you know what you're looking for. I can't tell you how many times I've seen traders just buy a stock randomly because they think it's undervalued… or make excuses that the stock is down too much.
They don't have a clear-cut reason to enter the trade, yet they still do.
If you're trying to find the bottom in the cannabis stocks… it's going to be really tough. Instead, what you should be looking for are the ones that have catalysts and a chart pattern to go along with it.
That's exactly what I did the other day, when I found a monster winner in New Age Beverage Corp. (NBEV). Today, I want to walk you through exactly how I traded NBEV and locked in $8,300.
How I Uncovered An $8,300 Winner In Just 35 Minutes
On Monday, I let Jason Bond Picks clients know I had New Age Beverages (NBEV) on my radar. There were numerous reasons to trade the stock — multiple catalysts and a chart pattern that signaled NBEV could bounce.
New Age Beverages is a cannabis play, as the company is well known for its alternative beverages and emergence into the CBD-based drink business. While it's not a pure pot play, it does get a boost when marijuana stocks do catch a pop.
In my weekly watchlist, I noted one of the catalysts I liked is New Age's Marley brand — a selection of coffees and teas centered around Bob Marley's values of natural living and authenticity.
NBEV's Marley CBD line of drinks — the non-psychoactive portion of cannabis — is available in select states.
Not only that but I mentioned that pop culture icon Kendall Jenner (part of the Kardashian family) has become the "face" of NBEV.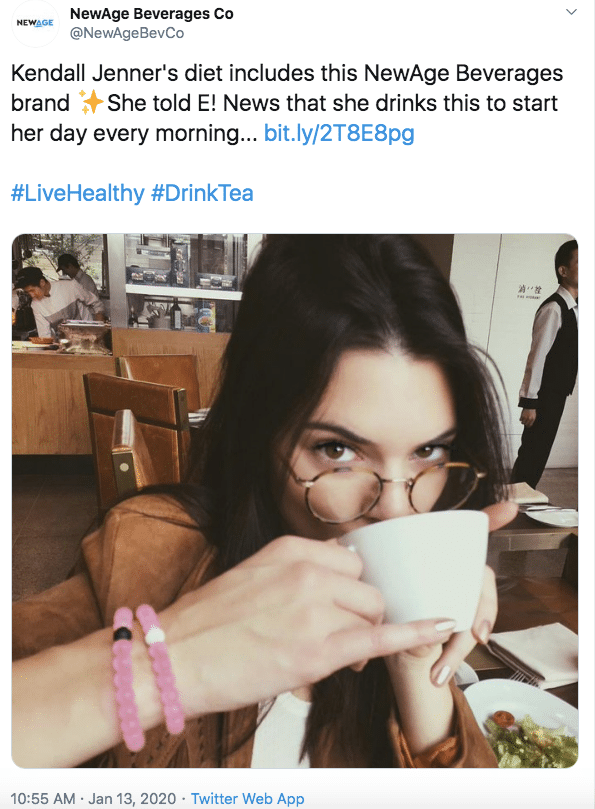 If you know who the Jenners are… you probably know how massive their following is… and anything stock tied to them will move. Heck, back in 2018, her sister Kylie, tweeted about Snapchat (SNAP), and the stock cratered — losing more than $1B in market cap.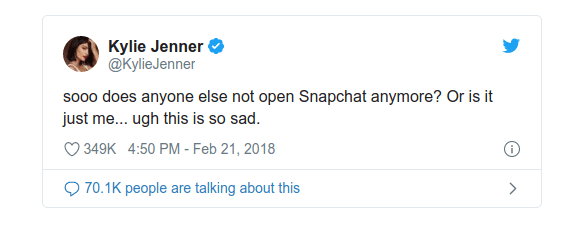 I figured Kendall Jenner could do the same with NBEV… but it'll take some time for the masses to adopt NBEV. However, it was still a positive catalyst. There was another catalyst on the table for NBEV.
The stock is expected to report earnings on February 20, and it could be a catalyst runup play, as small-cap momentum traders may scoop up the penny stock ahead of the event. Especially after Canopy Growth (CGC) popped after its earnings announcement.
Sure, those catalysts are great and all… but I don't buy stocks at random prices. I have to find an area of value, and chart patterns help with that.
The Only Pattern You Need To Spot Bounce Plays?
Of course, NBEV was a beaten-down name… and it actually looked like it could continue lower because it was in a perpetual downtrend.
However, if you look closely at the Finviz chart above, you'll notice there was a double bottom.
So what's a double bottom?
Quite simply, it's an area of support. Generally, traders view double bottoms as a sign the stock could rebound and continue higher.
If the stock fails to break support two times, more times than not, it could be on the cusp of a rip-your-face-off rally. Since there were multiple reasons to get into NBEV, all I had to do was be patient and trade the plan I developed and delivered to my Jason Bond Picks clients.
I noted I would look to buy shares around $1.90 to $2. However, I missed that by a tad… and when I saw shares trading above $2 (breaking above a recent resistance level), I pounced on the trade.
I alerted clients as I was entering the trade…

Of course, I had a target in sight… as I looked for a 10%+ winner.
Well, in just 35 minutes, the stock made the move, just as I suspected!

Just so you can see how easy the play was… you can see how I traded it on the intraday chart the other day.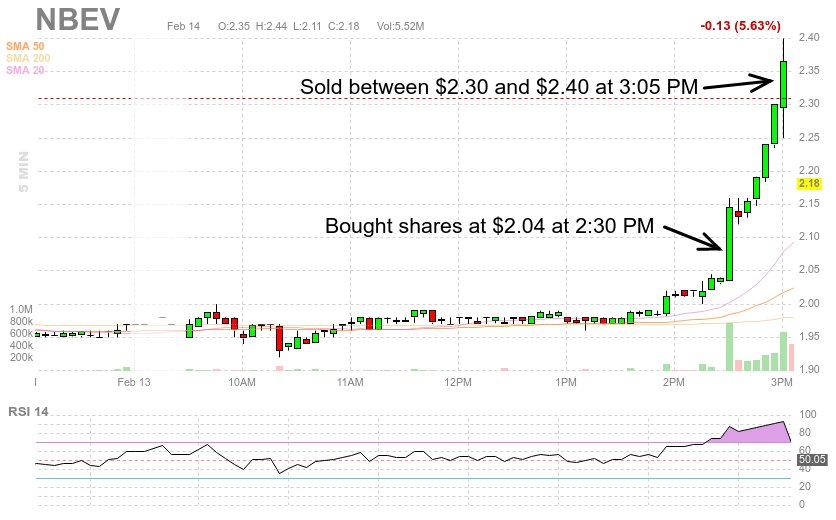 That was good for an $8,300 winner in just 35 minutes! As you can see, I just placed my trade and let it work out, and the stock exploded. Now, I'll still keep a close eye on NBEV because there's just so much going on with it, and I actually re-entered the trade.
The key takeaway here is to spot the catalyst and find a pattern to go along with it. Now, keep in mind, I have multiple money-making patterns, and if you want to learn more about my bread-and-butter setups, click here to watch this exclusive training session.
Related Articles: