Man are there some crazy momentum plays out there.
I think I'm getting back into my groove and spotting some of the fastest moving stocks right now. 
Today, I want to show you how I'm using one of my favorite setups to uncover momentum trading opportunities.
For the most part, I've noticed my patterns have been able to spot some large movers, ahead of time. That's how I was able to uncover a $3K winner on one of my favorite cannabis stocks to trade.Now, there is one nuance about the trade that I want to reveal to you… and I believe it's important when it comes to trading momentum stocks.

Now, when it comes to momentum traders, I often notice that they're just focused on a single stock at a time. If they miss out on a large move in a specific name, they develop tunnel vision and just focus on trading that single stock.
When it comes to momentum trading, I like to focus on the overall sector at times… and that's how I was able to uncover an opportunity in Tilray (TLRY). You see, last week there were a few catalysts on the table for the cannabis sector…
I think it's helpful to use an example so traders can learn about the one factor momentum traders shouldn't ignore, in my opinion…
The Importance Of Catalysts
There were some companies set to report earnings (TLRY reported on Monday), and then came Aurora Cannabis (ACB). Now, I noticed how TLRY actually dipped after earnings, so I wanted the dust to settle before getting into the trade. 
Now, on Thursday, I sent this out to my subscribers in an advance notice alert:
I have the intention of buying 3,000 TLRY between $7-$7.20 this afternoon. The sector CGC & ACB are looking like bounce candidates and I think TLRY is my favorite of the group. My goal on the swing would be $1 / share. It's likely I'd buy more in the coming days if it got into the $6.70's and stop loss below the middle $6's if it broke down.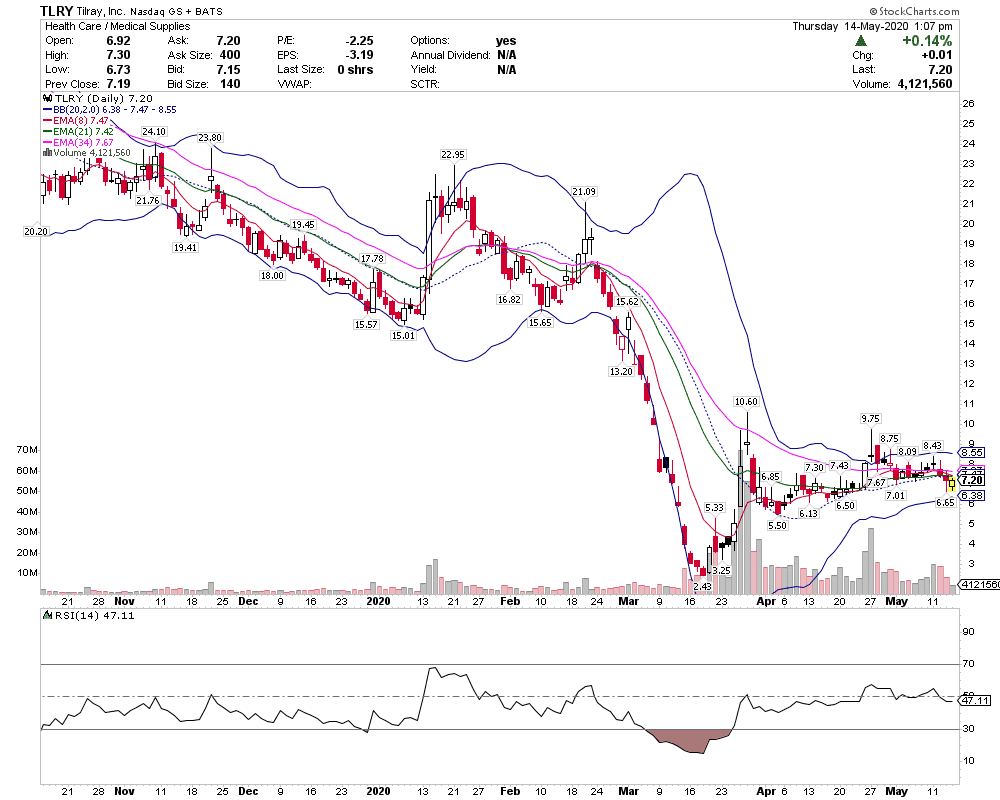 Chart Courtesy of StockCharts
If you look at the alert I sent out to my subscribers, I actually had 3 cannabis stocks on my radar… that way, if I missed out on one, I could look to the others and still participate in a potential momentum play. 
I believed there were catalysts in the making that could send those stocks higher, as well as bullish chart setups.
Now, I actually ended up buying 5,000 shares of TLRY, not 3,000 like I intended to, and my entry was smack dab in the middle of my $7 – $7.20 zone, picking them up at $7.09. You see, my pattern (the rest and retest) let me know that TLRY could make a move higher…
Of course, I'm a little mad that I missed out on ACB.
On Friday morning, cannabis stocks were rocketing higher, despite U.S. stock futures being red. ACB, which I brought up in the advance notice alert of TLRY Thursday, was up 30% in the pre-market.
TLRY, CRON and CGC were all in the top 10 percentage gainers on my filter. It's nice to wake up Friday morning and be in the #5 stock on all of Wall Street sorted by % gain with a minimum of $200,000 at 7:30 a.m. ET.
There were positive headlines flowing Thursday into Friday, as ACB pot sales grew faster than expected and revenue beat forecasts. Thereafter, U.S. cannabis operator Green Thumb (GTBIF) reported tripling revenue as it pared down losses but shares don't trade in the U.S. or it'd be on the board.
But the point is it helps the sector and therefore TLRY.

Source: Scanz Technologies
Of course, I should've bought ACB (which was on my watchlist), but I can't complain about the $3,000 I booked on TLRY, just shy of 10% overnight. I sold my shares at $7.67 on TLRY (in from $7.09).
Now, when it comes to momentum stocks… I believe company-specific news and other catalysts have the potential to move multiple names in a sector. 
For me personally, I like to use patterns to identify areas of value, and sometimes pair them with catalysts, to identify momentum stocks poised to move. If you want to learn how I uncover momentum trading opportunities, then you may want to check out my important masterclass. 
Related Articles: