Stocks popped last week, as market participants' hopes rose that there may be a solution to the coronavirus. A report noted that the University of Chicago's phase 3 trial indicated Gilead Sciences Inc. (GILD) may have developed a potential treatment for COVID-19.
Of course, the market reacted in a spectacular fashion on Friday… but now traders are wondering how the market will open tomorrow. It's the battle between the bulls and the bears again, and I don't want to get caught up in that mess.
Instead, I'll be searching for some of the hottest momentum stocks to potentially trade, as well as keeping an eye on a few names on my master watchlist.
You see, in this market environment, I'm still uncovering momentum trading opportunities, and they might not move with the overall market direction. That way, I believe I'm putting myself in a position to profit and potentially uncovering stocks set to pop.
Today, I want to show you how I spot these momentum stocks and develop a watchlist, as well as a few stocks on my radar right now.
There are thousands of stocks out there to trade, and the real skill is to find which stocks are set to move. In order to develop an edge in the market, I've figured out a filter that allows me to hunt down momentum stocks poised to run.
When it comes to my trading routine, it's pretty simple for me… once I'm at my desk, I open up my scanner.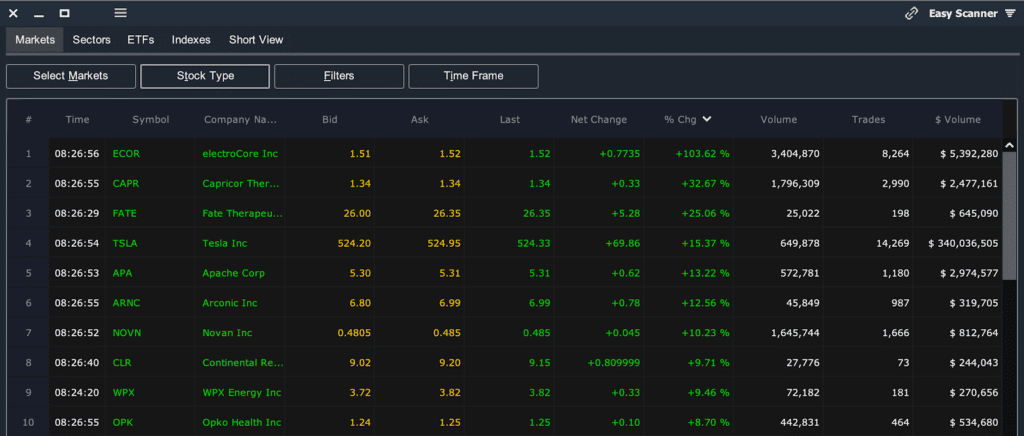 Source: © Scanz Technologies Inc.
The first thing I do is filter for stocks with at least $200,000 in dollar volume in the pre-market. In other words, before the opening bell, I want to find stocks that are liquid. Thereafter, I rank the stocks by percentage gainers. This allows me to uncover potential momentum breakout opportunities.
Once I've found a handful of names, I'll watch those stocks after the opening bell, as well as hunt for more opportunities. However, after 9:30 AM ET, I actually change my filter and look for stocks with at least $2M in dollar volume. By increasing the dollar volume, I'm able to spot stocks poised to run.
The Next Step After Filtering For Stocks To Potentially Trade
What do I do after?
I look at the charts.
At this point, I'm looking for stocks exhibiting the bull flag / pennant, Fibonacci retracement, or fish hook patterns.
Once I find a key level, I send out an advance notice alert, similar to the one below:

"OSTK is pressing $4.90 again, the area I've been watching all week. It's been green all day and it's been strong all week against market pullbacks. I'm going with a day trade / possible swing trade here into the close to see if I can catch a squeeze like the PENN movement that just triggered. Thinking 10k at $4.90 would be my target, goal squeeze into the $5's today, maybe swing, I don't know."
If I see an entry after that, I'll alert my subscribers about my moves…
"I bought 10k OSTK at $4.88, day trade, maybe swing, looking for a Friday squeeze. Range is to $6 but man, $5.50 and I'd be really happy." 
Since I have a profit target and stop-loss in mind for my position, all I have to do is execute… and whatever moves I make, I let my subscribers know…
"TD is messy this morning, working super slow, but looks like I filled OSTK in the $5.70's for about $9,000 in profit. Really nice swing here. Wish I'd taken 3 swings, would have been a $20,000 morning but I can't complain with $8,000-$9,000 on OSTK, about 20%."
Of course, there are some plays that I do miss out on… but that doesn't mean I forget about these stocks. I actually put them on a master watchlist. For example, I'll keep an eye on VERI, SIEN, TLRY, and OSTK tomorrow and analyze the price action.
I know this market environment can be tough, so I wanted to provide you with my brand new eBook: Momentum Hunter… in it, I reveal the techniques I use to find stocks poised to experience massive moves.
Related Articles: