Hey guys and gals,
On Monday, Ocugen Inc. (OCGN) was one of the hottest stocks on Wall Street…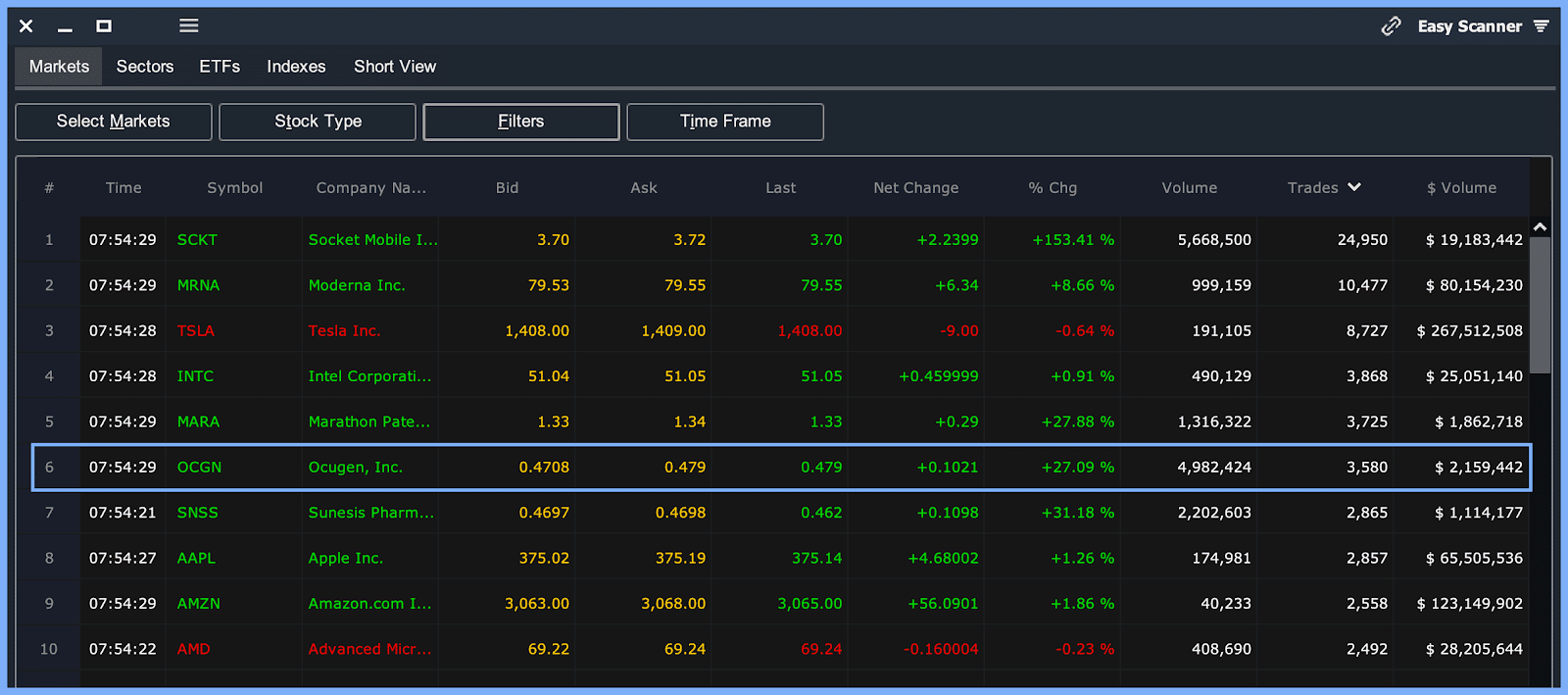 Of course, I thought I was a genius locking in a $5,500 winner after the stock popped by nearly 40% from Friday*…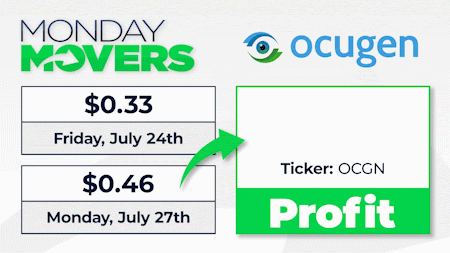 OCGN was part of my Monday Movers watchlist, which was sent out on Friday… and the stock exceeded my target.
When I looked back this morning and saw the stock at nearly a buck, I was kicking myself.
In other words, the stock was up more than 190% from my initial entry in just a few days.
Since I missed out on the bulk of the move, I want to go back to review the trade.
I'll show you how I spotted it and what I could do better the next time I see this pattern.
I Left A Lot Of Money On The Table In OCGN…
On Friday, I sent out my Monday Movers watchlist at 2:29 PM ET.
I mentioned OCGN when the stock was around $0.33.
The reason I put this on my watchlist was that the chart was a screaming buy to me.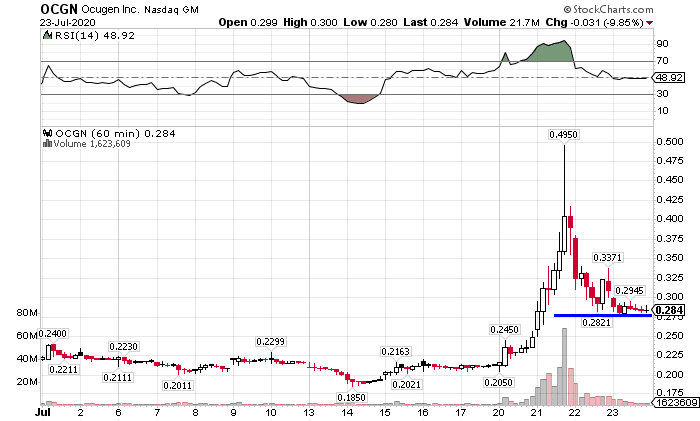 Source: StockCharts
Notice how the stock made a large run up last week and pulled right into a support level?
That indicated there was demand for the stock and the buyers may overpower the sellers around there.
Typically, when I see this pattern, the stock rebounds off the support level and tries to make a move and retest the high.
Here's what I sent out on Friday…
But I'll trade it small if I do cause it's a $.30 cent biotech. Can't find a catalyst on this but as far as charts go, I like it a lot. Buy zone is $.33 – $.35, goal is $.50ish and the stop loss is <$.28.
I was able to get in right around my buy zone… and the stock started to make a move into the close.
Source: StockCharts
On Monday morning, the pattern played out just as I suspected… and here's what I sent out in the pre-market, letting subscribers know about my moves.
I took 30,000 shares off at $.43 and 20,000 shares off at $.462, over 40% on my investment Friday into Monday and EXACTLY what I hope to hit. Strong patterns are often an indication good news is coming and sure enough … CHEDDAR for breakfast!
Currently trading at $.49
I debated letting it ride for what appears to be a possible breakout at $.50, but up 40%+ I just can't risk letting this $6,000ish profit get away from me. It's always tricky to decide how to handle letting a win run but I bought like $15,000 worth of stock here and just made about $6,000, for me I can walk away happy as hell.* As you can see one of the most active stocks on Wall Street. GREAT way to start the week.
While I didn't want to let my gains get away from me, I could've taken a different approach.
Here's what happened on Tuesday…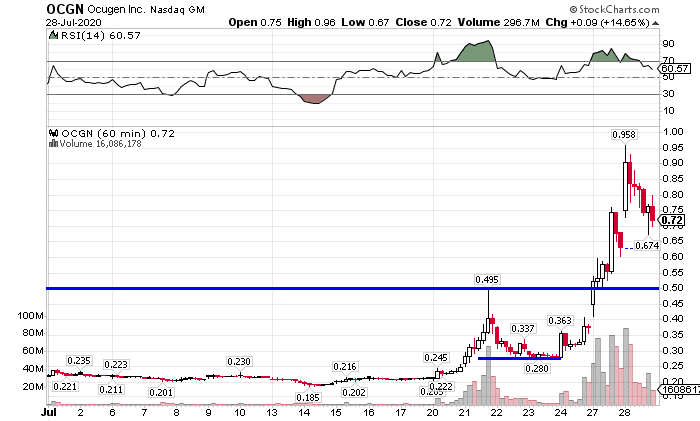 Source: StockCharts
Of course, I missed out on the bulk of that move, but there are things I could've done differently.
For example, I could've sold half at my target and put a profit stop, and remained patient.
If I notice that pattern again, I will consider it a different exit strategy potentially.
I'm confident that this pattern will show up again.
If you want to learn more about my "weekend" strategy and how I'm able to uncover stocks poised to gap up on Mondays…
Then you'll want to check out this exclusive training clip I put together.
*Results presented are not typical and may vary from person to person. Please see our full disclaimer here: ragingbull.com/disclaimer