It's a trader's market.
With so many market participants chasing alpha, I believe there are "hidden" opportunities in momentum stocks.
Why do I say that?
Well, there is just so much going on that traders tend to focus on specific sectors, and that means there are stocks they're overlooking…
Ones that can still have explosive moves.
The key for me is to identify these momentum stocks and my bread-and-butter setups.
That's how I spotted the large move in MicroVision Inc (MVIS) BEFORE it made its large move.
So what pattern did I use and how did I spot this trade?
The Pattern I Used To Spot The Breakout In MVIS
When it comes to momentum stocks, I believe the most important factor to look at is price action.
You see, there are identifiable patterns, that I believe are repeatable. Typically, these patterns will move in the direction I think they will.
Let me show you what I'm talking about.
Take a look at the daily chart in MVIS.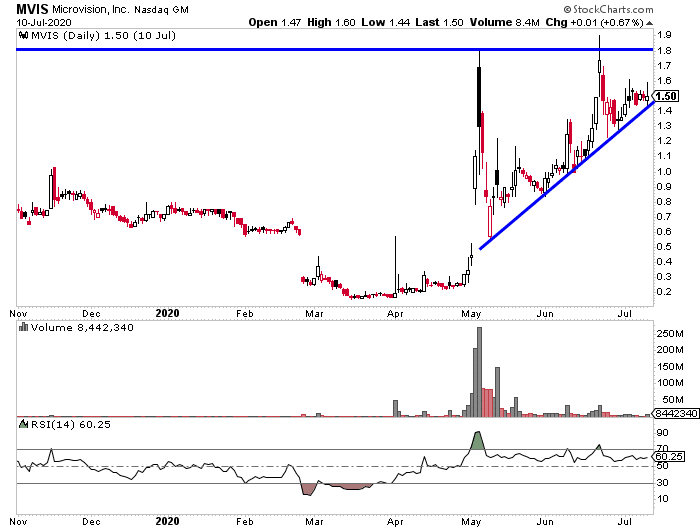 Source: StockCharts
This is what's known as a triple top. Some traders think that that blue horizontal line will hold as a key resistance level.
However, over the years, I've found that triple tops typically don't hold.
Instead, momentum stocks break out of those areas and explode higher.
Now, there are a few things I look for if I'm looking to play the breakout.
First, two tops, in other words, an area where the stock got to but pulled back. Thereafter, I look for higher lows.
By looking at those factors, it can open up doors of opportunities.
If you notice, MVIS had the pattern I was talking about, which was why it was poised to break through that ceiling and ramp higher.
So how could one play that?
Well, they could buy in anticipation of the breakout and properly risk manage their position.
They could also look to buy shortly after the breakout, which would confirm a potential move higher.
Take a look at this "textbook" triple top breakout in MVIS.
It tried to hold that level…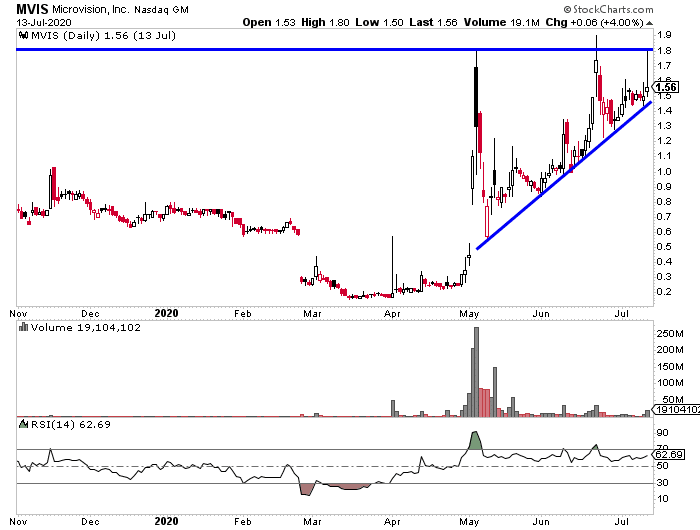 Source: StockCharts
But no dice.
Just days later, the stock exploded and broke out of that level.
Source: StockCharts
Traders who are able to spot these patterns can reap the rewards*.


If you want to learn my techniques to hunt down momentum stocks before they move, you'll want to check out my latest training workshop.
You'll learn how I'm able to trade on a part-time schedule, and my bread-and-butter setups.
*RagingBull does NOT track or verify subscribers' individual trading results and these individual experiences should NOT be understood as typical as or representative. Results presented are not typical and may vary from person to person. Please see our full disclaimer here:
ragingbull.com/disclaimer