Robinhood traders are flooding the stock market, and just buy any and everything in sight.
There's one thing I know about these new traders…
They Get FOMO Easily
And Have Herd Mentality
Now, that's not a knock on anyone… it actually works to my favor.
Why?
Well, I trade momentum stocks, so the more these retail traders chase and follow the herd…
The better.
The key is to stay one step ahead of the herd and know when to realize gains.
How does one go about that?
I believe the best way for you to learn is through a real-money case study.
I want to show you how I pinpointed a pop in Perceptron Inc (PRCP) and locked in a 20% return in a matter of hours.
How I Spotted The Move In PRCP And Locked In $3,390 In Gains
When it comes to trading momentum stocks, I believe it's key to focus on the price action.
With the new retail traders in the market, it may be the first time they've ever traded some of these names.
For me personally, I've traded an array of momentum stocks so many times that I'm familiar with the price action…
PRCP is one of those stocks.
Here's what I sent out in an advance notice alert on Tuesday at 12:26 PM ET.
Initially I'm watching $6.50's, but thinking $6 or $5.50 might get tested later today. What I think is likely to happen is it comes into the $6 or $5.50 level before 2 p.m. ET and then it consolidates. If it holds that area that'll be the indication for me to take a shot looking for it to run toward the high of day (hod) into the close or $7.20's. If all of that happens then I'll lock 1/2 or all my profit from that middle $5's entry out in the upper $6's with the option to hold part of my position for a gap tonight or tomorrow morning.
PRCP advance notice:
Buy zone: $5.50 – $6
Goal: low $7's today, possible gap trade
Stop loss: aggressive at $4.50's, otherwise tighter to entry based on my size and risk appetite.
The stock made a significant move after it announced it received a new order to support its upcoming electric vehicle launch.
Rather than chasing the stock right out of the gate, I waited for a pattern to develop… and executed my trade plan.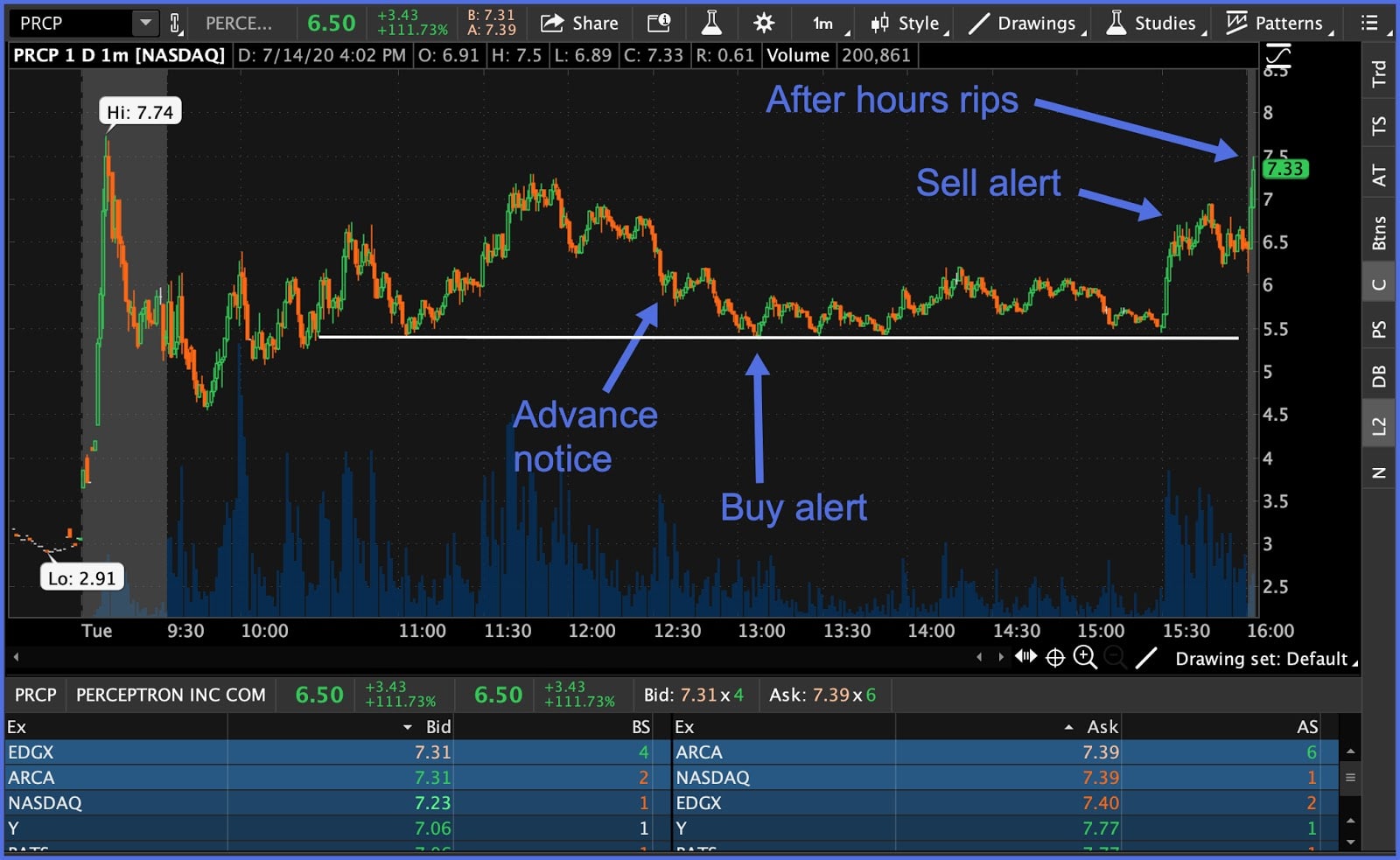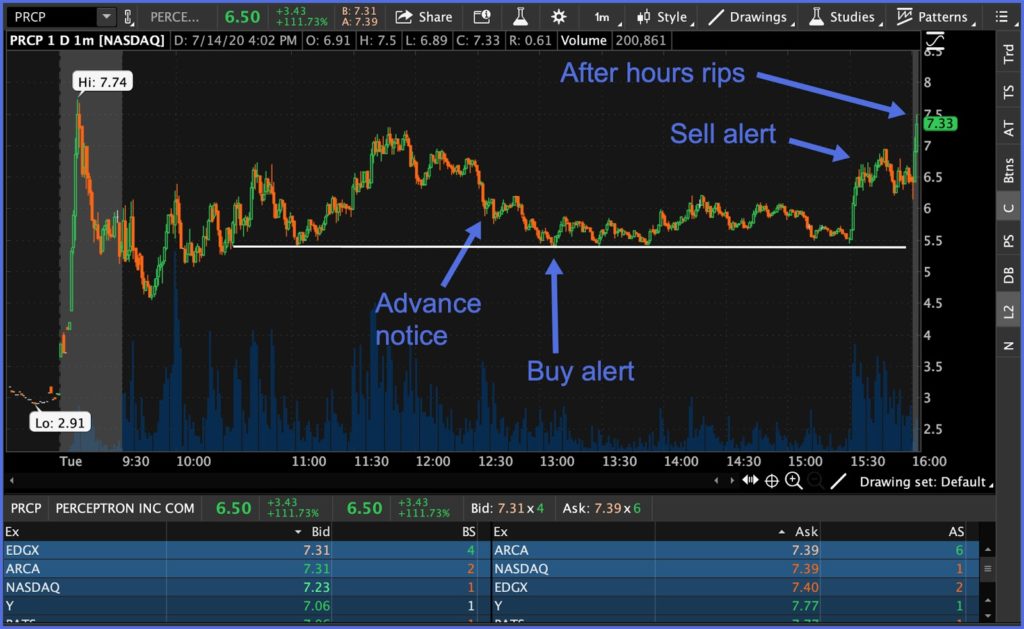 Since PRCP has a float of just 9.54M, I figured it can make quick moves. I bought shares at $5.43 and was able to sell shares at $6.56 in a matter of hours.
Subscribers received an email advance notice alert on Tuesday…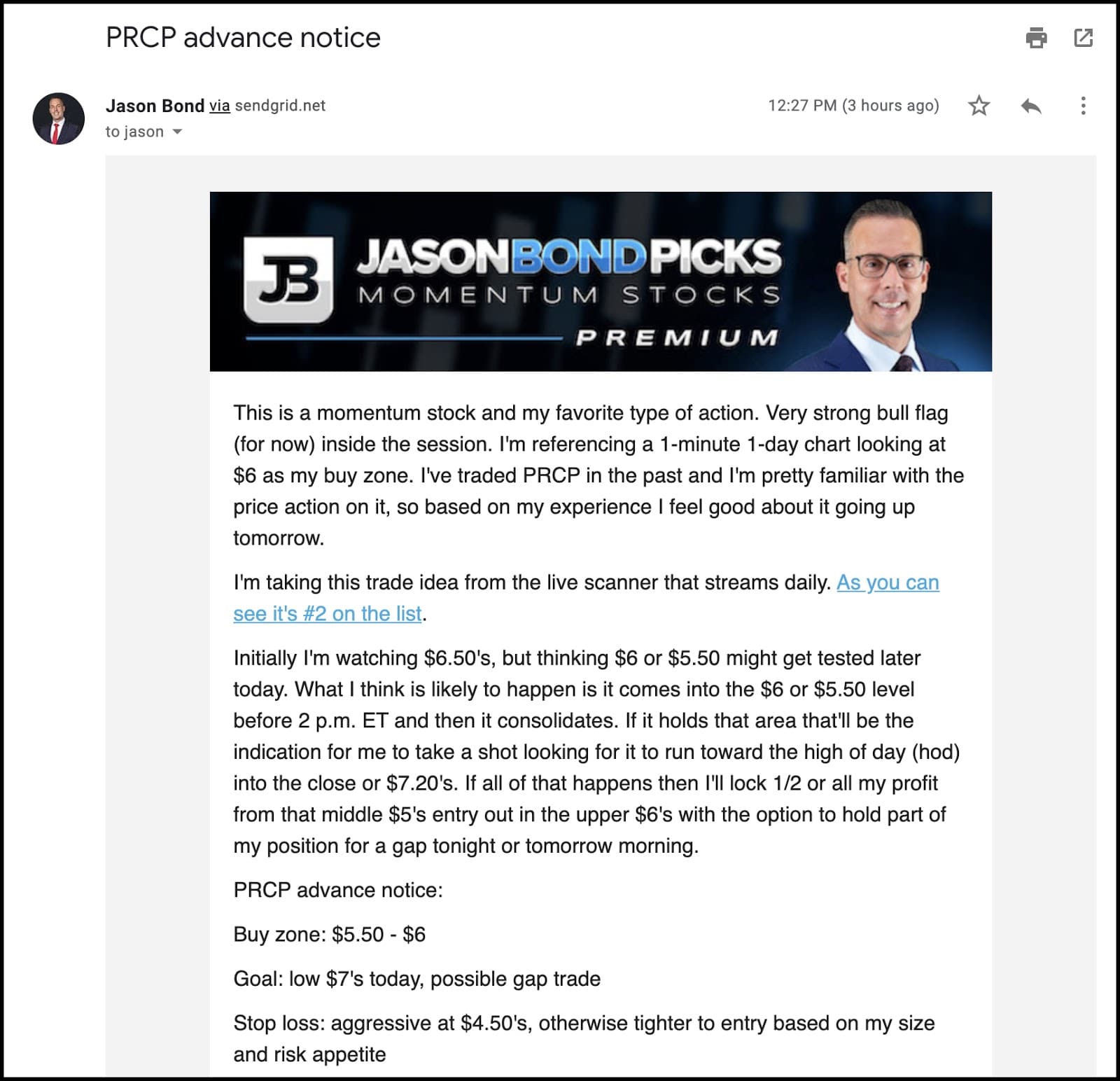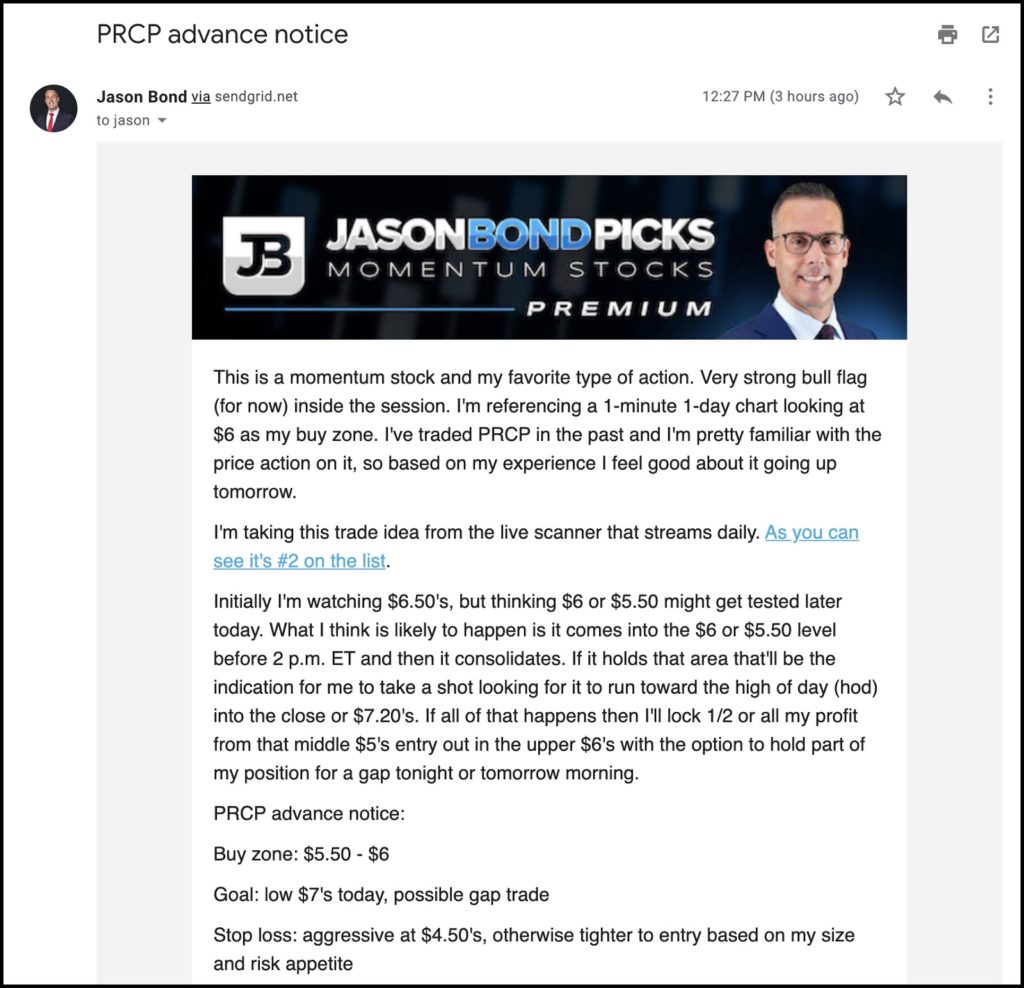 Followed by an email alert about my entry…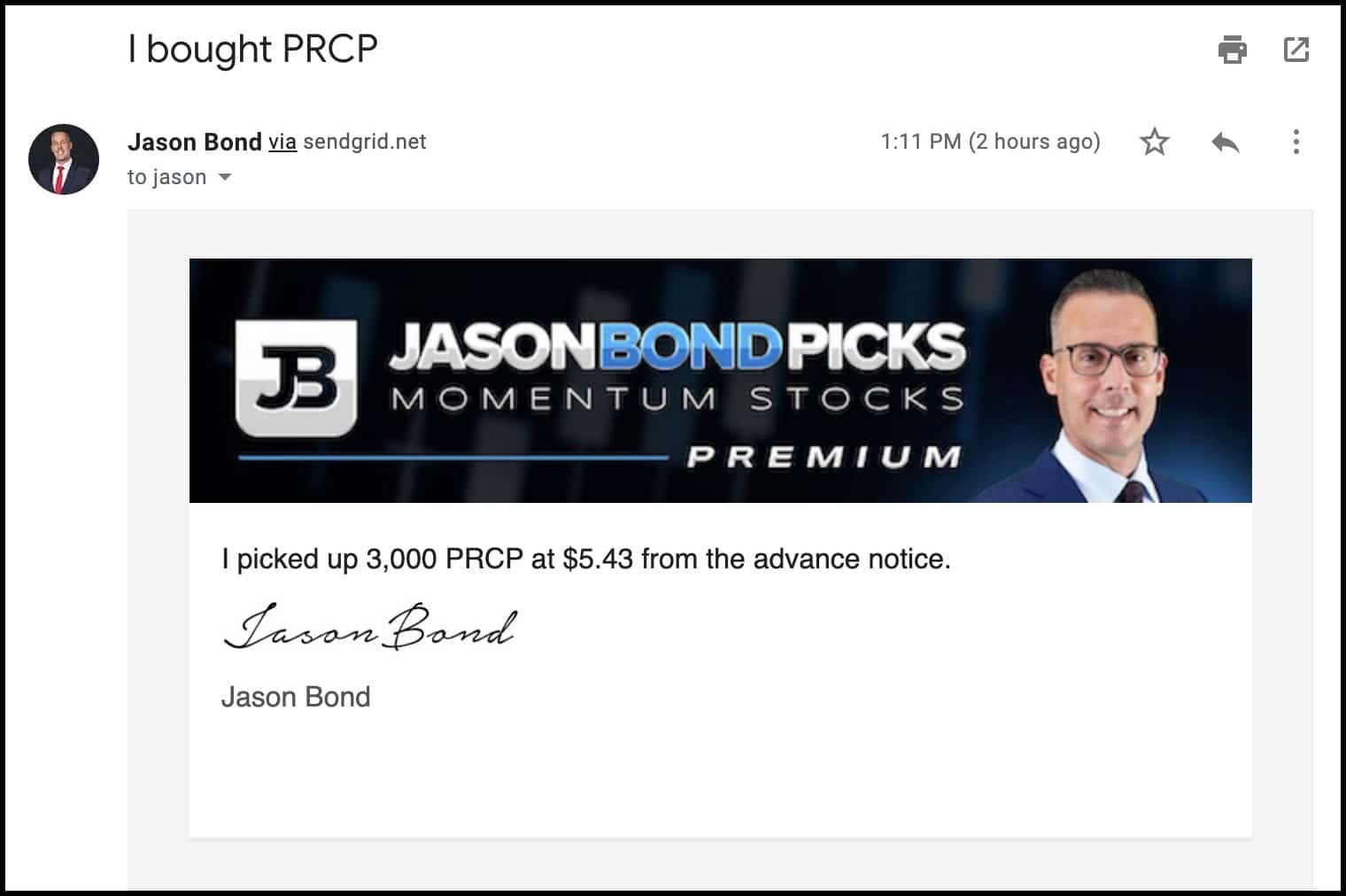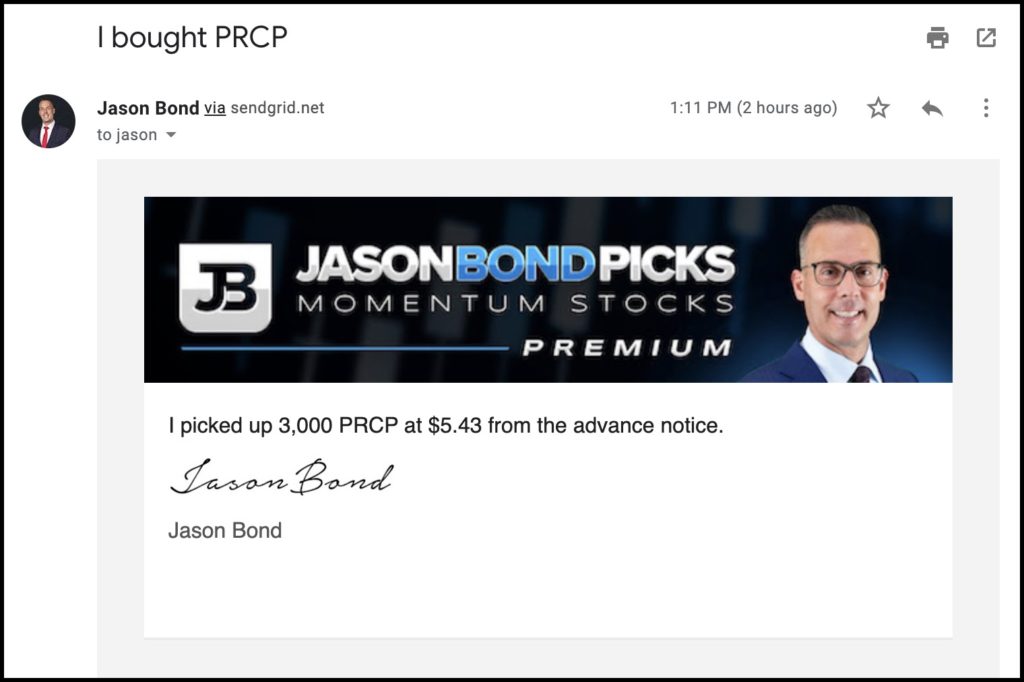 As well as my email sell alert…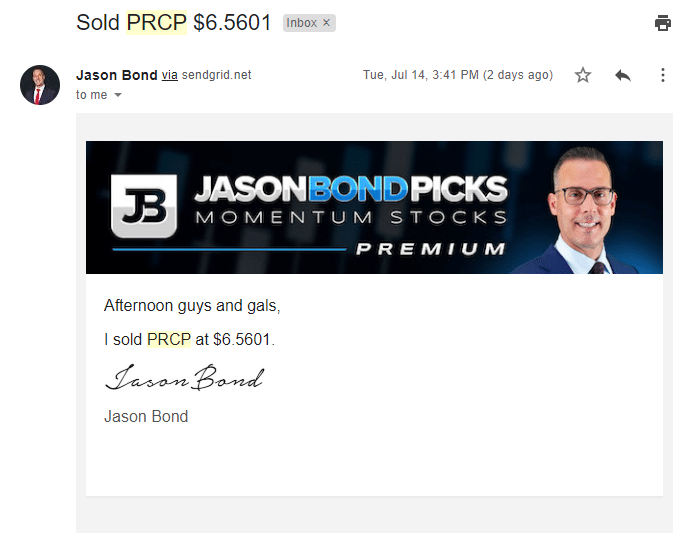 With PRCP I figured traders may look to continue buying in the afterhours, but could take profits the following day, so I decided to get out.
While most new traders would've thought this stock could continue higher, I knew I shouldn't overstay my welcome and lock in my gains.
When it comes to trading momentum stocks, it's crucial to be able to understand the herd mentality and not take part in it.
Now, if you want to learn more about my momentum trading strategy and how I'm able to uncover stocks before they make a move…
Then you'll want to check out my exclusive training workshop here.
You'll learn about my number 1 edge in momentum stocks, and some of the patterns I use on a regular basis.