Well, it looks like volatility is back in the air. Stocks finished lower on Friday — the S&P 500, Nasdaq, and Russell 2000 dropping by 2.81%, 3.20%, and 3.83%, respectively.
Traders are wondering whether stocks will continue their remarkable bounce off March lows… or if the market will retrace and head lower.
Who really knows at these levels.
For me personally, I'm sticking to my momentum trading strategy, and I believe there will be plenty of opportunities for me to take advantage of. 
I think by focusing on my best strategy, I'm in a position to profit… and today, I want to show you one of my bread-and-butter setups that I'll look to use in this environment.
The reason I love to use this pattern is that it allows me to uncover "hidden" levels in momentum stocks. Despite the market selloff on Friday, I was able to lock in a 15% overnight return in CREX using this setup.
[Revealed] How I Uncover "Hidden" Levels In Momentum Stocks
Have you ever witnessed a momentum stock run higher, and think to yourself… "Man! I should've been in that stock."
Only to chase the stock down and watch it go against you.
I can tell you that's happened to me before. That's where one of my favorite patterns comes into play — the "rest and retest" setup.
Basically, I've noticed when stocks run higher… they don't continue to run higher for extended periods of time. Instead, there are pullbacks along the way, and that allows me to get in at what I believe to be favorable levels.
How do I find these areas of value?
For me, it's simple. I just turn to the Fibonacci retracement tool. All I have to do is identify the high and low point of the move, then use the tool. Thereafter, my charting software does the rest and finds areas of value.
Let me show you how it works.
How I Generated A 15% Return In CREX
Here's what I sent out to subscribers on Thursday:
Fibonacci retracement Thursday into Friday. In play above $2.60's, buy zone for me is around $2.80 and the goal is middle $3's for profit on half, see if the other half runs for the recent high on a gap. If I get close to buying this, I'll send advance notice. I think it's early, so I'll look to see if it cools down midday and consolidates, if so, that's where I'll be more likely to take action.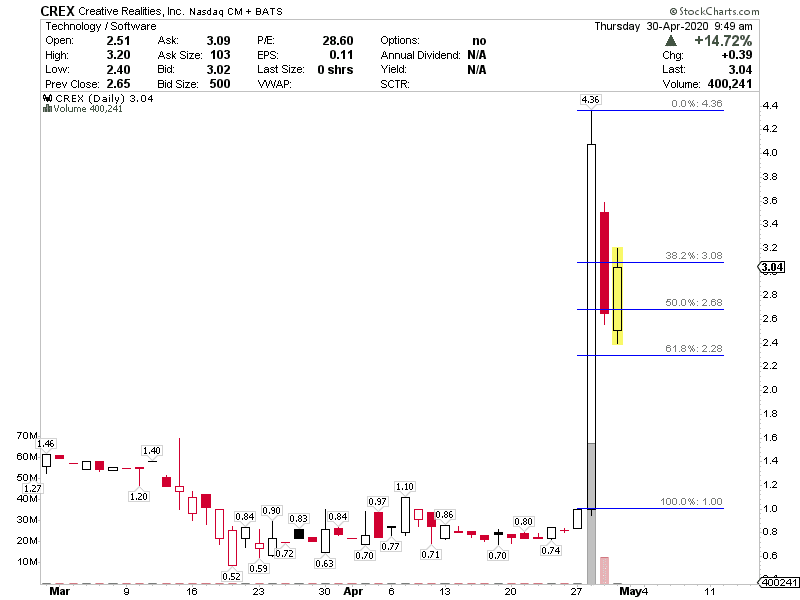 Chart Courtesy of StockCharts
The stock was on my radar, and I knew which level I wanted to buy shares of CREX at. 
Now, before I get into any momentum stocks trade, I send out an advance notice alert. That lets subscribers know I want to take the trade very soon.
Here's what I sent out to subscribers…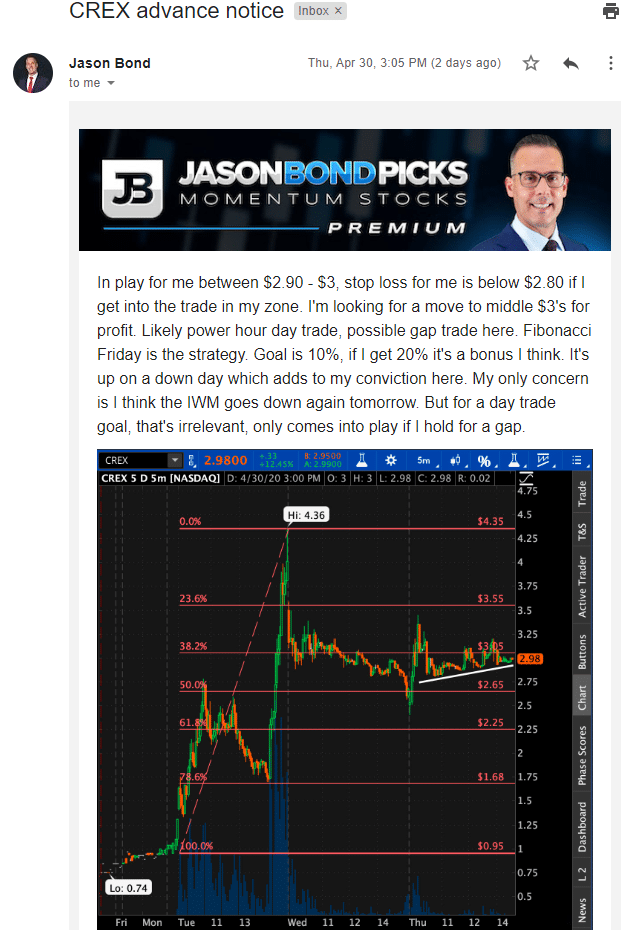 Now, at 3:51 PM On Thursday, I alerted subscribers above my moves in CREX…
I bought 5k CREX at $3.06, will hold overnight less i get a gap tonight of 20%+.
Now, with the Fibonacci retracement setup, I believe there are clear buy and stop-loss areas. For CREX, I believed an area of value was right around $3.05. Depending on my position size, I would look to stop out in the middle of the 38.2% and 50% retracement level, or if the stock below the 50% retracement.
However, shortly after the market open on Friday,  CREX actually made a move. Although it wasn't right to my target… it was pretty close. In this market environment, I believe it's prudent to take profits and not necessarily hold on for the larger move because things can change real quick.
Here's what I sent out to subscribers at 9:49 AM on Friday, May 1.
Sold at $3.45 on the way to that $3.59 move this morning. Has range higher but man, I'm pretty happy with about 15% overnight on a textbook pattern.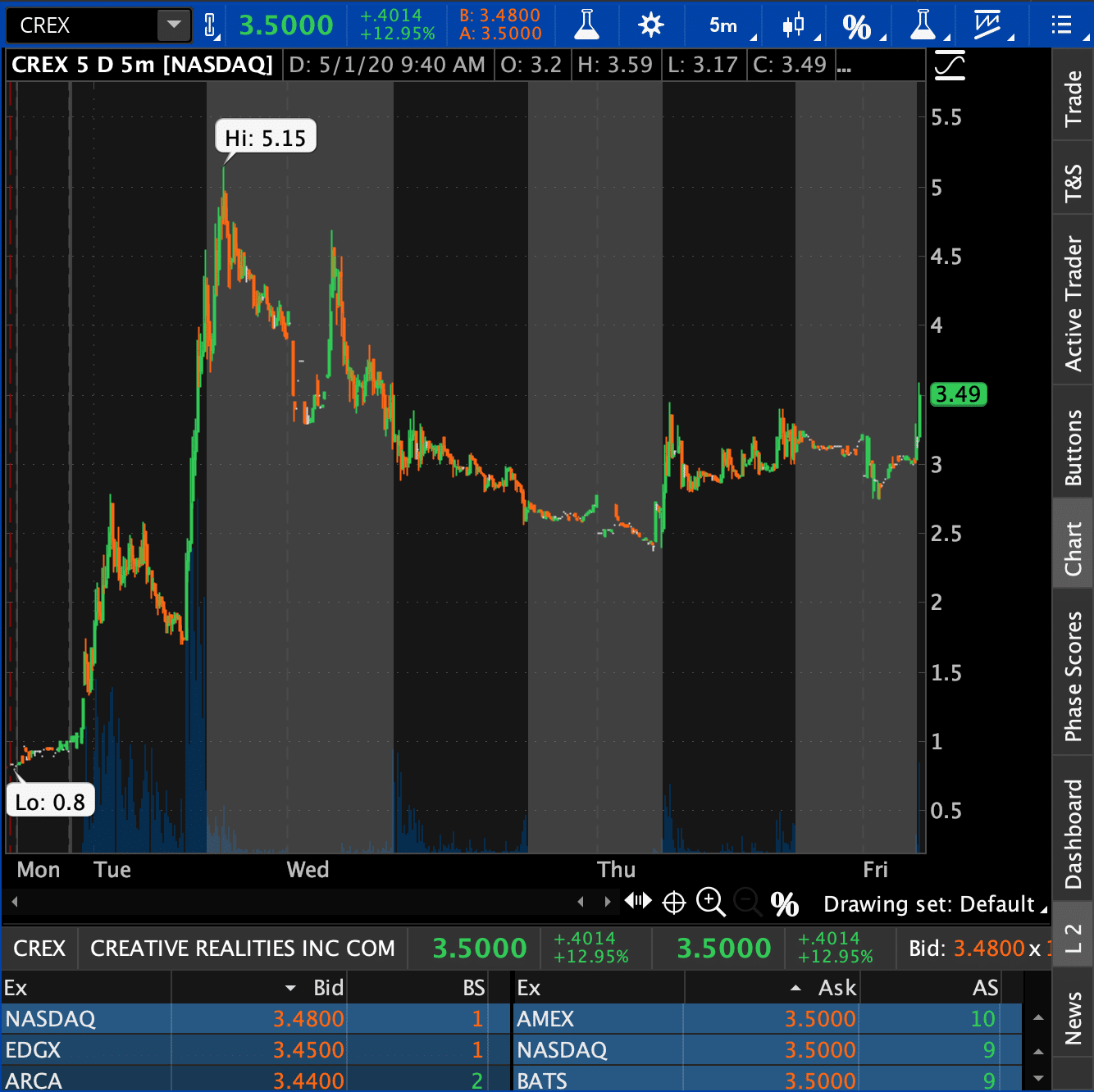 Source: thinkorswim
That was a base hit right there, and I was pretty happy about locking in about a $1,700 winner.
Now, if you want to learn more about my momentum trading patterns, and how I'm able to uncover these opportunities… then I think you should check out my new eBook, Momentum Hunter. In it, I detail my #1 edge in the market and so much more.
Related Articles: