You snooze, you lose…
The market truly waits for no one — and that adage rang true this week for me.
Rather than being angry and just moving on to try to find a new trade, I wanted to go back to review my missed opportunity.
You see, when I go back to review my ideas…
I can potentially uncover different patterns that are working in this environment.
I want to show you my process so you can develop the skills to recognize setups and better time your trades.
What I Learned From My Missed Opportunity In PLAY
Here's what I sent out Aug. 31 right before the market open.
PLAY is at the top of my list for a big swing, after the next dip. China talking about a vaccine and the U.S. rushing one out too should truly benefit this stock. Ideally, the market as a whole drops, pulls PLAY down with it, then as everything settles for the next run, I'm in big here.
Nothing wrong with being patient, remember what Jesse Livermore said, "The desire for constant action irrespective of underlying conditions is responsible for many losses in Wall Street even among the professionals, who feel that they must take home some money every day, as though they were working for regular wages."
I was a little too patient on this one, to be honest.
Dave & Buster's Entertainment Inc. (PLAY) formed an ascending triangle and broke out.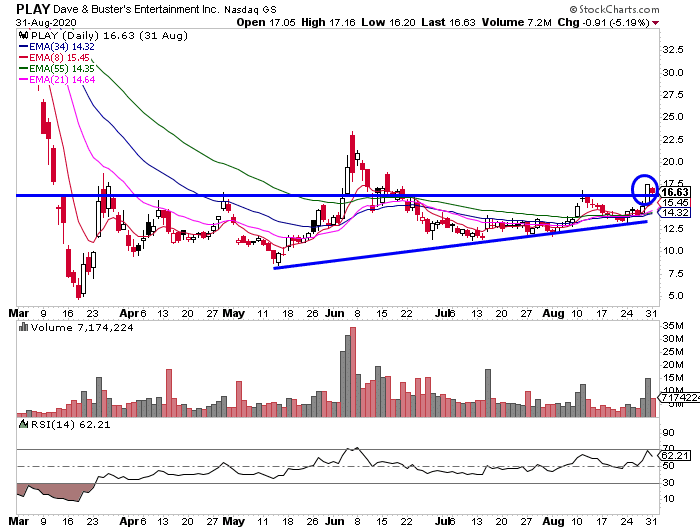 Of course, I was waiting for a pullback and wait until things settle down.
The stock did provide me with a chance, but I was just too stubborn with the price. I could have adjusted my trading plan and gotten more aggressive, and just traded with fewer shares but a wider stop.
So here's how I could've developed a plan…
Buy between $16 – $16.75
Stop if PLAY breaks below inflection point at $15.50
Target 10 – 20% higher
Waiting cost me big time…
The stock made a move above $18 just 2 trading days after I mentioned this idea…
By Wednesday, PLAY broke above $19…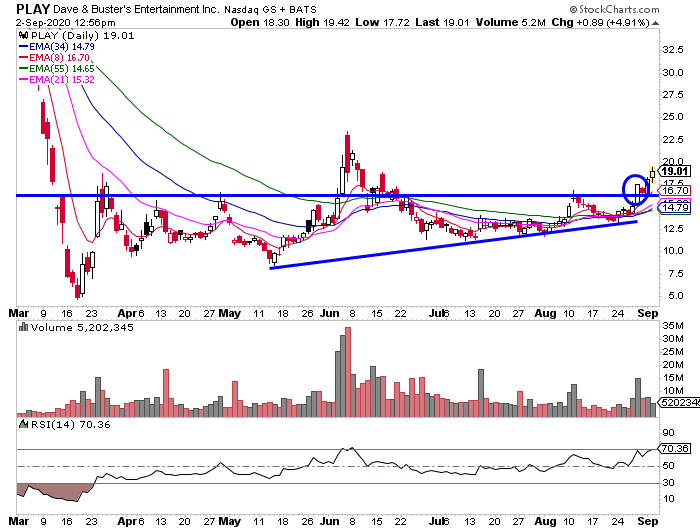 Listen, there are times when it does make sense to adjust the trade plan and look for ways to get in.
The pattern and catalyst signaled PLAY could break out, and I just dropped the ball.
However, I do know now that when the ascending triangle pops up, and the moving averages start turning higher… and the demand picks up and breaks above the resistance level…
It will typically indicate a large move higher.
While I did miss the play, I was able to spot this trade idea BEFORE the stock made the move.
If you want to develop the skills to better time your trades utilizing chart patterns, then you'll want to attend this exclusive training session.