With the markets closed on Monday for Memorial Day, it's going to be a shortened week… so I'm trying to get all my ducks in a row early.
For me personally, I try to find a few trades that I believe can gap up after the weekend. 
I know what you're probably wondering, "Jason, how are you able to figure out what stocks are set to pop off after the weekend?"
Well, I watch momentum stocks and the overall market all week… so I'm in tune with what's going on.
Basically, I look for my bread-and-butter setups and narrow my watchlist down to just a few names and send that out to subscribers.
For example, last week — two trade ideas I had on my Monday Movers watchlist last week were GOGO and IWM calls.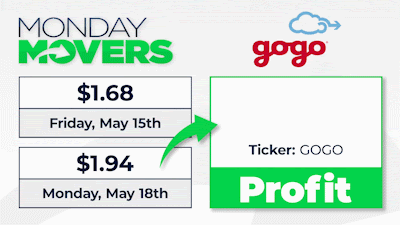 Today, I want to show you how I spotted these trade ideas… and the technique I'll use to come up with my Monday Movers watchlist tomorrow.
[Revealed] My Weekend Strategy
Unlike many traders who like to go into the weekend flat, I actually look for ways to set myself up for success. You see, if I go into the weekend with no positions on, I believe I'm doing myself a disservice because I'm not putting my money to work.
My whole theory is if I can find stocks or exchange-traded funds (ETFs) that are poised to gap up coming off the weekend… I start the week on a high note and won't necessarily have to stress out about finding trade ideas.
I think it's more beneficial to readers if I reveal how I come up with these ideas…
So here's a look at what I sent out last Friday in the morning.
GOGO is the next stock I'm looking to swing. I like this base it's been developing around $1.60 so that's where I'm looking to buy above. I think it's likely the $1.60's offered today, assuming the market stays red, so that's where I'll look for 10,000 shares. Swing into next week for me and only buying 1/2 size through the weekend. It's clearly in a bearish trend but what I like is the 8 EMA is turning up toward the 21 EMA and the last time it did that shares went from $1.54 – $3.58 in just 7 trading sessions back in March. Assuming the $1.60 area holds I think a move above $2 is likely. Buy zone $1.50-$1.60's. Sizing 1/2 Friday. Goal $2's. Stop 8 EMA $1.62 tight.

IWM is the small-cap index and it's come into a good support level at $120. I think the markets head higher next week so I'm looking to get into $120 Calls expiring at the end of the month. 

If you look at those two trade ideas, they were short and concise.
Basically, I noticed my bread-and-butter patterns indicating these two trade ideas could gap up.
With GOGO, I noticed a potential bullish moving average crossover at the time… and that signaled to me it was time to look for a buy.
Here was my plan:

Buy zone $1.50-$1.60's. Sizing 1/2 Friday. Goal $2's. Stop 8 EMA $1.62 tight.
I actually fumbled a little bit on the execution there… My entry was actually $1.68 on Friday… and on Monday morning, I took profits at $1.94.
That was good for a 15.47% return over the weekend!
Now, with IWM, I actually missed out on… which I'm a little ticked off about.I could've bought the calls I was eyeing for $7.25 a piece and took profits at $12.95, which would've been a 78% winner.
However, I know that I have to hone in and just look for my next best "weekend" trade ideas. If you want to learn why I believe my weekend strategy is so powerful, click here and watch this quick training session.
Related Articles: