I expect next week to be filled with action — given it's the last day of November and the start of the last month of 2020.
Traders will look to get all their ducks in a row and try to chase alpha at these levels.
For me, I'm going to stick to what I've been doing because it's been working.*


That's being highly selective and focusing on my best trade ideas.
By now, you should know I'm all about pairing my chart patterns with catalyst events. With the way some of my favorite large caps have been trading, I think it's important to focus on key levels.
That said, let me show you where I see areas of value in NFLX, TSLA, and AAPL.
Key Levels To Watch In These 3 Tech Stocks
Let's take a look at Netflix Inc. (NFLX).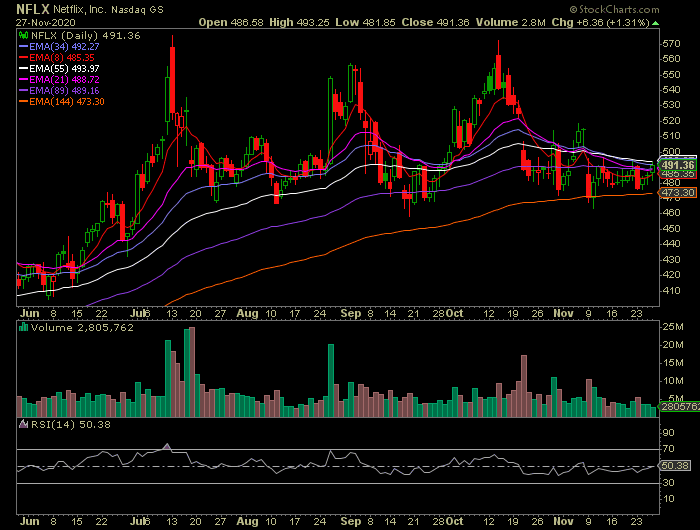 The stock tried to break below the 144-day exponential moving average (EMA), but it's held up fairly well. That's one area I think traders need to keep an eye on if they're bullish on this streaming company.
For a bullish trade to the upside, I think it makes sense to keep an eye on that $500 level. One way to play with would be to utilize the bull put spread, or buy calls outright.
Tesla Inc. (TSLA) is next up on my radar. This one was a little tough for me because it's gone so far so fast, and I actually tried to sell call spreads on it.
I'll keep an eye on this one to see what it does around the $600 level.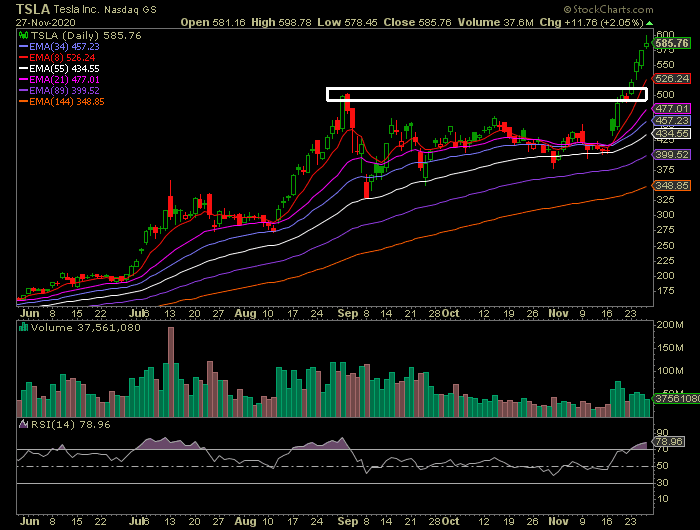 I think that can be a resistance level, and I wouldn't be surprised if it pulls right into the $500 level soon.
Last, but not least, Apple Inc. (AAPL) is on my radar.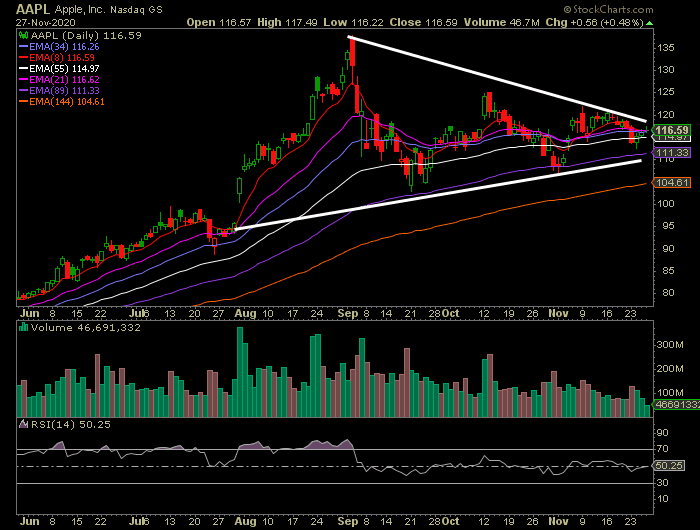 It's had a tough time trading in between this range, and by the looks of it, there's no clear direction yet. I'll be focused on the 89-day EMA because AAPL tried to break below it before.
Additionally, I think it's important to see what it does around the $120 level (right around that downtrend line).
The key levels will come in hand if you're looking for trade ideas, and I suggest you go out and try to do this on your own for your favorite plays.
*Results presented are not typical and may vary from person to person. Please see our full disclaimer here: ragingbull.com/disclaimer