Take a look at these five stocks that Robinhood traders piled into over the last 24 hours.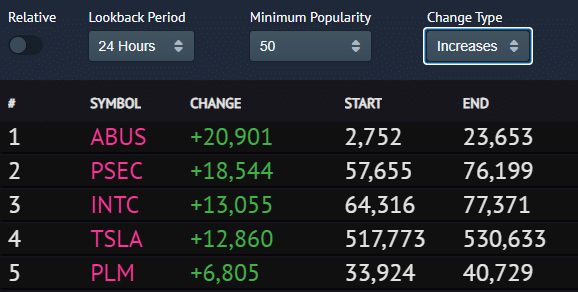 There's a pattern with these top five additions to Robinhood accounts…
They're momentum stocks that had a large move.
That signals to me there's a lot of fear of missing out (FOMO) and traders are just chasing action.
If I know anything about momentum stocks, it's that they typically follow patterns, and I've noticed these new traders aren't respecting levels.
I want to show you why it's important to respect levels, and the one pattern I believe is powerful when it comes to momentum stocks…
And reveal three hot stocks to keep an eye on.
Why Momentum Traders Should Keep This Tool Handy
There's one tool I love to use after momentum stocks make a large move… and I believe it's a solution for chasing FOMO.
You see, after a stock has a massive move, it typically pulls back and takes a breather, before it retraces that move and tries to retest a high.
The Fibonacci retracement tool helps with identifying key support levels, and where it may be advantageous to start looking for entries.
How does it work?
I believe the best way is to learn through examples, and you're in luck.
I've identified three stocks in which I believe the Fibonacci retracement comes into play.
Three Hot Stocks To Keep An Eye On
To me, patterns are nothing more than a visual of where traders are making moves. If buyers overwhelm the sellers at a specific level, that's an area of support and the stock should bounce from there.
On the flip side, if sellers outnumber buyers at a specific price level, it would be considered a resistance level. Consequently, the price would fall.
Let me show you with one stock on my radar.
RumbleOn Inc. (RMBL)
Here's what I sent out to subscribers about RMBL.
For RMBL, I'm interested if it's above $21, but technically it's in play above $19, but for today, I'm looking for price action trading at or above $21 to indicate to me it might fire long.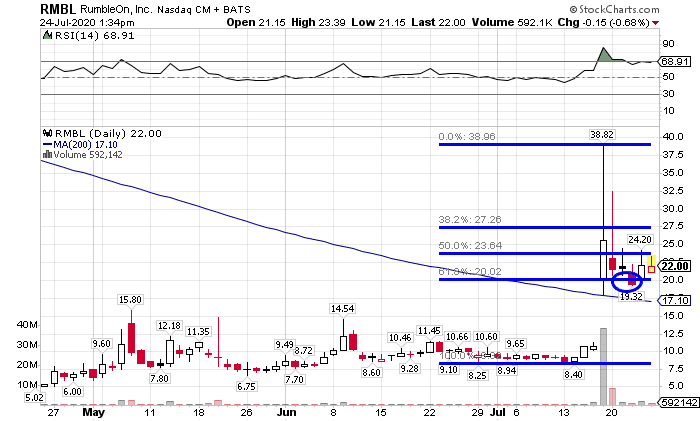 Notice how the stock tried to stay below the $20 level and quickly popped right back up. That just so happens to be right around a key Fibonacci retracement level.
Once the stock retraced and got above that, I established a long position… and if the buyers start to step in and demand picks up, I wouldn't be surprised if RMBL makes a move higher.
You see, while many traders would try to chase the stock after it made a move from about $10 to $38.82… it's important to be patient and identify key levels.
I'm sure there were some that bought the high and lost 50% real quick.
Next up, take a look at Immuron (IMRN).
Immuron Ltd. (IMRN)
For IMRN technically above $12 and it's in play, but for this morning I want to see it above $13.50 to consider going for that squeeze.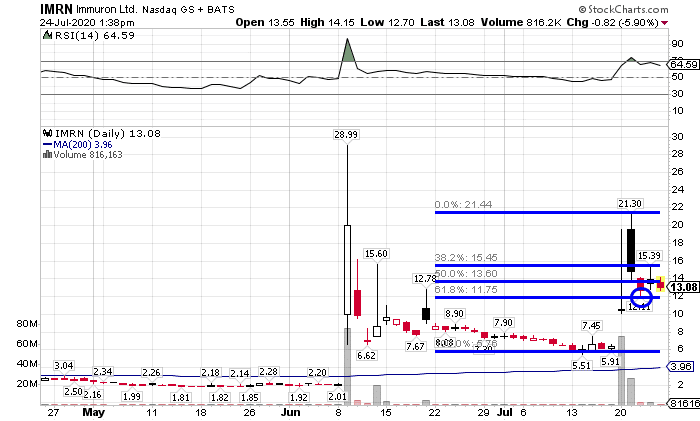 Again, the stock held a key Fibonacci retracement level right around $12.
I also established a position in IMRN, as I believe the demand can pick up for the stock and there's tremendous upside potential.
With this trade, I wouldn't be surprised if it gets to the $15 level.
Last, but not least, there's Brightcove (BCOV).
Brightcove Inc. (BCOV)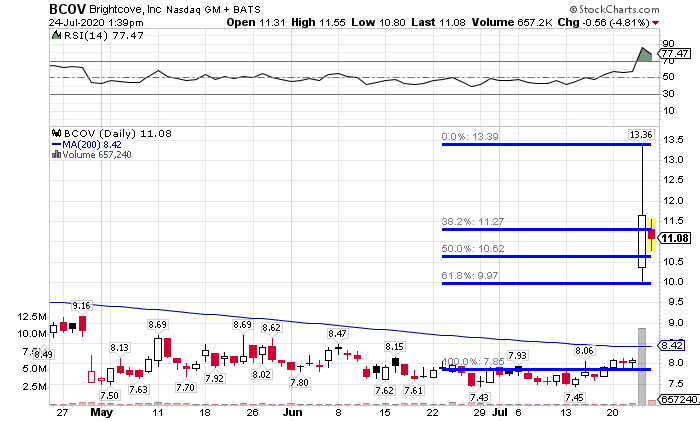 As you can see, BCOV is right around key Fibonacci retracement levels at $10.62 and $11.27.
If those levels hold, and there's demand for the stock… I wouldn't be surprised if it tries to retest its recent high at $13.36.
As you can see, there's no need to let emotions run your trading… and patterns can be helpful.
If you're able to identify these setups, I believe it can make trading easier because you can develop trade plans and not chase stocks.
If you want to learn how I use patterns and am able to trade on a part-time schedule, then check out this important training session.
You'll learn the same patterns I use to identify momentum stocks BEFORE they move…
And why my strategy is so darn effective when it comes to hunting down momentum stocks.
WE MAY HOLD SECURITIES DISCUSSED. RagingBull has not been paid directly or indirectly by the issuer of any security mentioned in the Services. However, Ragingbull.com, LLC, its owners, and its employees may purchase, sell, or hold long or short positions in securities of the companies mentioned in this communication.