With sports opening back up…
There are some stocks that can benefit.
Draftkings (DKNG) is one of those stocks on my radar right now.
Currently, I have a bullish position in DKNG…
And I believe it could squeeze higher very soon.
Why?
Well, we've already got sports opening back up…
The NASCAR Cup Series race will be held at Talladega Superspeedway tomorrow…
MMA has been back on for weeks now, with the UFC leading the charge…
And the NBA and NFL can open back up very soon.
That should benefit stocks like DKNG.
Today, I want to reveal to you why I have a position on the stock… and what I'm looking at in the name right now.
Why DKNG Shares Could Breakout
There are some catalysts working in favor of DKNG, in my opinion…
And that's caused some bullish price action in the name.

Source: Finviz
On the daily chart, there's a bull flag / pennant formation… and it seems as if the 8-day exponential moving average (EMA) has been holding as support.
Now, on the hourly chart…
The TTM Squeeze is in play.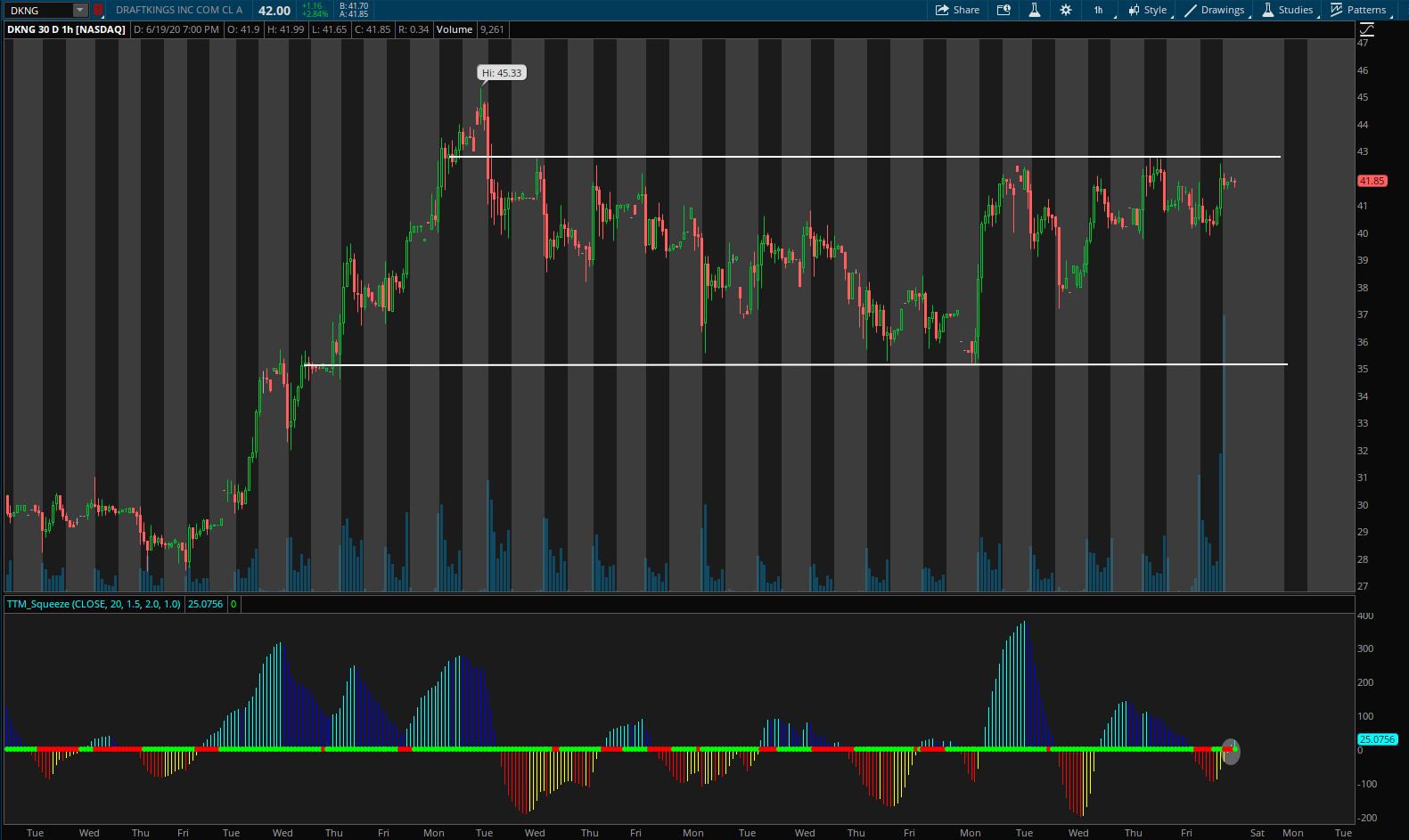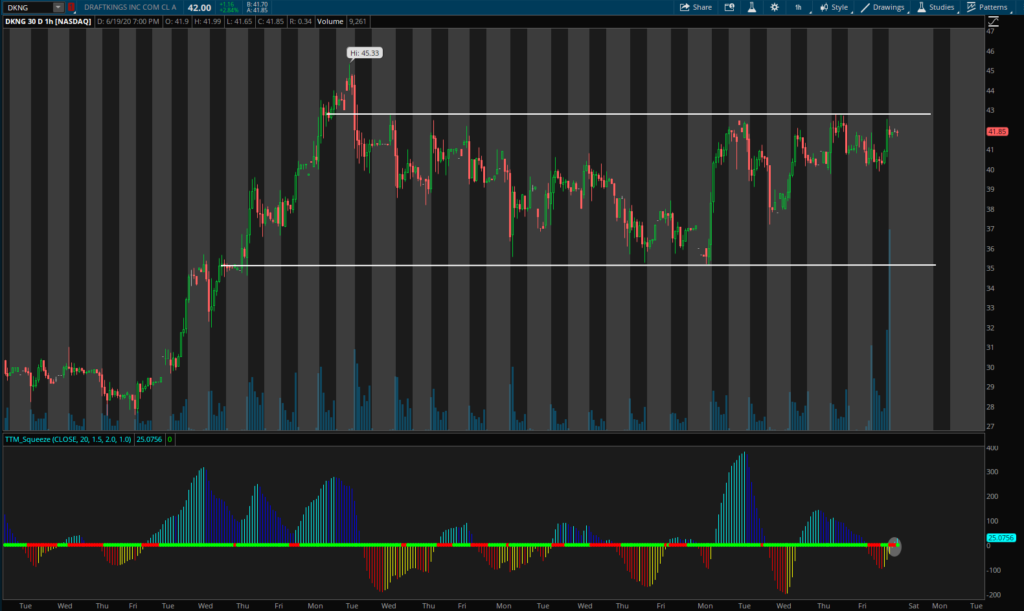 Source: thinkorswim
Now, the overall trend in DKNG is up…
And if you look at the bottom of the chart, you'll notice an encircled area. This tells me that DKNG is actually building positive momentum.
With DKNG near a resistance level right around $43…
I believe if there is a positive catalyst, such as news about the NFL…
The stock could break out and get to recent highs.
If it gets above there, the $50 level is in play, in my opinion.
Of course, with the way the market environment is… anything can change, and that's why I have a plan in place.
I'm actually long calls right now, and if DKNG pulls back to the $40 level, right around the 8 EMA on the daily chart…
I think that can be a key support level and provides an area of value.
If that does happen, I'll look to add to my bullish position and potentially buy the July 17 $40 calls.
This is actually one stock I want to keep on my radar because if sports do start to open back up, that can fuel the run in DKNG and cause it to ramp higher.
Now, another piece of news that signaled to me that DKNG could continue higher was the fact it upsized its underwritten public offering of 40M shares of its class A common stock.
DKNG intends to sell 16M shares and certain selling stockholders can sell 24M shares at the public offering price of $40.
With the stock staying above this level…
It's a signal there's demand for DKNG.
Now, this is just one of the few momentum stocks on my radar.
If you want to learn how I'm able to spot some of the hottest momentum stocks out there… before they move…
Then you'll want to check out my important masterclass…
In which I detail my techniques to hunt down momentum stocks on a part-time schedule.