With so much wacky price action last week…
Some traders are trying to figure out where to find the best opportunities at these levels.
For me personally, I believe some of the best trade ideas can be found in momentum stocks.
For example, on my Monday Movers watchlist…
I was able to identify a stock that moved more than 80% in just a matter of hours…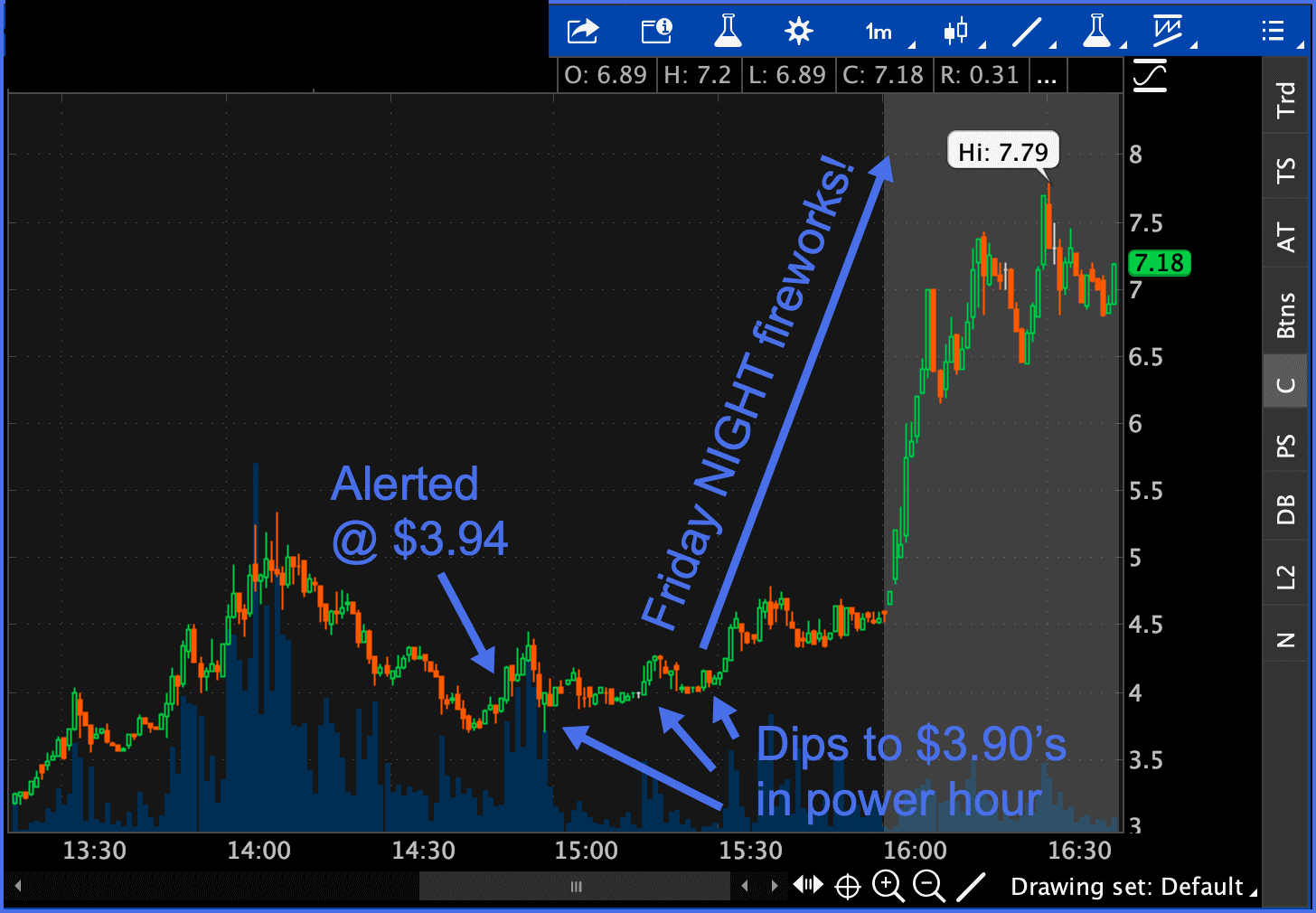 Missed out on the watchlist? Don't miss another one…
Find out what Monday Movers is all about.
And I believe there are some other gems in that watchlist I sent out on Friday… that can be poised for a massive run very soon.
Today, I want to reveal to you the one stock I'm keeping on my radar next week…
A stock that I currently have a position in and was part of my Monday Movers watchlist.
[Revealed] One Stock That Could Be Set For A Massive Run Soon
The other day, I mentioned Groupon Inc. (GRPN) can be next "zombie" company that could experience a pop soon.
Of course, the stock was on my radar after the reverse stock split. However, typically, after the first day of trading after the split…
The stock sells off, so I wanted to be patient with this one.
Now, once I saw the gap down and an area of value… I knew this could get into "squeeze city".
Here's what I sent out to Monday Movers subscribers yesterday…
GRPN split and squeeze city. This is a strategy I teach in my lessons, if you've had time to go through the. GRPN no doubt has some good short interest and the split can trigger a squeeze if the company has any good news lined up.
Companies are always fighting to get shorts out of their stock (i.e. see Elon Musk) and I'm pretty sure they understand how this works. So what I like to do as a trader is watch for splits, wait a few days and look for a good technical setup. And while GRPN's isn't the best here, it's good enough for me to take a shot.
I like this trade above $20 so that's about the stop loss, looking for 10-20% next week if this works. This company has a lot of cash and a big footprint so those are the types of stocks I like to carry through the weekend when there's a depressed market cap.

Source: Finviz
Why was I so compelled to take this trade?
Well, the stock's float actually got slashed by a multiple of 20. That means there is very little supply out there.
If you think about it, if the demand for shares of GRPN picks up… this stock can see some insane moves, in my opinion.
This stock will be on my radar next week… even though it's on my Monday Movers watchlist…
I know the move might not happen right out of the gate come Monday morning, so I'm going to be patient and respect my trading plan.
If you want to learn how I'm able to find stocks poised to move on Mondays, on Fridays… then check out this short training clip here…
And find out why Monday Movers is an edge that allows me to generate "passive" income.
WE MAY HOLD SECURITIES DISCUSSED. RagingBull has not been paid directly or indirectly by the issuer of any security mentioned in the Services. However, Ragingbull.com, LLC, its owners, and its employees may purchase, sell, or hold long or short positions in securities of the companies mentioned in this communication.
DISCLAIMER: To more fully understand any Ragingbull.com, LLC ("RagingBull") subscription, website, application or other service ("Services"), please review our full disclaimer located at https://ragingbull.com/disclaimer.